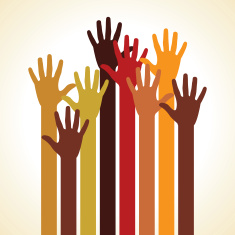 Everyone Needs to STOP the Pain!
Everyone Needs the Pain to STOP!
"Hands up!" The universal symbol of surrender, sign of protest, and signal for self-selection to take action. All of these are integral in stopping the pain of social exclusion.
Human beings are built to function physically, emotionally, and spiritually in supportive groups. This simple fact has recently been supported by neuroscience research and helps explain why individuals and groups of people that are marginalized or socially excluded often suffer from higher levels of chronic health problems and shorter life expectancy.
SPOT – Social Pain Overlap Theory1: How and Why Social Exclusion Hurts All of Us
Being part of a group is so critical to humans that our nervous system literally uses the same alarm (the dorsal anterior cingulate cortex) to register the danger and distress of physical pain or injury AND social exclusion. This neuroscience finding requires that we stop bifurcating pain into physical and emotional and start realizing that pain is pain and that social exclusion and marginalization are forms of violence that impact individuals and whole groups of people.
Social Pain forms – Covert and Overt
Social pain occurs in a number of different forms, some obvious, some not so obvious. The not so obvious may be hard to see, they are insidious like the background noise or the air we breathe. They are chronic assumptions about who we are and what our interests, strengths, and weaknesses might be. They are assumed by others and attached to our identities such as race, ethnicity, sexual orientation, and gender.
These subtle daily attacks or microaggressions can have devastating short- and long-term impact. For example, Native or Indigenous Americans constantly having to combat broad assumptions about cultural sacred practices, misuse of regalia, offensive displays of imagery in athletic team mascots, or even the ongoing challenge to defend one's very existence.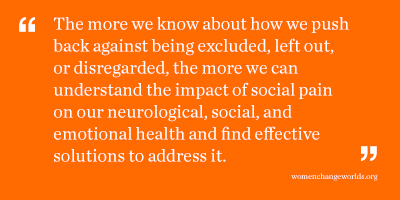 The obvious forms of social pain are glaringly obvious, often flagrant and extreme. Black men and women being stopped by police, detained or harassed, and imprisoned at sweepingly disproportionate rates compared to White people; too often resulting in violence and even murder.
Both the subtle and blatant forms of social pain emerge together and take place across a range of areas including reliable public safety, access to and quality of healthcare, education and jobs, affordable sustainable housing, and more. Both institutional and personal marginalization is the bedrock for social pain to occur in all of its many forms.
Psychological Resistance to Marginalization
What we know is that people who have been and are being marginalized have always pushed back in ... READ FULL ARTICLE>>