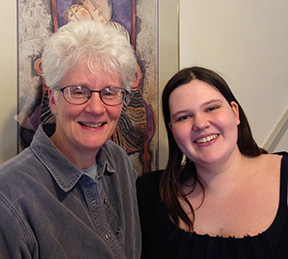 Two summers ago I started what I thought would just be a summer job at the Wellesley Centers for Women (WCW), with Georgia Hall, Ph.D, a senior research scientist with the National Institute on Out-of-School Time (NIOST). That summer job extended into the fall semester of my junior year at Wellesley College and when I returned from my spring semester abroad, I was excited to be working with Georgia as the Shirley R. Sherr research intern for the summer. Now in my senior year, I am still working at NIOST and I am incredibly grateful for the opportunities it has given me. In particular, I am incredibly grateful that I have had an amazing mentor in Georgia.
This experience has been invaluable, because of Georgia. I have been able to learn so much and have been exposed to so many aspects of research that I would otherwise not have had and which many undergraduate students never get to experience. This past summer, while assisting Georgia with her work in the Women and Girls in STEM (science, technology, engineering and math) project, I was also able to pick my own topic to investigate. This was incredibly exciting because it gave me a chance to use skills I already had, learn new skills, and explore my own interest. I learned so much, including being able to analyze data and conduct site visits. Georgia was an incredible mentor every step of the way, giving me feedback but also letting me work on my own. Thanks to Georgia and all the other amazing WCW researchers at NIOST, I have acquired skills that I will use for many years to come.
When I first began the daunting process of applying for jobs, I reflected on the experiences that I have had and realized how strongly they influenced my career path. Although I hope to go into health care, I want to work for several years before continuing on to graduate school. Thanks to my experiences with Georgia, I now have the skills and passion for data analysis—an incredibly important aspect in the health care field. Georgia encouraged me to take a quantitative analysis class, too, and I now am able to pursue such work immediately after graduation.
Without someone encouraging and inspiring these interests and helping me along the way, I may have never found out how fascinating data analysis could be (at least for me—some people may disagree!). Soon I'll be completing my time at Wellesley, and I couldn't think of anywhere else I'd love to spend my afternoons working and anyone else I would want as a mentor. I am sure that what I have taken from my time at NIOST and what I have learned from working with Georgia will help me for many years to come. And I know that if I ever need advice, there's always someone waiting to help.
Juliana Robeson is a Wellesley College senior ('16) majoring in Spanish, minoring in Women's and Gender Studies. In addition to her work at NIOST, she serves as a Student Ambassador for the Wellesley Centers for Women. She is pictured above (right) with her mentor, Georgia Hall.