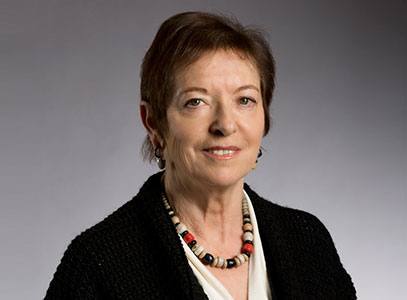 Erika Kates
Senior Research Scientist
B.Sc.,London University; A.A. Dipl. Architectural Association, London; Ph.D., Brandeis University
ekates@wellesley[dot]edu
Utilizes participatory research and case-study methods to research policies affecting low-income single mothers; research focus includes access to higher education for welfare recipients, and the family connections of female offenders and prisoners.
Erika Kates is working in two major research areas at the Wellesley Centers for Women (WCW): Gender and Justice with a focus on women, and low-income women's access to education. She has extensive experience in policy analysis and research, focusing mainly on low-income women, women of color, and immigrants. In her previous job as research director at the Center for Women in Politics and Public Policy, at the University of Massachusetts Boston, she was responsible for conducting research on the economic inequities among women, women in prison, incidence of HIV/AIDS among women of color in MA, homeless women and children, working conditions of nursing and home care staff, mentoring and leadership, welfare recipients' access to education and training, and women elected to public office.

Her work on female offenders began when she was hired as the first criminal justice planner in Massachusetts, became a member of the state's first Women and Criminal Justice organization, and directed a unique pre-trial diversion program for women arraigned in the Boston courts. She obtained her doctorate from the Heller School, Brandeis University. Her research was on the use of litigation as a means of social change, and she documented the ways in which women in state prisons in the Northeast used legal and quasi-legal strategies to address their numerous legal issues. This work acknowledged that although women are victimized and traumatized in many ways, it is important to acknowledge and assist their efforts in being agents of change

In addition, for over twenty years she has examined the intersection of welfare, workforce development and higher education policies in her work on access to education and training for low-income women, publishing many articles, monographs and book chapters on this topic. In 1996, she co-founded the Welfare, Education, Training Access Coalition at the Heller School of Graduate School of Policy and Management, at Brandeis University, directing the project for five years. She has worked actively with state and federal policy makers, providing testimony to numerous state hearings and U.S. Congressional debates on welfare reform in 1994 and 2002. She was a contributor in a book on seeking gender equality in education by the Educational Development Center, 2009.

Erika Kates has considerable experience with evaluation research theory and practice, having worked extensively on evaluation projects at the Harvard School of Education, and Tufts University. She often utilizes a participatory approach that actively involves multiple groups of stakeholders and has involved low-income women as researchers, and facilitated the formation of low-income student organizations. She has taught courses on feminist perspectives on policy; research methods, and sociology at Smith College, University of Massachusetts Amherst and Boston, and Tufts University. Dr. Kates holds a B.Sc. (Hons) in Sociology from London University; an A.A. Dipl. in Urban and Regional Planning from the Architectural Association, London; and a Ph.D. in Social Policy from the Heller Graduate School of Policy and Management, Brandeis University.

Video: Alternatives to Incarceration for Women:



The United States has one of the largest, most expensive, and fastest growing incarceration rates in the world. In this video, Kates discusses the impact incarceration can have on women's physical health, emotional well being, family life, and economic stability. She also discusses alternatives to incarceration, such as women-centered counseling and pre-trial probation.
Recent Work:
"Low-Income Women's Access to Higher Education? A Case Study of Welfare Recipients in Boston." Research Report. June 2007. Available from EKates.
"Parenting from Prison: Family Relationships of Incarcerated Women in Massachusetts." Research Report. June 2008, Erika Kates, Syvia Mignon and Paige Ransford, available from EKates.
"Pretrial Incarcerated Women: An Analysis of Women in Bristol County Jail, Massachusetts (July 1 2012-June 30 2013)." Policy Brief. March 2016. Erika Kates and Helen Levine.