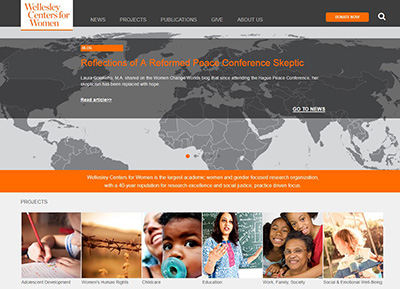 Connecting with You in 2016
People of all ages are spending more time on smartphones or tablets. Did you know that smartphone users are expected to increase to 70 percent of the global population, or 6.1 billion phones, by 2020? In the past couple of years many have experienced the phenomena of selfie sticks, and wearable technologies like FitBit or the Apple Watch. We have computers that not only talk to us, but listen to us and track our steps, our sleep, our heart rate. Technology invades our everyday (and every night) experiences and changes how we interact with the world. Technology offers us an overwhelming variety of information and choices about what we read or listen or view. It helps us stay connected and informed.
It's essential to us that we stay connected to you. Much of our social change work can be found on our website (wcwonline.org). Thanks to a new responsive design that is built off an engaging visual template donated by Capgemini*, you can view the site more easily on a smartphone, a tablet, a laptop, or computer on your desk; you can stay better informed of the important work we're doing.
As you know, research is a big part of WCW's four decades of groundbreaking work. And we want to learn from you, too. You already let us know how our content impacts you when you tweet, share, like, or pin our work. However, we want to learn more from YOU!
We are experts on research, social change--but we need you to share your insight on how you use the wcwonline.org website.
Are you able to find the information about the social issues in the lives of women and girls, families and communities that is important to you?
Do you find what you need by viewing our video commentaries, listening to our podcasts, downloading a fact sheet, a policy brief, or a presentation?
What is helpful?
What is missing?
The website analytics we use give us many valuable statistics but they don't tell us the complete picture about you, and the information you seek.
Please help inform us by taking a few minutes to fill out the quick survey and help us understand what areas of our work you are most interested in, how you learn about our work, and ways we may be able to make your online experiences with our website and social media more beneficial. This is a great way to impact WCW's dissemination efforts and further help to improve the lives of women and girls, and their families and communities. Thank you!
Sue Sours is the Information & Technology Systems Manager for the Wellesley Centers for Women, at Wellesley College.
*Top level design elements for wcwonline.org were generously donated by the Rapid Design Team of Capgemini, one of the world's foremost providers of consulting, technology and outsourcing services. "Gender equality is an important component of Capgemini's focus on diversity and inclusion, and larger corporate responsibility and sustainability strategy, and it is proud to have helped The Wellesley Centers for Women more effectively disseminate its research through support for the refreshed website." Learn more about Capgemini!