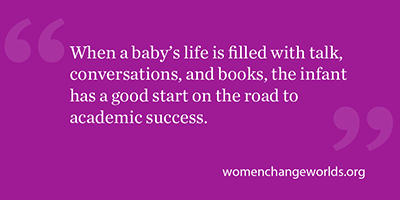 Friday, September 8, is International Literacy Day! In my opinion, every day should be called Literacy Day given its critical importance to all. This is especially true for very young children as developing language and pre-literacy skills are paramount to later academic success.
Parents, caregivers and other adults can do so much to help young children with these needed skills starting with their birth. Talking with babies before they even can use words helps them learn. Talking and discussing what you are doing while you are doing it, such as diapering, or preparing a bottle can become natural and spontaneous if done often enough. Conversations can happen throughout the day including times of bathing, playing, diapering, or feeding. Adults can talk with the infant and about what s/he sees or about what is happening. When you are outside, talk about what you see as well as what the baby is looking at. This joint referencing helps to teach the infant about the world by providing the words that go with an object or event. When very young, the adult follows the baby's gaze, and at about six months, the baby is able to observe an adult's gaze, look in the same direction and look at the same object. Experiences of joint referencing predict children's understanding of words (receptive language) and well as their spoken vocabulary (expressive language).
Even singing helps babies with their language and literacy skills- no matter how well you sing. Silly songs can get babies' attention, while repeating familiar songs can help calm and soothe them. You can even make up songs as it is the sound of your voice that is most important to the baby.
Reading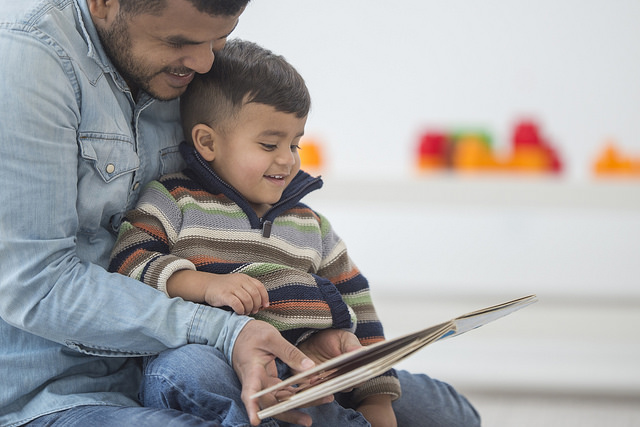 and sharing books begins at birth. Try to read aloud to your baby every day! With the very young infant you may look at only one page of a book- in time, you can look together at two or more. Turning the pages, labeling pictures and describing what is happening on the page all lead to vocabulary and grammar development. Reading to your baby also predicts their early reading and writing skills! Cuddling together to read and share books is a very pleasant experience for both the infant and you! These very early enjoyable experiences can lead to a life-long love of reading. When there are plenty of books available, an infant may even try to look at the pictures in books on her/his own. And, remember your local library is a good source of books for your infant.
When a baby's life is filled with talk, conversations, and books, the infant has a good start on the road to academic success.
Wendy Wagner Robeson, Ed.D., is a senior research scientist and member of the Work, Families and Children Team at the Wellesley Centers for Women, Wellesley College. Her research focuses on child development, early care and education, and school readiness, with a focus on policy implications.