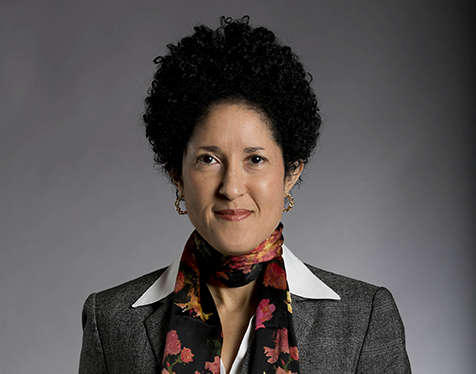 We have a new President-Elect. For many of us, on either side of the aisle, it is not what we expected. My daughter cried when I told her, not just because she is a girl, but also because she is an immigrant. She is scared, and I, as her mother, had to reassure her that life will go on and that we will be okay even if there will be new challenges.
It occurred to me that this is the attitude that I must carry forward, not just at home, but in my work, life, and leadership. It is the attitude that many before me have maintained, against the face of obstacles and conditions as hard or harder than what I am facing now. Like Harriet Tubman, I must "follow the drinking gourd" and keep my sights on the North Star of my aspirations.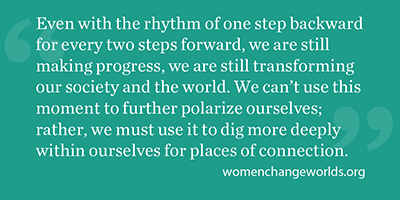 The biggest gift I can offer at this time is empathy – to those whose hopes were shattered, to those whose anger, pain, and frustration led us in this surprising direction, and to those who are just plain terrified right now, especially the little ones and the youth. Clearly, we are a country of different realities, and we need to find common ground. I remind myself of my own mantra, "All of us are sacred." As Thich Nhat Hanh taught me, I breathe in, breathe out, and utilize the present moment as a place of refuge.
The second biggest gift I can give is my continued commitment to peace, amity, love, liberation, and the freedom borne of illumination, as well as the very concrete and achievable ideals of gender equality, social justice, and human wellbeing. We can't give up! Even with the rhythm of one step backward for every two steps forward, we are still making progress, we are still transforming our society and the world. We can't use this moment to further polarize ourselves; rather, we must use it to dig more deeply within ourselves for places of connection. As we know, thanks to our relational-cultural theorists, is that connection is what causes us to thrive.
How can we work with what we have to achieve what we need to achieve and get to where we need to go? Our own ingenuity is being invoked, as is our ability to "make a way out of no way." Because I've seen it done, I know we can do it. Let's share our creativity and plentiful gifts as we figure this thing out together.
Onward! The North Star is still shining!!
Please feel free to share your reflections.
Layli Maparyan, Ph.D. is the Katherine Stone Kaufmann '67 Executive Director of the Wellesley Centers for Women and Professor of Africana Studies at Wellesley College.