Happy New Year from all of us at the Wellesley Centers for Women! This is a moment of profound reflection about all we've been through and where we are headed.
2020 was a year like no other. From out of nowhere came a global pandemic that left no one untouched. Many of us, myself included, were visited by the strange new sickness known as COVID-19. Many of us endured the loss of loved ones whose lives were cut short by a virus we barely understood, but thanks to scientists working around the clock and around the world, the genome was quickly mapped, its elusive symptoms were painstakingly documented, and life-saving therapies and vaccines were developed and tested in record time. In many respects, this was a year when we learned what we were capable of as one human race writ large.
Yet, it was also a year when we had to face some of our ugliest demons. The specters of racial inequality and racial violence jointly rose up amid the pandemic, sparking a racial justice movement larger and more inclusive than any we have seen in decades, perhaps ever. We were moved to tears and rage by the CDC's data showing that people of color were roughly 3 times more likely to die from COVID-19 as white people, as well as by the ongoing killings of Black people — such as George Floyd, Ahmaud Arbery, Breonna Taylor, and Rayshard Brooks — even with the pandemic raging on. The movement for racial justice generated important dialogues, as well as many changes in policy and practice around the country. Yet, it also highlighted all the work we have yet to do to ensure a world of equality, justice, and wellbeing for all.
The devastating pandemic deepened financial fissures, ripping away what little economic security many people had managed to accumulate. We saw unemployment spike, surpassing all past records, we saw food pantry lines triple and quadruple, we saw more people become unhoused or buckle under the looming threat of eviction. Yet, against this backdrop, we witnessed in 2020 the emergence of the world's first centibillionaires — that is, individuals whose wealth exceeds $100 billion.
On the bright side, our society came to recognize the tremendous worth of many low-wage essential workers — from nursing assistants and emergency medical technicians, to grocery and restaurant workers, to truck drivers, delivery people, and everyone in logistics, to gig workers of all kinds — expressing long-overdue gratitude for all they do to keep society functioning. Yet, most are still economically vulnerable and will remain so without a major rethinking of what makes a society thrive economically.
As we begin a new year, we must concern ourselves with the fact that economists have predicted a K-shaped pattern of economic recovery — one in which those who are financially well-off are expected to do better and better and those who are financially vulnerable are expected to do worse and worse.
The mental health consequences of 2020 were not insignificant. The stresses of the pandemic, the stresses of racial inequality and violence, the stresses of economic precarity, the stresses of new patterns of life, and the stresses of looming unknowns affected virtually everyone in some way. For those of us who had to suddenly pivot last March from "life as usual" to "work from home" and, often, "remote schooling" for our children, there were many new stressors, from having no clear boundaries between work, family, and self, to the pressure of having to take on new roles such as homeschool teacher or family nurse and public health officer.
These pressures were especially acute for women, a not insignificant number of whom made the difficult decision to retreat from the workforce, whether to care for family or pursue other life goals. We must also remember what the year was like for those women and girls — in fact, for anyone — for whom home was not a safe place to be, whether for reasons of intimate partner violence, sexual abuse or exploitation, or child abuse — all at a time when protective services and resources were sharply curtailed due to the pandemic.
For people who had to isolate at home alone, loneliness and disconnection became real risks, as did fears of what would happen if they got sick with no one around. The year was perhaps most stressful of all for those who could not be together with loved ones who were in the hospital or, even more tragically, those who could not be together with loved ones who were dying.
And we cannot forget the doctors, nurses, and other medical personnel who were the heroic heart of the year, who were caring for us and our loved ones, despite the uncertainties related to their own health and survival, and despite the risk to their own families.
2020 was a year of great sacrifice for every single person on this planet, in fact, a year of profound trauma for some, and we owe each other the grace of that. Against this backdrop, we must look ahead in 2021.
The fact that 2020 was an election year almost fades into the background, yet, it becomes a source of hope when we imagine the possibilities of a new administration and all that we can do together, inside and outside politics, to restore faith in ourselves and the world.
We must, in particular, acknowledge the historic first of Kamala Harris, a Black woman, a South Asian woman, and first-generation woman born of immigrant parents, being elected Vice President of the United States, and the courage of Joe Biden, a white male presidential candidate, to buck the trend of history by choosing her as a running mate.
These things bode well as we continue our work of building a more inclusive and equitable society in which all can prosper and thrive. We at the Wellesley Centers for Women are energized by a tempered optimism, geared up for another year of doing what we do best — shaping a better world through research and action — and we look forward to partnering with all who share our vision in 2021!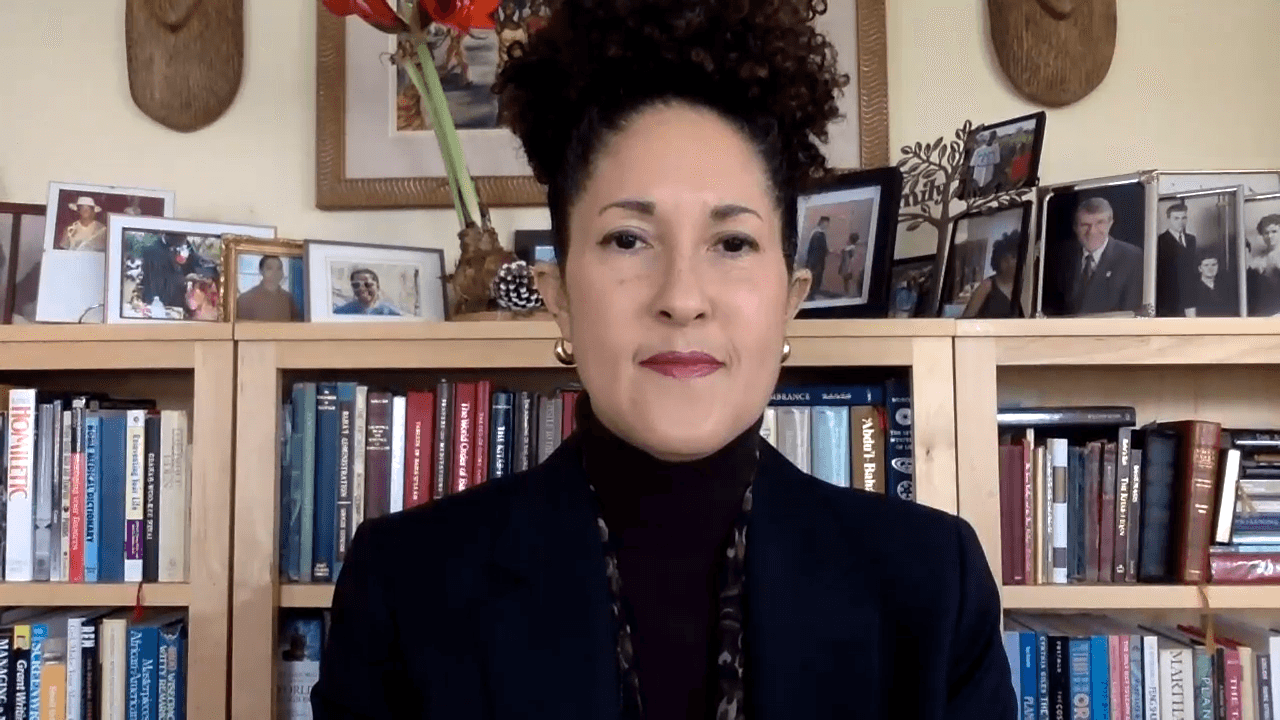 Layli Maparyan, Ph.D., is the Katherine Stone Kaufmann '67 Executive Director of the Wellesley Centers for Women at Wellesley College.