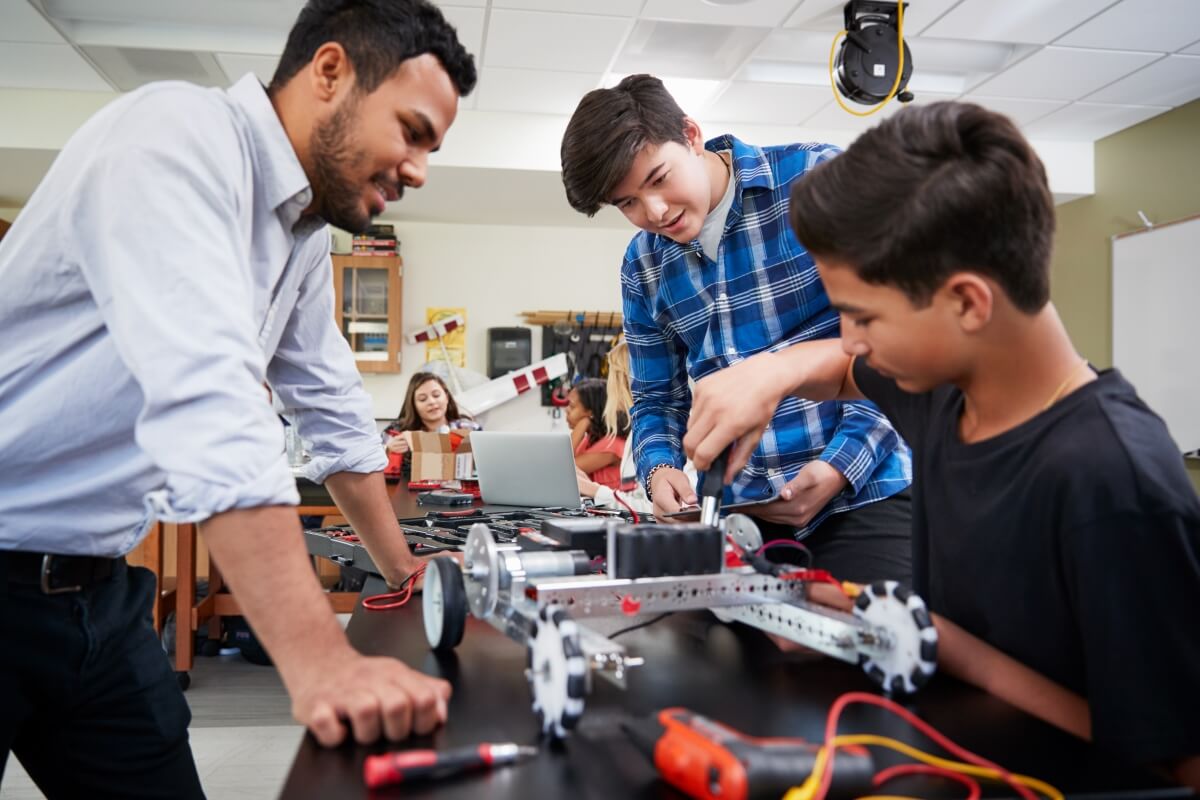 For nearly two decades, Weiss and Akiva have been connected to the Neutral Zone, a creative arts and leadership center for teens in Ann Arbor, Michigan. Here, they talk about the importance of creating safe, supportive, and engaging OST settings by intentionally centering youths' intrinsic motivation, supporting their developmental needs, and building youth–adult partnerships.
David, 15, came to the Neutral Zone almost daily, either doing homework in the drop-in space or drawing in the art room. He dressed very punk, complete with leather jacket, mohawk, and chain hanging from his wallet. David kept mostly to himself, head down, barely speaking with others and rarely making eye contact. Besides being an introvert, David is on the autism spectrum.
On Fridays, David started attending the weekly meeting of Riot Youth, the Neutral Zone's LGBTQIA peer support and social justice program. Although he was quiet, David actively participated in everything from theater games to discussions and dialogues. When he spoke, he did so with a deep sense of understanding, compassion, and wisdom. What is interesting is that David doesn't identify as LGBTQIA. He came just because he felt safe and supported in the group. He was so accepted and well-liked that the group nominated him to be a teen program facilitator, cementing his place as a highly engaged and invested contributor.
This is a story about acceptance, interactions, and, most of all, relationships. Li and Julian posit that developmental relationships are likely the "active ingredient" for youth program success. We root our chapter in three practical goals for developmental relationships: enabling youth to feel safe, supported, and engaged.
So how do out-of-school time (OST) programs set up relational settings that are safe, supportive, and engaging and that involve youth as partners? Creating such settings starts with practitioners' existing strengths. It then requires their deliberate intention to support all youth, especially those who have been marginalized or minoritized. We present a short set of strategies to support and engage youth: centering youths' intrinsic motivation, supporting youths' developmental needs, and building youth–adult partnerships.
Many of the ideas and examples in our chapter may come across as obvious or intuitive. Indeed, research supports the value of many of the strategies that seem natural to seasoned youth workers. The paradigm shift we're calling for is to conduct these strategies with intentionality. Many practitioners already do this work, including the authors of the essays in this book. However, through intentionality, programs can instill more equitable practice. For example, in any given youth program, some young people will find ways to pursue activities they find intrinsically motivating. But this doesn't mean the program supports intrinsic motivation for all youth. Only by intentionally designing experiences to support intrinsic motivation—by offering meaningful choices, opportunities for leadership, and so on—can programs provide this spark for all youth participants, including those who may be marginalized or simply less vocal.
Intentionality is what marks youth work as a professional practice, built on and building from science. We call this a paradigm shift not because it is radically complex or difficult—human relationships are the stuff life is made of—but because it is uncommon. Building true youth–adult partnerships, in which young people have voice, choice, and power, is indeed a radical endeavor.
The paradigm shift we propose is simple, but revolutionary. And though it is revolutionary, it has broad global recognition. Consider Article 12 of the Convention on the Rights of the Child, drafted by the United Nations in 1989 and signed by every country on the planet except the United States. This legally binding international agreement establishes the right of every young person to freely express their views "in all matters affecting" their lives, with the subsequent right for those views to be "given due weight in accordance with [their] age and maturity."
In essence, this means that young people have an internationally recognized right to have a voice in the spaces and systems that affect them. Article 12 can be a guiding star to spread our Youth-Driven Spaces movement in programs and agencies across the country. Through intentionally co-creating and shaping settings that are safe, supportive, and engaging, OST programs can be authentic partners with youth in working together toward more powerful and humane settings and systems that recognize young people as agents of their own destiny.
John Weiss served as the executive director of the Neutral Zone from 2005 to 2014; in 2015, he began leading its training and coaching work with other organizations as the director of strategic initiatives. Tom Akiva worked with Weiss in the development of the Youth-Driven Spaces approach and has conducted research projects with teens at the Neutral Zone. The above excerpt appears in the book
The Heartbeat of the Youth Development Field: Professional Journeys of Growth, Connection, and Transformation
.