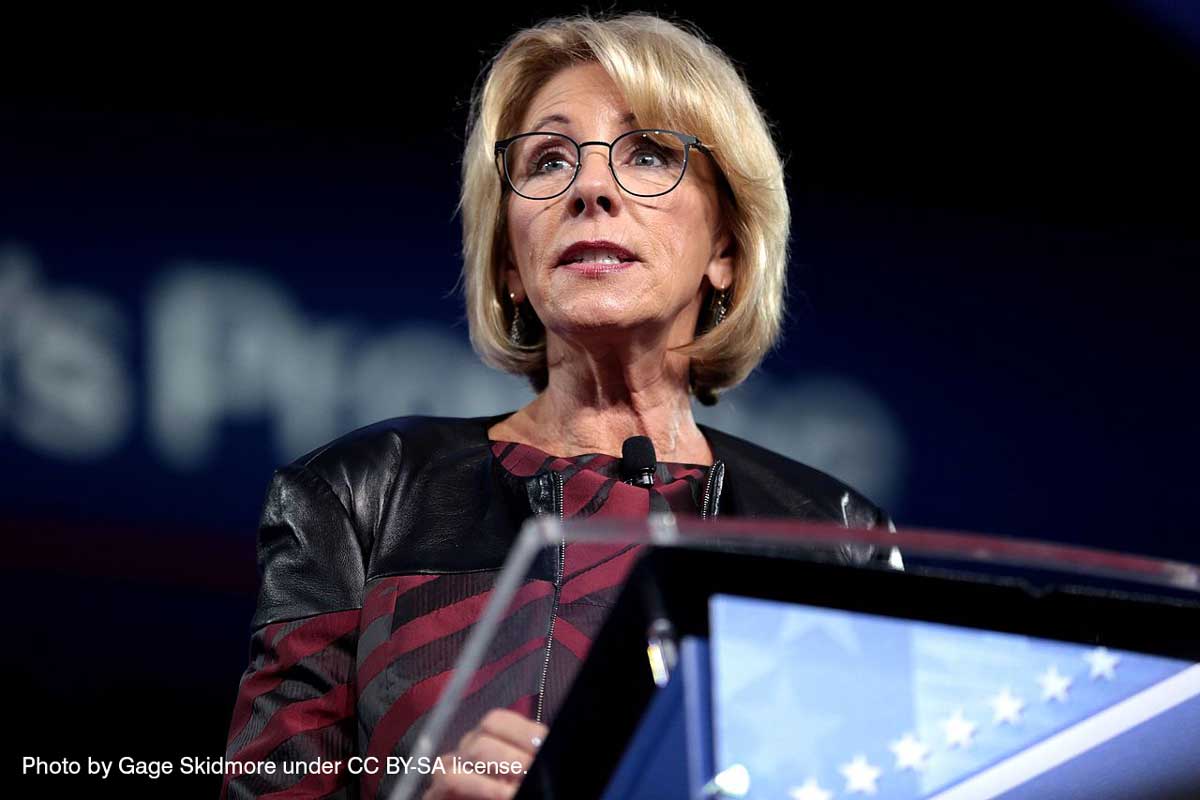 U.S. Secretary of Education Betsy DeVos. Photo by Gage Skidmore from Peoria, AZ, under CC BY-SA license. This week, new rules go into effect dictating how colleges and universities must respond to allegations of sexual assault on campus. The U.S. Department of Education released the final version of these rules in May, and since then, a number of lawsuits have been filed, some asking for more time to implement them. But as of now, the August 14 deadline still holds, and colleges are juggling the implementation of the new rules with planning for what is likely to be one of the most challenging semesters they have ever faced.
Among other things, colleges will be required to hold live disciplinary hearings during which those who have been sexually assaulted and those accused of assaulting them present live testimony and can be cross-examined. Though there are limits on this process – advisors to the students do the questioning, not the students themselves, and a hearing officer will decide if the questions are relevant – it creates an opportunity for more personal attacks than are seen in the criminal justice system, while pushing colleges to behave like that system. That's not good for students.
One problem rarely mentioned in discussions of the new rules – which create a more litigious and adversarial process – is that the criminal justice system is rarely effective in achieving justice for victims of sexual assault. As a research scientist who has studied this issue extensively, I'm familiar with the many obstacles that victims face: Most don't report sexual assault to authorities to begin with, and those who do face a secondary victimization as they must recount their experience over and over again to police, prosecutors, and other court officials. Challenges to victim credibility come on many fronts; those who have a history of emotional or mental health problems, who were assaulted by people they know, in situations that involved consumption of alcohol or drugs, or did not report it immediately tend to see their complaints discounted or the cases dropped before adjudication. (The exceptions are cases that involve serious physical injury or the use of a weapon.) This case attrition happens either because victims have been discouraged from cooperating further or because prosecutors do not see the case as credible, or think a jury will be unlikely to convict.
If colleges are required to adopt criminal justice-like procedures, many of these same factors that contribute to case attrition will have a chilling effect on reporting and help-seeking. Few complaints will move forward, and the safety of students and their access to an education will be further jeopardized. Many victims won't want to pursue a process that involves repeating their account and personal details in a public hearing at the school where the assault occurred – especially if the person who assaulted them has more power or clout, like a star athlete – and answering questions proffered under the direction of that person. Many will decide, at some point along the way, it's simply not worth it.
A criminal justice model also doesn't make sense for colleges, whose mission is to educate, not adjudicate. Their goal is to foster norms against sexual violence and harassment, but they will end up being complicit in the re-victimization of those who report.
Along with colleagues and funded by the National Institute of Justice of the U.S. Department of Justice, I recently completed a project on Responding to Sexual Assault on Campus. In the course of our research on 969 colleges across the US, we spoke to 47 Title IX coordinators, many of whom felt strongly that the way they handle sexual assault cases – including sanctioning – should be in part an educational process, in keeping with the mission of their institution to educate. Addressing complaints by holding hearings and cross-examinations doesn't fit with that mission, and it's also inconsistent with how colleges handle other violations of student conduct codes.
The Title IX coordinators we spoke to faced lots of challenges. The greatest challenge for many was building capacity to respond to reports of sexual assault. They voiced a critical need for more well-trained investigators, whether from within their college community, public safety, or external sources. The new rules (in some cases rules which conflict with their state laws and current policies) will require even more resources. Unless Title IX coordinators are provided with strong institutional support and visibility including adequate funding, staffing, and training – all of which will be a challenge at institutions wrestling with responses to COVID-19 – they will have to try to do more with their already meager resources. This isn't a recipe for thoughtfully carried out processes that result in justice for students.
We'll learn more over the coming months about the issues that will arise from these new rules. For example, how will the complex interplay of state laws, Federal Circuit court rulings, guidance from lawsuits, and institutional mandates affect the implementation? What effect will the pandemic have? There will be details to iron out, but the movement of Title IX processes toward a criminal justice model is a step in the wrong direction. It is also the biggest threat to ensuring that women are given equal access to education.
Linda M. Williams, Ph.D., is director of the Justice and Gender-Based Violence Research Initiative at the Wellesley Centers for Women at Wellesley College. Her research focuses on the justice system response to sexual violence. In 2020, she concluded a federally-funded study of college responses to sexual assaults on campus.