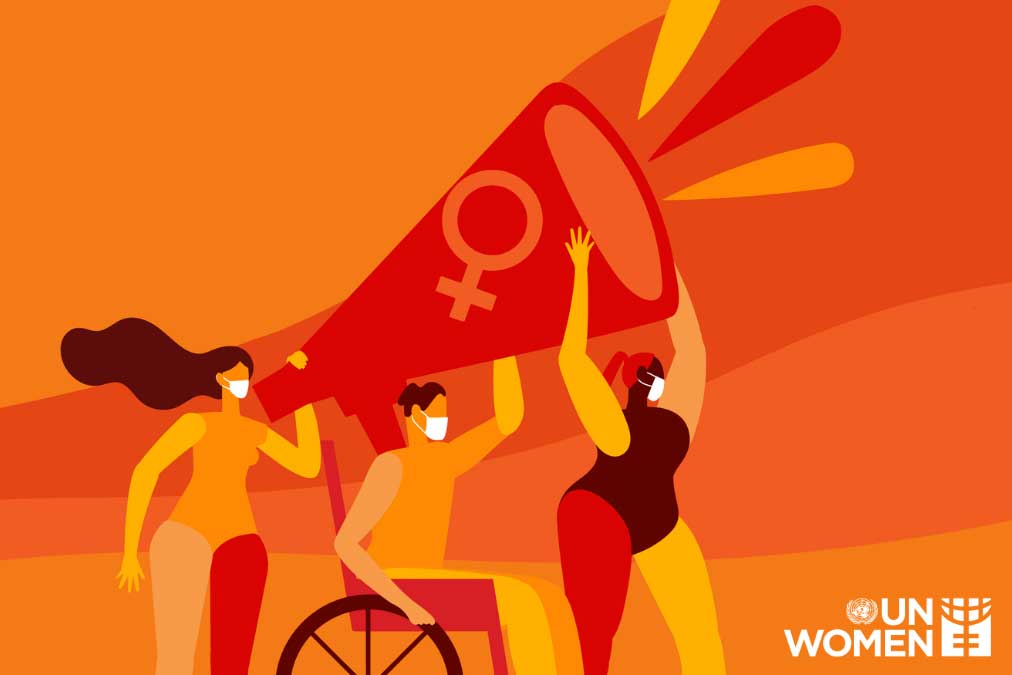 Today, the International Day to End Violence Against Women and Girls, we call for a renewed commitment to this work in the U.S. The UN Women's executive director has called for governments to make visible at the highest level a "commitment to addressing violence against women and girls in the context of COVID-19." As we approach 2021 and look forward to a new federal administration in the U.S., we not only encourage our government to act immediately to work to end violence against women and girls (VAWG), but we also remind individuals and communities of the important roles they play in this work.
A commitment to ending VAWG is critical during the COVID-19 global pandemic. We know the facts: Violence against women is a human rights violation of pandemic proportions — and it is exacerbated during times of job loss, economic insecurity, and extended periods of time at home. COVID-19 has brought many stressors into homes across the U.S., and reports of domestic violence and child abuse, including sexual assault, have increased.
Even prior to the pandemic, one in three women worldwide (including in the U.S.) experienced physical or sexual violence, most often at the hands of an intimate partner. VAWG increases when families face economic challenges, including unemployment. Coping with health needs and concerns, grieving the deaths of loved ones, and caring for children have also contributed to higher stress levels, leading to an increase in VAWG. Furthermore, limited interactions with caring communities and a change in the nature and availability of services compound the problem and contribute to the violence that occurs behind closed doors.
We need to be vigilant in addressing violence and abuse and raise awareness on international, national, and local levels. First, we encourage our government to disseminate a strong message calling for an end to violence against women. We recognize that President-elect Biden and Vice President-elect Harris have a lot on their respective plates right now, most notably the tremendous pressure to respond to the health crisis brought about by COVID-19 and its threat to all Americans. By prioritizing COVID-19 relief, the incoming administration also has an opportunity to begin reversing some of the negative effects the coronavirus pandemic has had in terms of VAWG.
Biden has prioritized ending violence against women legislatively in the past, but this issue needs to be brought to the forefront once more. An important immediate response is to reinstate the Violence Against Women Act (VAWA) — originally co-authored by Biden during his days in the Senate, and renewed many times. VAWA supported a National Panel on Violence Against Women (on which Linda Williams served) designed to develop a research agenda to increase the understanding and control of violence against women and has supported quality care for victims while also mandating research efforts to support important violence against women research.
This act last expired in 2019. The most recent version, passed by the House of Representatives, addressed issues of violence against BIPOC women and the LGBTQ community, all of which are critical to combating VAWG today. Passage and reauthorization of a new VAWA will have to overcome the roadblocks previously encountered in the Senate, and its fate may depend on the results of the Georgia runoff races. We urge all government leaders to recognize the importance of a VAWA that is good for all women, children, and families — especially those who identify as BIPOC.
A decisive position is needed to lead us out of this dark time in the history of violence against women. Once we've reached the other side of the pandemic, there needs to be a focused effort — supported by ongoing research and community collaboration — leading to a consortium of federal agencies, researchers, practitioners, and survivors that will examine the next steps needed to end VAWG and to address social norms that promote it.
It is also critically important for the new administration to amend the regulations on how colleges and universities respond to sexual assault, not only to assure women's equal access to education as provided by Title IX, but also to contribute to a change in the culture that currently, at best, minimizes and, at worst, encourages sexual violence, physical abuse, and sexual harassment of women and girls. On this day dedicated to ending violence against women and girls, it is time to stop minimizing the experiences of victims and to take decisive action to hold men accountable, starting at the highest levels of government.
Linda M. Williams, Ph.D., is director of the Justice and Gender-Based Violence Research Initiative at the Wellesley Centers for Women at Wellesley College. Her research focuses on the justice system response to sexual violence, commercial sexual exploitation of women and children, human trafficking, intimate partner violence, and child maltreatment.
Hayley Moniz is a member of the Wellesley College class of 2022 who is majoring in Sociology. At the Wellesley Centers for Women, she was awarded the Class of 1967 Internship for the 2020-2021 academic year, which supports her work with Dr. Williams on the justice system response to sexual violence.