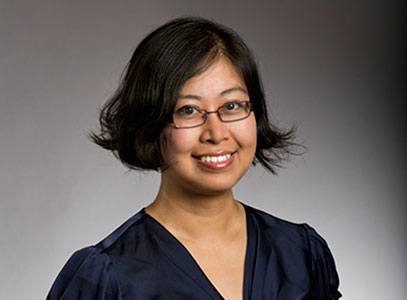 Linda Charmaraman
Senior Research Scientist
Director, Youth, Media & Wellbeing Research Lab
Ph.D., University of California, Berkeley
lcharmar@wellesley[dot]edu
Research interests include adolescent identity and agency, primarily in the areas of social and televised media, racial/ethnic identity, sexuality, bullying, sexual harassment, peer networks, civic engagement, and positive youth development programs emphasizing girls and underrepresented young people
Linda Charmaraman, Ph.D., is a senior research scientist at the Wellesley Centers for Women and director of the Youth, Media & Wellbeing Research Lab. She is also a former National Institutes of Child and Human Development postdoctoral research fellow at WCW. In addition to her research interests in adolescent identity, agency, and civic engagement, she has emerging interests in developing culturally-inclusive online health interventions for vulnerable adolescents and young adults, particularly racial/ethnic and sexual minority populations.
Charmaraman was a New Connections grantee with the Robert Wood Johnson Foundation, where she conducted a mixed-method study of the potential of social networking to promote resiliency among adolescents vulnerable to negative views from mainstream media. She is also part of the inaugural 14-member cohort of the Mixed Methods Research Training Program for the Health Sciences -- a program funded by the National Institutes for Health that is jointly based at Harvard University and Johns Hopkins University.
Since joining WCW in 2006, Charmaraman has conducted qualitative and mixed-method research as well as program evaluations in collaboration with the National Institute on Out of School Time, the Kellogg-funded National SEED Project evaluation study, the CDC-funded bullying and sexual harassment study, the NICHD-funded Mixed Ancestry Project, and the Planned Parenthood-funded multi-year impact evaluation of Get Real, a comprehensive middle school sexual education program. In 2017, she was awarded a grant by Children and Screens: Institute Digital Media & Child Development to study parent and peer influences of social media use in middle school students and implications for behavioral health in diverse community contexts. Recently, she was awarded a 3-year NIH R15 grant with the National Institutes of Child and Human Development to follow middle school students and their parents longitudinally in order to determine longer-term health and wellbeing effects due to early social media use.