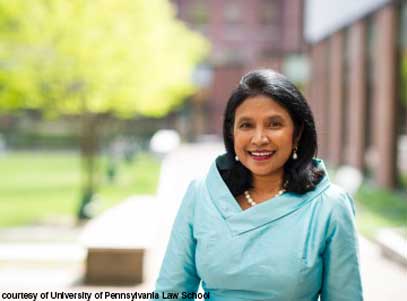 Rangita de Silva de Alwis
Senior Scholar
S.J.D., Harvard Law School
rdesilva@wellesley[dot]edu
Works with networks of global institutions, civil society, and government organizations to develop human rights initiatives
Rangita de Silva de Alwis is a senior scholar at the Wellesley Centers for Women (WCW). A human rights scholar with experience in over 25 countries around the world, she was the director of international human rights policy programs at WCW until 2012 where she took the lead on new global human rights initiatives for the organization. Additionally, she has served as a consultant to UN agencies and offices committed to children, human rights, and social advancement and has developed vast networks of academic, government, and nongovernment organizations dedicated to women's human rights and policy reform.
A well-known human rights lawyer and scholar with her LL.M. and S.J.D. (doctorate in law) from Harvard Law School, de Silva de Alwis has a wealth of experience working on the rights of women, children, and persons with disabilities. Throughout her career, she has advised UNICEF, UN Women, UNFPA, and UNDP and her work has been published widely in the Yale Journal of Law and Feminism, Texas Journal of Gender and the Law, University of Pennsylvania East Asia Law Journal, Duke Journal of Gender and the Law, UCLA Pacific Rim Journal, UCLA Journal of International Law and Foreign Relations, Michigan Journal of International Law, University of Washington International Law Journal, and University of Pennsylvania International Law Journal.
In addition to her work at WCW, she has been a teaching fellow with the European Law Research Institute at Harvard Law School, a research fellow with the Women and Public Policy Program at the Kennedy School of Government at Harvard University, and a visiting fellow at Harvard Law School's Human Rights Program. She was also a Fulbright Specialist with the Asian University of Women, a distinguished visiting lecturer at Wellesley College, and a Salzburg Global Fellow and honorary professor of China Women's University.
While at WCW, de Silva de Alwis led various projects on women's rights issues in China, regional law reform in Asia, and convened several transnational networks including the Asia Cause Lawyer Network in India and the Women's Leadership Network in the Muslim World. As part of the latter network, she organized and facilitated the Women Leading Change in the Muslim World Rabat Round Table held in spring 2011, bringing together the transnational network of women change agents from more than 12 countries to share information, strategies, and scholarship.
Under the auspices of the Ford Foundation and the Open Society Institute, de Silva de Alwis developed innovative and groundbreaking programs while at WCW on the intersections of the rights of women, children, and persons with disabilities.
De Silva de Alwis has received many awards and recognition for her human rights work. She was the inaugural Susan McGee Bailey Research Scholar at WCW in 2011-2012. Most recently, she was honored by the Harvard Law School as a Woman Inspiring Change, Women's International Day, March 2015.