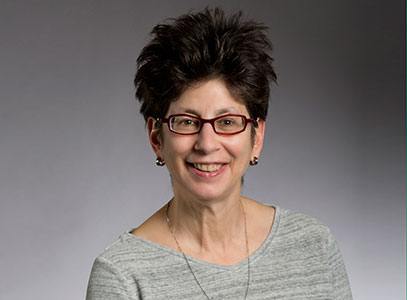 Amy Hoffman
Editor, Women's Review of Books
B.A., Brandeis University; M.F.A., University of Massachusetts, Amherst
ahoffman@wellesley[dot]edu
Link to website
Edits Women's Review of Books, providing unique perspectives on literary landscape with reviews of books by and about women.
Amy Hoffman is editor-in-chief of the Women's Review of Books (WRB), which is published by the Wellesley Centers for Women (WCW) at Wellesley College, in collaboration with Old City Publishing in Philadelphia, PA. She is a member of the creative nonfiction faculty at Pine Manor College's MFA program. A writer and community activist, she has been an editor at Gay Community News (GCN), South End Press, and the Unitarian Universalist World magazine. Hoffman is the author of three memoirs -- Lies about My Family; An Army of Ex-Lovers: My Life at the Gay Community News; and Hospital Time.
Background
Hoffman has taught writing and literature at the University of Massachusetts and Emerson College and served as development director for the Massachusetts Foundation for the Humanities and the Women's Lunch Place, a daytime shelter for homeless women. She has served on the boards of GCN, Sojourner, Gay and Lesbian Advocates and Defenders (GLAD), and the Boston Lesbian and Gay History Project and as a judge of the Lambda Literary Awards. Hoffman has a B.A. in English from Brandeis University and a Master of Fine Arts in creative writing from the University of Massachusetts at Amherst.
Selected Publications
Hoffman's memoir, Lies About My Family, was published by the University of Massachusetts Press in 2013. Her memoir An Army of Ex-Lovers, about Boston's Gay Community News and the lesbian and gay movement of the late 1970s, was published by the University of Massachusetts Press in 2007 and is available here for purchase. Her first book, Hospital Time, about taking care of friends with AIDS, was published by Duke University Press in 1997. An Army of Ex-Lovers was a finalist for both the Publishing Triangle Judy Grahn Award and a Lambda Book Award in Memoir/Biography in 2008. Hospital Time was short-listed for the American Library Association Gay Book Award and the New York Publishing Triangle Judy Grahn Award, and was a New York Public Library Books for the Teen Age selection. Learn more about Hoffman's books on her website.