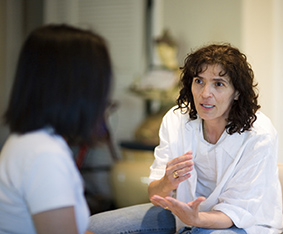 Substance abuse among women in Massachusetts is increasing dramatically. It is also a worldwide problem. Locally and globally we need to work for a public health model that is responsive to human rights concerns and effective in protecting families and communities.
The United Nations will be holding a General Assembly Special Session (UNGASS) in New York in April, 2016. In preparation, a Global Civil Society Survey was conducted in spring 2015 to identify key areas of concern. Among the five areas to emerge from this process are drugs and health; drugs and crime; and protecting the human rights of women, children and communities in drug-related penal policies. Penal Reform International (PRI), based in the United Kingdom, is spearheading the collection of suggestions on alternatives to incarceration, and Andrea Huber, PRI's policy director, forwarded me a request for input to this process.
This focus could not be timelier in terms of my work. For the past two years I have conducted research into women, crime, drugs and children in Massachusetts. I have analyzed caseload data of women seeking substance abuse services through the Massachusetts Department of Public Health, focusing primarily on mothers, and identifying those that are justice-involved. In 2013 alone, there were 33,000 admissions of women to treatment. Of these, almost one half had children under 18 years of age. Almost 30 percent of women's admissions had some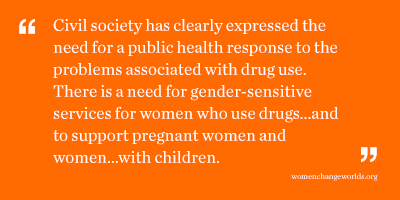 form of justice-involvement (mostly probation). However, comparisons between justice-involved and non-justice-involved women revealed few differences on demographic and other characteristics. For example, their ages, maternal status, the number of children they have, their children's ages, and the percentage living with their children.
Also, I talked with women in residential addiction treatment houses--some of which permitted children to live with their mothers--and asked them about their history of treatment, the pros and cons of having their children with them in recovery, and whether justice-involvement had helped or hindered their recovery efforts. Although some women acknowledged that being arrested and locked up for a brief period of time might indeed have saved their lives, they had not experienced effective treatment while incarcerated; and over time their addictions had worsened. Women on probation face a different type of problem. If they experience a relapse they are caught up in negative, escalating sanctions. They are likely to be incarcerated--not because their original offenses warranted prison sentences--but because they have broken their conditions of probation. On the other hand, women in treatment facilities funded by the Department of Public Health are more likely to be encouraged to think about how and why they lapsed and to learn from those experiences.
These differences of approach between the public health and criminal justice paradigms are crucial because the average number of relapses for people in treatment in Massachusetts is around eleven. Gradually, the realization is growing that the criminal justice response to addictions, especially for women, is unworkable. Another reason to support the public health paradigm rather than justice-involvement is because of the universal lack of trauma-informed, effective treatment in prisons for women.
These findings clearly support the NGOs around the world that recommend treating health and human rights as the corner of international drug policy and call for a public health response through the following statements: "Civil society has clearly expressed the need for a public health response to the problems associated with drug use." "There is a need for gender-sensitive services for women who use drugs...and to support pregnant women and women... with children." [We need to] "Add a human rights lens to the drug policy conversation and include a gender lens."
Erika Kates, Ph.D. is a senior research scientist at the Wellesley Centers for Women at Wellesley College; she leads the Massachusetts Women's Justice Network.