Women's Review of Books
Since 1983 the Women's Review of Books has provided a forum for serious, informed discussion of new writing by and about women. Women's Review of Books provides a unique perspective on today's literary landscape and features essays and in-depth reviews of new books by and about women. Women's Review of Books is published by the Wellesley Centers for Women at Wellesley College, in collaboration with Old City Publishing in Philadelphia, PA.
Watch this video interview with Amy Hoffman, editor-in-chief of the Women's Review of Books. Learn about the background history of the publication and how works are selected.
Calling All Poets!
Women's Review of Books Poetry and Contributing Editor Robin Becker will be considering poetry submissions in May and June, 2014. WRB generally publishes a pair of poems by a single poet in each issue. Please mail up to three pairs of poems (six poems) to
Poetry Submissions
Women's Review of Books
Wellesley Centers for Women CHE
Wellesley College
106 Central Street
Wellesley, MA 02481
Please enclose a self-addressed, stamped envelope of appropriate size and postage. Do not send email submissions.
March/April 2014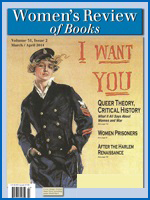 Incurable
Breaking Women: Gender, Race, and The New Politics of Imprisonment
By Jill A. McCorkel
Reviewed by Susan Sered

Growing Up Right


Wrapped in the Flag: A Personal History of America's Radical Right
By Claire Conner
Reviewed by Kathleen Blee

Half Full or Half Empty
Out of Time: The Pleasures and the Perils of Aging
By Lynne Segal
Reviewed by Alix Kates Shulman

Speaking Out and Carrying a Big Stick
Pink Sari Revolution: A Tale of Women and Power in India
By Amana Fontanella-Khan
Reviewed by Smitha Radhakrishnan

People's Culture
Harlem Nocturne: Women Artists and Progressive Politics During World War II
By Farah Jasmine Griffin
The Radical Fiction of Ann Petry
By Keith Clark
Reviewed by Cheryl Wall

Queer Theory and Critical History, Together at Last
Disturbing Practices: History, Sexuality, and Women's Experience of Modern War
By Laura Doan
Reviewed by Martha Vicinus

Curioser and Curiouser
Curious Subjects: Women and the Trials of Realism
By Hilary M. Schor
Reviewed by Jan Clausen

Risk-Taking Poets
In Broken Latin
By Annette Spaulding-Convey
Odessa
By Patricia Kirkpatrick
Exit Civilian
By Idra Novey
Grand & Arsenal
By Kerri Webster
Reviewed by Carol Bere

Good Reads
A Gir Like You
By Trish Crapo

Poetry
By Charlotte Holmes

Cartoon
By Becky Hawkins

Mother/Nature
Claire of the Sea Light
By Edwidge Danticat
Reviewed by Tiphanie Yanique

The Militant, His Wife, and His Brother
The Lowland
By Jhumpa Lahiri
Reviewed by Valerie Miner

What is Left Out and What is Recorded
Citizenship from Below: Erotic Agency and Caribbean Freedom
By Mimi Sheller
Reviewed by A. Lynn Bolles

Permanence and Flux
Fools
By Joan Silber
Reviewed by Rachel Somerstein

The Whispers of Trees and Water, Moths and Mud
Beyond Nature's Housekeepers: American Women in Environmental History
By Nancy C. Unger
Kissed By a Fox and Other Stories of Friendship in Nature
By Priscilla Stuckey
The Forest House: A Year's Journey Into the Landscape of Love, Loss and Starting Over
By Joelle Fraser
Gaining Daylight: Life on Two Islands
By Sara Loewen
Reviewed by Gretchen Legler




The Women's Review of Books receives support from the Massachusetts Cultural Council.