Women's Review of Books
Since 1983, the Women's Review of Books has been the premier feminist book review and remains proudly a print publication. WRB reviews scholarship as well as fiction, graphic novels, poetry, and memoir usually (but not always) by women. We strive to review a diverse array of books in many fields, genres, and styles for each issue. Edited by feminist author Jennifer Baumgardner and published by the Wellesley Centers for Women in partnership with Old City Publishing, WRB provides a unique perspective on today's literary world.
Contact Women's Review of Books.
Read Women's Review of Books Online
Subscribers to Women's Review of Books can read the issue online.
Previous issues of Women's Review of Books can be purchased as digital downloads.
March/April 2021
Jennifer Baumgardner, Women's Review of Books editor in chief, gives a preview of what's in the current issue: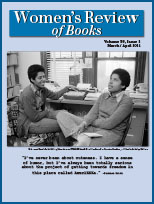 BUY ISSUE >>
The Outsiders The Mermaid and the Minotaur By Dorothy Dinnerstein
Reviewed by Vivian Gornick
Rage Becomes Her Women and Other Monsters: Building a New Mythology By Jess Zimmerman
Reviewed by Kathleen Rooney
Rebel Girl Sometimes You Have to Lie: The Life and Times of Louise Fitzhugh, Renegade Author of Harriet the Spy By Leslie Brody
Reviewed by Claire Bond Potter
Underground in Amerika The Lexington Six: Lesbian and Gay Resistance in 1970s America By Josephine Donovan
Reviewed by Nino Testa
Jazz Matriarch Soul on Soul:
The Life and Music of Mary Lou Williams By Tammy L. Kernodle; Morning Glory: A Biography of Mary Lou Williams By Linda Dahl
Reviewed by Meisha Rosenberg
Sister Act The Doctors Blackwell: How Two Pioneering Sisters Brought Medicine to Women and Women to Medicine By Janice P. Nimura
Reviewed by Celeste Chamberland
Interview Warp and Weft: An Interview with Graphic Author Shira Spector By Tahneer Oksman
The Creative Weather: a poem / a chronicle By Holly Prado
Reviewed by Alison Townsend
Motherlode World's Best Mother By Nuria Labari; Translated by Katie Whittemore
Reviewed by Anna Godbersen
Repeat Until Funny Broken (in the best possible way) By Jenny Lawson
Reviewed by Jordan Allyn
Drawn Like Teen Spirit Justine: A Novel By Forsyth Harmon
Reviewed by Kait Heacock
Ghost Sickness Dog Flowers: A Memoir By Danielle Geller
Reviewed by Ana Castillo
Listen Up Breathless By Laurie Stone
Tears, Brine Crying in H Mart: A Memoir By Michelle Zauner
Reviewed by Ariel Kim
The Women's Review of Books receives support from the Massachusetts Cultural Council.