Women's Review of Books
Since 1983 the Women's Review of Books has provided a forum for serious, informed discussion of new writing by and about women. Women's Review of Books provides a unique perspective on today's literary landscape and features essays and in-depth reviews of new books by and about women. Women's Review of Books is published by the Wellesley Centers for Women at Wellesley College, in collaboration with Old City Publishing in Philadelphia, PA.
May/June 2017
BUY ISSUE>>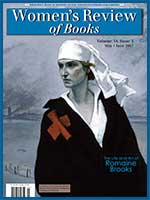 Unbought, Unbossed, and Unelected The Highest Glass Ceiling: Women's Quest for the American Presidency
By Ellen Fitzpatrick Reviewed by Rebecca Steinitz

No Hiding Place Feminist Surveillance Studies
Edited by Rachel E. Dubrofsky and Shoshana Amielle Magnet Reviewed by Cindy Cohn and Christine Bannan

The Lexicon of Labor From Curlers to Chainsaws: Women and Their Machines
Edited by Joyce Dyer, Jennifer Cognard-Black, and Elizabeth MacLeod Walls Reviewed by Christine Byl

Purity Vs. Virtue Riotous Flesh: Women, Physiology, and the Solitary Vice in Nineteenth- Century America
By April R. Haynes Reviewed by Rachel Hope Cleves

Doing it Takes a Village Closer: Notes from the Orgasmic Frontier of Female Sexuality
By Sarah Barmak; I Have Devoted My Life to the Clitoris By Elizabeth Hall Reviewed by Gina Ogden

State Violence Against Black Women No Mercy Here: Gender, Punishment, and the Making of Jim Crow Modernity
By Sarah Haley Reviewed by Jill A. McCorkel

Photography Becoming Bella
By Lauren Smiley Photos by Preston Gannaway

Writer, Housewife, Witch Shirley Jackson: A Rather Haunted Life
By Ruth Franklin Reviewed by Roberta Rubenstein

Good Reads Difficult Choices
By Trish Crapo

The Lesbian Hero's Journey Romaine Brooks: A Life
By Cassandra Langer Reviewed by Abe Louise Young

Beckoning with Dream Life Breaks In: A Mood Almanack
By Mary Cappello Reviewed by Charlotte Holmes

Poetry By Virginia Gilbert

Home to Oneself The Little Red Chairs
By Edna O'Brien Reviewed by Valerie Miner

Dilemmas of Infertility The Art of Waiting: On Fertility, Medicine, and Motherhood
By Belle Boggs; Avalanche: A Love Story By Julia Leigh Reviewed by Ashley Nelson

Figuring Out Gender Balance What Works: Gender Equality by Design
By Iris Bohnet Reviewed by Anne Michaud

What We Talk About When We Talk About Sex Thinking Sex with the Early Moderns By Valerie Traub Reviewed by Carla Freccero
Women's Review of Books issues are now available for purchase as digital downloads!
The Women's Review of Books receives support from the Massachusetts Cultural Council.