Women's Review of Books
Since 1983, the Women's Review of Books has been the premier feminist book review and remains proudly a print publication. WRB reviews scholarship as well as fiction, graphic novels, poetry, and memoir usually (but not always) by women. We strive to review a diverse array of books in many fields, genres, and styles for each issue. Edited by feminist author Jennifer Baumgardner and published by the Wellesley Centers for Women in partnership with Old City Publishing, WRB provides a unique perspective on today's literary world.
Contact Women's Review of Books.
Read Women's Review of Books Online
Subscribers to Women's Review of Books can read the issue online.
Previous issues of Women's Review of Books can be purchased as digital downloads.
September/October 2021
Noelle McManus, Women's Review of Books assistant editor, gives a preview of what's in the current issue: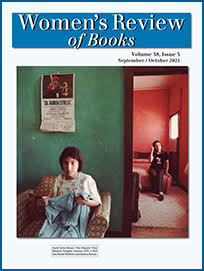 BUY ISSUE >>
Le Mar y El Mar y La Mar Boomerang / Bumerán By Achy Obejas
Reviewed by Noelle McManus
Unsettling Not a Nation of Immigrants: Settler Colonialism, White Supremacy, and a History of Erasure and Exclusion By Roxanne Dunbar Ortiz
Reviewed by Andrew Needham
Ritual de lo habitual My Begging Chart By Keiler Roberts
Reviewed by Kathleen Rooney
Ace Freely Ace: What Asexuality Reveals About Desire, Society, and the Meaning of Sex By Angela Chen
Reviewed by Ariel Kim
To Think Hannah Arendt By Samantha Rose Hill
Reviewed by Katy Fulfer
We (By Which I Mean I) Everything I Have Is Yours: A Marriage By Eleanor Henderson
Reviewed by Anna Godbersen
On the Move The Barbizon: The Hotel That Set Women Free By Paulina Bren; Come Fly the World: The Jet-Age Story of the Women of Pan Am By Julia Cooke
Reviewed by Hannah Joyner
Pop and Precedence The First Collection of Criticism by a Living Female Rock Critic By Jessica Hopper
Reviewed by Jacqueline Zeisloft
Stepping Lightly We Want What We Want By Alix Ohlin
Reviewed by Rebecca Saltzman
The Artist's Why Make Your Art No Matter What: Moving Beyond Creative Hurdles By Beth Pickens
Reviewed by Kait Heacock
Tough Love Between Certain Death and a Possible Future: Queer Writing on Growing Up with the AIDS Crisis Edited by Mattilda Bernstein Sycamore
Reviewed by Eleanor J. Bader
Poetry By Kathleen Rooney, Linda Bamber, Linda Pastan, and Hilma Wolitzer Commentary by Katha Pollitt
Ireland, Europe, The World, The Universe Beautiful World, Where Are You By Sally Rooney
Reviewed by Cynthia Payne
Field Notes Transforming Parenthood By Heather Hewett
Cunning Eruptions of Inanna: Justice, Gender, and Erotic Power By Judy Grahn
Reviewed by Lisa L. Moore
Body Product I Live a Life Like Yours By Jan Grue; translated from the Norwegian by B. L. Crook
Reviewed by Laurie Stone
Insider/Insider Latinx Photography in the United States: A Visual History By Elizabeth Ferrer
Reviewed by Marian Perales
The Women's Review of Books receives support from the Massachusetts Cultural Council.