Women's Review of Books
Since 1983, the Women's Review of Books has been the premier feminist book review and remains proudly a print publication. WRB reviews scholarship as well as fiction, graphic novels, poetry, and memoir usually (but not always) by women. We strive to review a diverse array of books in many fields, genres, and styles for each issue. Edited by feminist author Jennifer Baumgardner and published by the Wellesley Centers for Women in partnership with Old City Publishing, WRB provides a unique perspective on today's literary world.
Contact Women's Review of Books.
Read Women's Review of Books Online
Subscribers to Women's Review of Books can read the issue online.
Previous issues of Women's Review of Books can be purchased as digital downloads.
July/August 2021
Jennifer Baumgardner, Women's Review of Books editor in chief, gives a preview of what's in the current issue: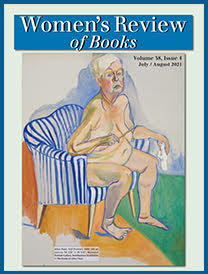 BUY ISSUE >>
What Happened? Women's Liberation! Feminist Writings that Inspired a Revolution & Still Can Edited by Alix Kates Shulman and Honor Moore
Reviewed by Charis Caputo
Bohemian Rhapsody Eleanor in the Village: Eleanor Roosevelt's Search for Freedom and Identity in New York's Greenwich Village By Jan Jarboe Russell
Reviewed by Sarah Schulman
Pro Choice Objects of Desire By Clare Sestanovich; Eat the Mouth That Feeds You By Carribean Fragoza
Reviewed by Anjanette Delgado
Don't Die Wondering Olivia on the Record: A Radical Experiment in Women's Music By Ginny Z Berson
Reviewed by Shane Snowdon
Streaming Prime Suspects By Laurie Stone
Dead Meat Animal By Lisa Taddeo
Reviewed by Noelle McManus
Exhibition Fellow Traveler Alice Neel: People Come First The Metropolitan Museum of Art
Reviewed by Cynthia Payne
Tough Love Girlhood By Melissa Febos
Reviewed by Marian Ryan
Poetry By Caledonia Kearns, Amber Flora Thomas and Rachel Hadas
Yes, She Can Heart of Fire: An Immigrant Daughter's Journey By Mazie K. Hirono
Reviewed by Hagar Scher
Listen Up Femicide: Old News By Lily Tang
Go There to Know There Undreamed Shores: The Hidden Heroines of British Anthropology By Frances Larson;
Gods of the Upper Air: How a Circle of Renegade Anthropologists Reinvented Race, Sex, and Gender in the Twentieth Century By Charles King
Reviewed by Lisa Mullenneaux
Messy Parts Breasts and Eggs By Mieko Kawakami, translated by Sam Bett and David Boyd
Reviewed by Laurie Stone
Postmortem On Violence and On Violence Against Women By Jacqueline Rose
Reviewed by Catharine R. Stimpson
The Mid Wayward By Dana Spiotta
Reviewed by Valerie Miner
Drawn Together Seek You: A Journey Through American Loneliness By Kristen Radtke
Reviewed by Kathleen Rooney
The Women's Review of Books receives support from the Massachusetts Cultural Council.