Women's Review of Books
Since 1983 the Women's Review of Books has provided a forum for serious, informed discussion of new writing by and about women. Women's Review of Books provides a unique perspective on today's literary landscape and features essays and in-depth reviews of new books by and about women. Women's Review of Books is published by the Wellesley Centers for Women at Wellesley College, in collaboration with Old City Publishing in Philadelphia, PA.
Watch this video interview with Amy Hoffman, editor-in-chief of the Women's Review of Books. Learn about the background history of the publication and how works are selected.
March/April 2015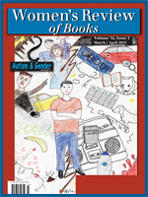 Trapped in the Self
Autism and Gender: From Refrigerator Mothers to Computer Geeks
By Jordynn Jack
Reviewed by Ellen Herman

Cross with the Church
Good Catholics: The Battle over Abortion in the Catholic Church
By Patricia Miller
Reviewed by Mary E. Hunt

The Culture of Unexpectation
Girls Coming to Tech!: A History of American Engineering Education for Women
By Amy Sue Bix
Searching for Scientific Womanpower: Technocratic Feminism and the Politics of National Security, 1940-1980
By Laura Micheletti Puaca
Reviewed by Nina E. Lerman

Hard Work and Overalls
Out in the Union: A Labor History of Queer America By Miriam Frank; Steel Closets: Voices of Gay, Lesbian, and Transgender Steelworkers
By Anne Balay
Reviewed by Bettina Aptheker

Sexual Revolutionaries
The Birth of the Pill: How Four Crusaders Reinvented Sex and Launched a Revolution
By Jonathan Eig
Reviewed by Wendy Kline

Rebellion and Survival
Holocaust Mothers and Daughters: Family, History, and Trauma
By Federica K. Clementi
Reviewed by Evelyn Torton Beck

Poetry
By Marion Brown

Good Reads
A Stranger Comes to Town
By Trish Crapo

Carrying Across
Sor Juana Inés De La Cruz: Selected Works
Translated by Edith Grossman
Reviewed by Amanda Powell

Cartoon
By Kelly Froh

Families in Motion, Fueled by Faith
More Than Conquerors: A Memoir of Lost Arguments
By Megan Hustad
The Last Days of California
By Mary Miller
Reviewed by Joy Castro

Parallel Lives
The Four Words For Home
By Angie Chuang
Reviewed by Valerie Miner

I Want My Face to be Very Mad
Spectacular Girls: Media Fascination and Celebrity Culture
By Sarah Projansky
Reviewed by Elline Lipkin

A Tragic Mess
The Price of Silence: The Duke Lacrosse Scandal, The Power Elite, and the Corruption of Our Great Universities
By William D. Cohan
Reviewed by Laura Pappano

I Am Because We Are
Transformation Now! Toward a Post-Oppositional Politics of Change
By AnaLouise Keating
Reviewed by Xiumei Pu

Sleeping on the Same Pillow
Charity and Sylvia: A Same-Sex Marriage in Early AmericaBy Rachel Hope Cleves
Reviewed by Marla R. Miller




The Women's Review of Books receives support from the Massachusetts Cultural Council.