Women's Review of Books
Note: The next issue of Women's Review of Books is delayed due to editorial transition. Volume 39, Issue 1 is expected to be published in May/June. Please direct questions to info@oldcitypublishing.com
Since 1983, the Women's Review of Books has been the premier feminist book review and remains proudly a print publication. WRB reviews scholarship as well as fiction, graphic novels, poetry, and memoir usually (but not always) by women. We strive to review a diverse array of books in many fields, genres, and styles for each issue. Edited by feminist author Jennifer Baumgardner and published by the Wellesley Centers for Women in partnership with Old City Publishing, WRB provides a unique perspective on today's literary world.
Contact Women's Review of Books.
Read Women's Review of Books Online
Subscribers to Women's Review of Books can read the issue online.
Previous issues of Women's Review of Books can be purchased as digital downloads.
November/December 2021
Jennifer Baumgardner and Charis Caputo, Women's Review of Books editors, give a preview of what's in the current issue: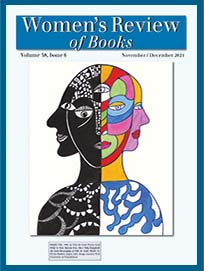 BUY ISSUE >>
Editor's Letter from Jennifer Baumgardner
Editor's Letter from Charis Caputo
She Contains Multitudes Unbound: My Story of Liberation and the Birth of the Me Too Movement By Tarana Burke
Reviewed by Ariel Kim
Streaming The End of Summer, 2021 By Laurie Stone
Record Spring and Autumn Annals By Diane di Prima
Reviewed by Jolie Braun
Against Casually Looking Image Control: Art, Fascism, and the Right to Resist By Patrick Nathan
Reviewed by Kevin O'Rourke
S.O.S. Householders By Kate Cayley
Reviewed by Kait Heacock
Reflect Generations: A Memoir By Lucille Clifton
Reviewed by Kathleen Rooney
Liberty and Justice for All The 1619 Project Edited by Nikole Hannah-Jones
Reviewed by Kelly L. Schmidt
WRB Gift Guide Navigating the Flood
Cradle To Grave Controlling Women: What We Must Do to Save Reproductive Freedom
By Kathryn Kolbert and Julie F. Kay
Reviewed by Eleanor J. Bader
Wandering the Desert I Love You but I've Chosen Darkness By Claire Vaye Watkins
Reviewed by Rebecca Saltzman
No Perfect Place By Lauren Groff
Reviewed by Cynthia Payne
The Body Keeps the Score Quake By Auður Jónsdóttir, translated by Meg Matich
Reviewed by Katharine Coldiron
Listen Up Won't You Be My Neighbor? By Kait Heacock
Inside Out Visibility Interrupted: Rural Queer Life and The Politics of Unbecoming By Carly Thomsen
Reviewed by Pearl McAndrews
Cluttered The Book of Form and Emptiness By Ruth Ozeki
Reviewed by Valerie Miner
Poetry By Lisa Mullenneaux, Deborah Hauser, Andrea L. Fry, Karen McPherson, Jessy Randall and Commentary By Katha Pollitt
Field Notes Winter Is Coming: Reading Bryher and H.D. In This Moment By Blanche Wiesen Cook
The Women's Review of Books receives support from the Massachusetts Cultural Council.