Women's Review of Books
Since 1983, the Women's Review of Books has been the premier feminist book review and remains proudly a print publication. WRB reviews scholarship as well as fiction, graphic novels, poetry, and memoir usually (but not always) by women. We strive to review a diverse array of books in many fields, genres, and styles for each issue. Edited by feminist author Jennifer Baumgardner and published by the Wellesley Centers for Women in partnership with Old City Publishing, WRB provides a unique perspective on today's literary world.
Contact Women's Review of Books.
Read Women's Review of Books Online
Subscribers to Women's Review of Books can read the issue online.
Previous issues of Women's Review of Books can be purchased as digital downloads.
May/June 2021
Jennifer Baumgardner, Women's Review of Books editor in chief, gives a preview of what's in the current issue: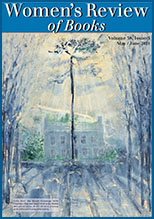 BUY ISSUE >>
From the Realms of the Ugly King Kong Theory By Virginie Despentes, translated by Frank Wynne
Reviewed by Hanne Blank
Roadside Attraction frank: sonnets By Diane Seuss
Reviewed by Laurie Stone
Scrappy Patch Work: A Life Amongst Clothes By Claire Wilcox
Reviewed by Kathleen Rooney
Fable The Hare By Melanie Finn
Reviewed by Pearl McAndrews
Movers and Shakers Out of the Shadows: Six Visionary Victorian Women in Search of a Public Voice By Emily Midorikawa
Reviewed by Hannah Joyner
Poetry By Donna Masini
Positive Force Let the Record Show: A Political History of ACT UP New York, 1987–1993 By Sarah Schulman
Reviewed by Nino Testa
Commentary Ode To Bechdel By Shira Spector
See No Monsters Everyone Knows Your Mother Is a Witch By Rivka Galchen
Reviewed by Charis Caputo
Eyes Open The Ugly Cry By Danielle Henderson
Reviewed by Kait Heacock
Salt in the Wounds Of Women and Salt By Gabriela Garcia
Reviewed by Lissette Escariz Ferrá
A Novel Thriller The Other Black Girl By Zakya Dalila Harris
Reviewed by Eisa Ulen
We Are No More The Trojan Women: A Comic By Rosanna Bruno and Anne Carson
Reviewed by Noelle McManus
Big The Smartphone Society: Technology, Power, and Resistance in the New Gilded Age By Nicole Aschoff; Antitrust: Taking on Monopoly Power from the Gilded Age to the Digital Age By Amy Klobuchar
Reviewed by Claire Bond Potter
Listen Up Orange You Glad By Laurie Stone
Pleasurably Stung Walking on Cowrie Shells By Nana Nkweti
Reviewed by Rebecca Saltzman
A Story of Her Own Self-Portrait By Celia Paul
Reviewed by Cynthia Payne
The Women's Review of Books receives support from the Massachusetts Cultural Council.