Women's Review of Books
Since 1983, the Women's Review of Books has been the premier feminist book review and remains proudly a print publication. WRB reviews scholarship as well as fiction, graphic novels, poetry, and memoir usually (but not always) by women. We strive to review a diverse array of books in many fields, genres, and styles for each issue. Edited by feminist author Jennifer Baumgardner and published by the Wellesley Centers for Women in partnership with Old City Publishing, WRB provides a unique perspective on today's literary world.
Contact Women's Review of Books.
Read Women's Review of Books Online
Subscribers to Women's Review of Books can read the issue online.
Previous issues of Women's Review of Books can be purchased as digital downloads.
January/February 2021
Jennifer Baumgardner, Women's Review of Books editor in chief, gives a preview of what's in the current issue: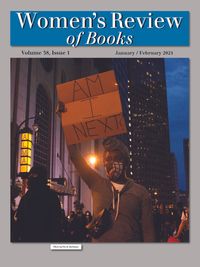 BUY ISSUE >>
Friend, Foe, Fetish Fat By Hanne Blank
Reviewed by Ariel Kim
Awake Girl Gurl Grrrl: On Womanhood and Belonging in the Age of Black Girl Magic By Kenya Hunt
Reviewed by Shirley Ngozi Nwangwa
Uncertainty Principle Unfinished Business: Notes of a Chronic Re-reader By Vivian Gornick
Reviewed by Laurie Stone
Ice Poetica The Freezer Door By Mattilda Bernstein Sycamore
Reviewed by Kathleen Rooney
Bionic Woman Bright and Dangerous Objects By Anneliese Mackintosh
Reviewed by Elisa Faison
Mother Of Exiles Ellis Island: A People's History By Małgorzata Szejnert, translated from the Polish by Sean Gasper Bye
Reviewed by Beth Holmgren
Poetry By Erin Belieu
Commentary By Katha Pollitt
Photography Strange Fruit: Photographs By Nicole Buchanan
Commentary By Ellen Feldman
North's West Outlawed By Anna North
Reviewed by Anna Godbersen
Poetry By Victoria M. Washington, Rebecca Morgan Frank, and Merridawn Duckler
Commentary By Katha Pollitt
Lucid Dreaming The Sunflower Cast a Spell to Save Us from the Void By Jackie Wang
Reviewed by Maria Bobbitt-Chertock
System Ick Launching While Female: Smashing the System that Holds Women Entrepreneurs Back By Susanne Althoff
Reviewed by Brooke Warner
Honor the Birth Reproduction on the Reservation: Pregnancy, Childbirth, and Colonialism in the Long Twentieth Century By Brianna Theobald
Reviewed by Andrea Ringer
At Home in the Entire World Rosa Luxemburg By Dana Mills
Reviewed by Charis Caputo
Black Noise Black Utopias: Speculative Life and the Music of Other Worlds By Jayna Brown
Reviewed by K. Avvirin Gray
Television Lovecraft Country Adapted by Marsha Green from a novel by Matt Ruff
Reviewed by Kovie Biakolo
The Women's Review of Books receives support from the Massachusetts Cultural Council.