Women's Review of Books
Since 1983 the Women's Review of Books has provided a forum for serious, informed discussion of new writing by and about women. Women's Review of Books provides a unique perspective on today's literary landscape and features essays and in-depth reviews of new books by and about women. Women's Review of Books is published by the Wellesley Centers for Women at Wellesley College, in collaboration with Old City Publishing in Philadelphia, PA.
Watch this video interview with Amy Hoffman, editor-in-chief of the Women's Review of Books. Learn about the background history of the publication and how works are selected.
Women's Review of Books will be considering poetry submissions during April and May 2017. Please mail up to three pairs of poems to Robin Becker, Poetry and Contributing Editor, c/o Women's Review of Books, Wellesley Centers for Women CHE, Wellesley College, 106 Central Street, Wellesley, MA 02481. If you would like your manuscript returned, include a stamped, self-addressed envelope of appropriate size.
March/April 2017
BUY ISSUE>>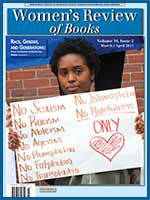 Gender, Race, and Generations: A Roundtable Discussion

Essay Getting in Formation
Story in the Service of Social Justice
No Throwaway Children By Angela Ards

Pushout: The Criminalization of Black Girls in Schools
By Monique W. Morris
Reviewed by Tamara Beauboeuf-Lafontant

Surveillance VS Care Holding On: African American Women Surviving HIV/AIDS
By Alyson O'Daniel Reviewed by Jennifer Brier

Race and Sex at the UN Power Interrupted: Antiracist and Feminist Activism Inside the United Nations
By Sylvanna M. Falcón Review by Catia C. Confortini

Weaving Stories LaRose By Louise Erdrich
Reviewed by Trish Crapo

Comic Strip the Writers' Jubilee By Ajuan Mance

Seek Justice Women Doing Life: Gender, Punishment and the Struggle for Identity By Lora Bex Lempert
Reviewed by Andrea Grimes

The Inward Journey Voyage of the Sable Venus And Other Poems By Robin Coste Lewis
Reviewed by Kate Daniels

Computing While Black Hidden Figures: The American Dream and the Untold Story of the Black Women Mathematicians Who Helped to Win the Space Race By Margot Lee Shetterly
Reviewed by Evelynn M. Hammonds

Growing Up Biracial Black Lotus: A Woman's Search for Racial Identity By Sil Lai Abrams
Reviewed by Layli Maparyan

Baby and Child Care Know the Mother By Desiree Cooper; Eleven Hours By Pamela Erens
Reviewed by Rochelle Spencer
Women's Review of Books issues are now available for purchase as digital downloads!
The Women's Review of Books receives support from the Massachusetts Cultural Council.