Women's Review of Books
Since 1983 the Women's Review of Books has provided a forum for serious, informed discussion of new writing by and about women. Women's Review of Books provides a unique perspective on today's literary landscape and features essays and in-depth reviews of new books by and about women. Women's Review of Books is published by the Wellesley Centers for Women at Wellesley College, in collaboration with Old City Publishing in Philadelphia, PA.
Watch this video interview with Amy Hoffman, editor-in-chief of the Women's Review of Books. Learn about the background history of the publication and how works are selected.
January/Febuary 2017
BUY ISSUE>>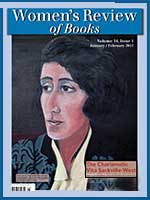 The House of Difference
Audre Lorde's Transnational Legacies Edited by Stella Bolaki and Sabine Broeck
The Wind Is Spirit: The Life, Love and Legacy of Audre Lorde By Gloria I. Joseph
Reviewed by Jan Clausen

What Are You Wearing?
Threadbare: Clothes, Sex, and Trafficking By Anne Elizabeth Moore and the Ladydrawers
Reviewed by Wendy Gamber

Trouser Roles
Girls Will Be Boys: Cross-Dressed Women, Lesbians, and American Cinema By Laura Horak
Reviewed by Erin Trahan

Stories Matter
Homegoing By Yaa Gyasi; Under the Udala Trees By Chinelo Okparanta; The Book of Memory By Petina Gappah
Reviewed by Heather Hewett

Bringing the President to the People and the People to the President
A Feminist in the White House: Midge Costanza, the Carter Years, and America's Culture Wars By Doreen Mattingly
Reviewed by Ruth Rosen

Poetry
By Jan Freeman

Photography

Born in Chiapas By Janet Jarman

Putting a Ring on it
Wedlocked: The Perils of Marriage Equality: How African Americans and Gays Mistakenly Thought the Right to Marry Would Set Them Free By Katherine Franke
Reviewed by Amber Moulton

Field Notes

In Memoriam, 2016 By Robin Becker

The Heisenberg of Feminism
The Feminism of Uncertainty: A Gender Diary
Reviewed by Paula Rabinowitz

Testing the Human Spirit
Forty Rooms By Olga Grushin
Reviewed by Jessica Jernigan

The Less-Than-Scientific Science
Finding Time: The Economics of Work-Life Conflict By Heather Boushey
Reviewed by Kate Bahn

House Love and Human Love
A House Full of Daughters: A Memoir of Seven Generations By Juliet Nicolson
Reviewed by Roberta Rubenstein

Reproductive Rights, Human Rights
Reproductive States: Global Perspectives on the Invention and Implementation of Population Policy

Edited by Rickie Solinger and Mie Nakachi
Reviewed by Mindy Jane Roseman

This Place Needs a New Language
The Bones of Grace By Tahmima Anam
Reviewed by Mandira Sen
Women's Review of Books issues are now available for purchase as digital downloads!
The Women's Review of Books receives support from the Massachusetts Cultural Council.