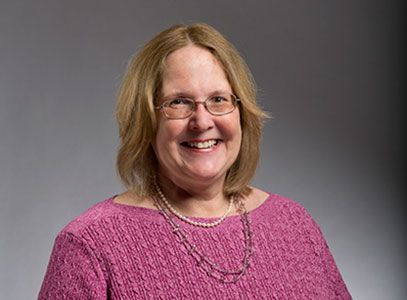 Wendy Wagner Robeson
Senior Research Scientist
B.S., Boston University; M.Ed., University of Houston; Ed.D., Harvard University
wrobeson@wellesley[dot]edu
Focuses on child development, early care and education, and school readiness, with a focus on policy implications
Wendy Robeson has been with the Wellesley Centers for Women since 1989. She considers herself fortunate that her work at the Centers meshes very well with her long-time interests in children and child development, including children's language development. She is also extremely interested in early care and education and school readiness. Tied to these research interests is a keen awareness that what she does through research can and does affect social policy, and Wendy strives to keep up with the ever-changing policy landscape.
Beginning when she was eight years old, Wendy wanted to be a teacher and work with children, and she has been able to fulfill that wish. She began her career as a language arts and English teacher in an inner-city middle school in Houston, Texas, after graduating from Boston University with a degree in education, math, and English. After finishing her master's degree in early childhood education at the University of Houston, Wendy headed to Cambridge, Massachusetts to begin work on a doctoral degree at Harvard Graduate School of Education and pursued her interest in children's language development.
Today, many years later, Wendy still works with children through her research projects including the NICHD Study of Early Child Care and Youth Development, the Massachusetts Early Care and Education and School Readiness Study. She has also taught in the Education Department at Wellesley College and enjoyed it tremendously.
It is her hope that through her work at the Centers, Wendy can make a difference in the lives of children and their families by conducting research in child development and child care that in turn, can affect change in policy at the local, state and federal level.
Professional Affiliations:
Society for Research in Child Development; National Association for the Education of Young Children; Boston Association for the Education of Young Children; King Philip Middle School Parent Council; Stand for Children; Patriots' Trail Girl Scout Council