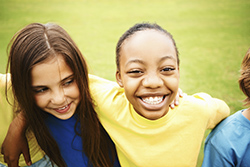 If there is one notion that's likely to receive nearly unanimous validation in contemporary culture, it's that self-esteem is a good thing. While there may not be agreement on what is it or how to do it, its elevated placement in Maslow's hierarchy has led to the notion that it is something we should all have, and that we should have enough of it. In fact, not having enough self-esteem is cited as the root of all sorts of social and psychological ills. When low self-esteem is cited as the cause of a particular objectionable behavior, the explanation seems more accusatory than diagnostic. For example, there are few cultural indictments more shaming to parents than to have a child with "low self-esteem." It is no wonder then that cultivating self-esteem has become a central, even if implicit, goal in parenting and therapeutic practices. Consequently, what started as a developmental construct has taken on the valence of a cultural meme, with a taken-for-granted acceptance of its meaning and import. Left unexamined, any construct, even one with all the apparent virtue of self-esteem, can take on the central distortions of the dominant culture. The problem for Relational-Cultural Theory (RCT) practitioners--parent, teachers, and therapists alike--is that something gets lost in translation when self-esteem becomes a proxy for the Separate Self: when it is defined as an individualistic and privatized commodity. When the construct of self-esteem is imported into a Separate Self developmental framework, the near inevitable result is the cultivation of expression of power-over practice.
Let me explain. Power-over practice does not require intentionality; oblivion to context is sufficient. Such was probably the case when I observed two young boys (presumably siblings) soccer-kicking a cereal box through the crowded aisles of an upscale grocery store. The boys were having a grand time, while two adults (presumably parents) stood by with bemused "boys-will-be-boys" smiles. The store employees stood tight-lipped and hapless, not daring to interrupt this unfettered assertion of want and will. The shifting configurations of observing adults (me included) expressed our shared un-ease through furtive glances at each other, almost certainly unanimous in our disapproval of "parental over-indulgence." It has since occurred to me that what we witnessed could have been tinged with no small measure of parental fear. It could have been that the parents could not risk re-directing this uninhibited behavior for fear of depleting the boys' supply of self-esteem. What became clear is this: when the "Self" is disconnected from community, an impulse is treated as an imperative, and simple desire can become a demand. We commonly understand self-esteem to mean feeling good about oneself. But what if "feeling good" can only be achieved by getting what I want when I want it at the expense of others?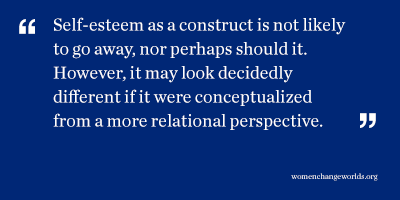 I could not help but be reminded of something that my grandmother Donnie would say to young people in our family. If anyone one of us dared to violate her standards of good grooming or "respectable" behavior, she would say: "Don't go out acting like you don't have people." At the time, her counsel was little more than an irritation. "Having people" could mean anything from representing your family by working hard in school to properly ironing a ruffled blouse. It's a safe bet that my grandmother never heard of Maslow, and I'm guessing she lived the better part of eight decades without ever using the words "self-esteem." She did, however, know a lot about respect, reverence, and dignity. What we now call self-esteem is what my grandmother expressed as self and other--awareness. Her version of self-esteem was awareness of connection to community. Further, it meant appreciation for the care that community bestows, and an obligation to represent that care in the world and to the world. Put plainly the lesson was this: how you go out into the world is not just your private business; your behavior reflects on and has consequences for the communities from which you come.
Self-esteem as a construct is not likely to go away, nor perhaps should it. However, it may look decidedly different if it were conceptualized from a more relational perspective. When I think back on the admonition from my grandmother, "having people" translates into three relational practices: appreciation, acknowledgement, and agency.
Appreciation involves knowing that the beginning of being is relationship. Furthermore, wellbeing and accomplishment are made possible through the contributions and often the sacrifices of others. This practice engenders a sense of self-worth, distinctly different from the illusion of self-sufficiency. In other words, to practice appreciation is to is live the nuanced distinction between being worthy to receive and being entitled to receive.
Second is acknowledgement: cognizance of and responsiveness within the relational-cultural landscape. As members of a marginalized community, this level of consciousness was essential for survival. This practice is akin to what RCT scholar Yvonne Jenkins first referred to as social esteem. By introducing the construct of social esteem, Jenkins challenges the notion of self-esteem as a privately held property and responsibility. In her framework, questions of being, belonging, and mattering cannot be effectively addressed without cognizance of the social-political context within which they arise. When African American elders talked about "having people," they were saying that oblivion to context is not an option: that we were responsible to for discerning how personal behaviors might impact communal experience. In no small way, this consciousness contributes to the development of anticipatory empathy. (Being allowed to kick someone else's property through a crowded grocery aisle actually deconstructs this quality of relational consciousness.) Acknowledgment as a relational practice enables clarity and intentionality in navigating the complex interdependencies of a stratified cultural landscape.
One of the foundational tenets of Relational-Cultural Theory is that the purpose of being in relationship. Having a sense of agency then is to claim our responsibility as co-creators of human possibility. I can think of a no more telling example of this perspective than a conversation I had with a young Indonesian man a few years ago. He told me that as a member of a religious minority in his country, he knew that he had to work twice as hard to get half as far: precisely the advice that I had heard growing up in a racially stratified culture decades earlier. Interestingly, this belief did not engender defeatism or victimhood. Rather, it confirmed the obligation to community: to advance the contributions of preceding generations and to provide "uplift" for future generations. Further, it instilled confidence in our ability and obligation to make the world a little bit better for others.
To infuse the notion of self-esteem with a more communal perspective does not eradicate personhood; rather it enlarges it. A culture that overemphasizes the primacy of the individual creates obsession with self-possession and fear-riddled autonomy. In contrast, a relational perspective insists that self comes to fuller expression through action in relationship for the precise purpose of enlarged capacity for responsiveness in relationship. There is an alternative to the version of self-esteem that manifests as "I should say, do, and get what I want when I want it." Imagine the possibilities for cultural transformation when self-esteem (feeling good about oneself) manifests as "We belong. We can. We matter."
Maureen Walker, Ph.D. is director of program development at the Jean Baker Miller Training Institute, Wellesley Centers for Women.