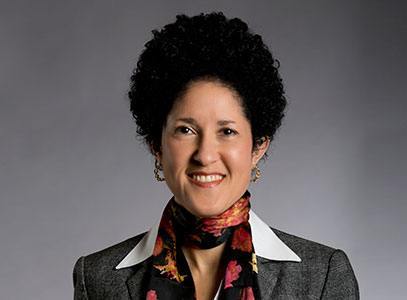 Layli Maparyan, Ph.D.
Katherine Stone Kaufmann '67
Executive Director
B.A., Spelman College; M.S., Pennsylvania State University; Ph.D., Temple University
layli[dot]maparyan@wellesley[dot]edu
Executive Director of the Wellesley Centers for Women; expert on the womanist worldview and activist methodology.
Dr. Layli Maparyan's scholar-activist work interweaves threads from the social sciences and the critical disciplines, incorporating basic and applied platforms around a common theme of integrating identities and communities in peaceable, ecologically sound, and self-actualizing ways.
Best known for her scholarship in the area of womanism, Dr. Maparyan edited (as Layli Phillips) The Womanist Reader (Routledge, 2006), which documents the first quarter century of womanist scholarship from an interdisciplinary perspective and is the first volume to treat womanism "on its own." Her most recent book is The Womanist Idea (Routledge, 2012), a comprehensive treatment of womanist worldview and activist methodology. Dr. Maparyan has also published significantly in the areas of adolescent development, social identities (including biracial/biethnic identity and the intersections of racial/ethnic, sexual, spiritual/religious, and gender identities), Black LGBTQ studies, Hip Hop studies, and history of psychology. Supported by a Fulbright Specialist Award in 2010, she worked with the University of Liberia in West Africa to assist with the development of its inaugural Gender Studies Program using an "applied womanism" framework. In 2009, she received an academic fellowship from the Center for Contemplative Mind in Society to advance work exploring womanist perspectives on spiritual activism. Currently, her scholarly work revolves around building and helping to define the emerging field of womanist studies.
Prior to joining WCW, Dr. Maparyan served as Associate Professor of Women's Studies and Associated Faculty of the Department of African American Studies at Georgia State University. While there, she served as departmental graduate director as well as faculty senator, holding appointments on the Faculty Affairs and Cultural Diversity committees. Formerly Assistant Professor of Psychology and African American Studies at the University of Georgia, she also served as Founding Co-director of the Womanist Studies Consortium, a Rockefeller Humanities Fellowships residency site, during which time she recruited and supported scholars and interns from the U.S. and other countries and published a journal, The Womanist (later Womanist Theory and Research). Dr. Maparyan has served as a member of the editorial collective for the journal Feminist Studies and a reviewer for such journals as Psychology of Women Quarterly and The Journal of African American Studies.
Throughout her career, Dr. Maparyan has held numerous positions of leadership in organizations as diverse as the National Women's Studies Association (NWSA), the National Center for Civil and Human Rights (NCCHR), the University Consortium for Liberia (UCL), Foreverfamily (formerly Aid to Children of Imprisoned Mothers), Engender (South Africa), the National Council for Research on Women (NCRW; now Re:Gender), and, most recently, the Sirleaf Market Women's Fund (SMWF).
Dr. Maparyan received her B.A. in philosophy from Spelman College; her M.S. in psychology from Penn State University, where her work was supported by a Ford Predoctoral Minority Fellowship; and her Ph.D. in psychology from Temple University, where she was sponsored by a Patricia Roberts Harris Fellowship. Her doctoral dissertation, supervised by Laurence Steinberg, was entitled "Adolescent Ethnic Identity and Adjustment: Relation to Ethnic Characteristics of the Peer Context." She is married to Liberian journalist and filmmaker Seboe N. Maparyan.