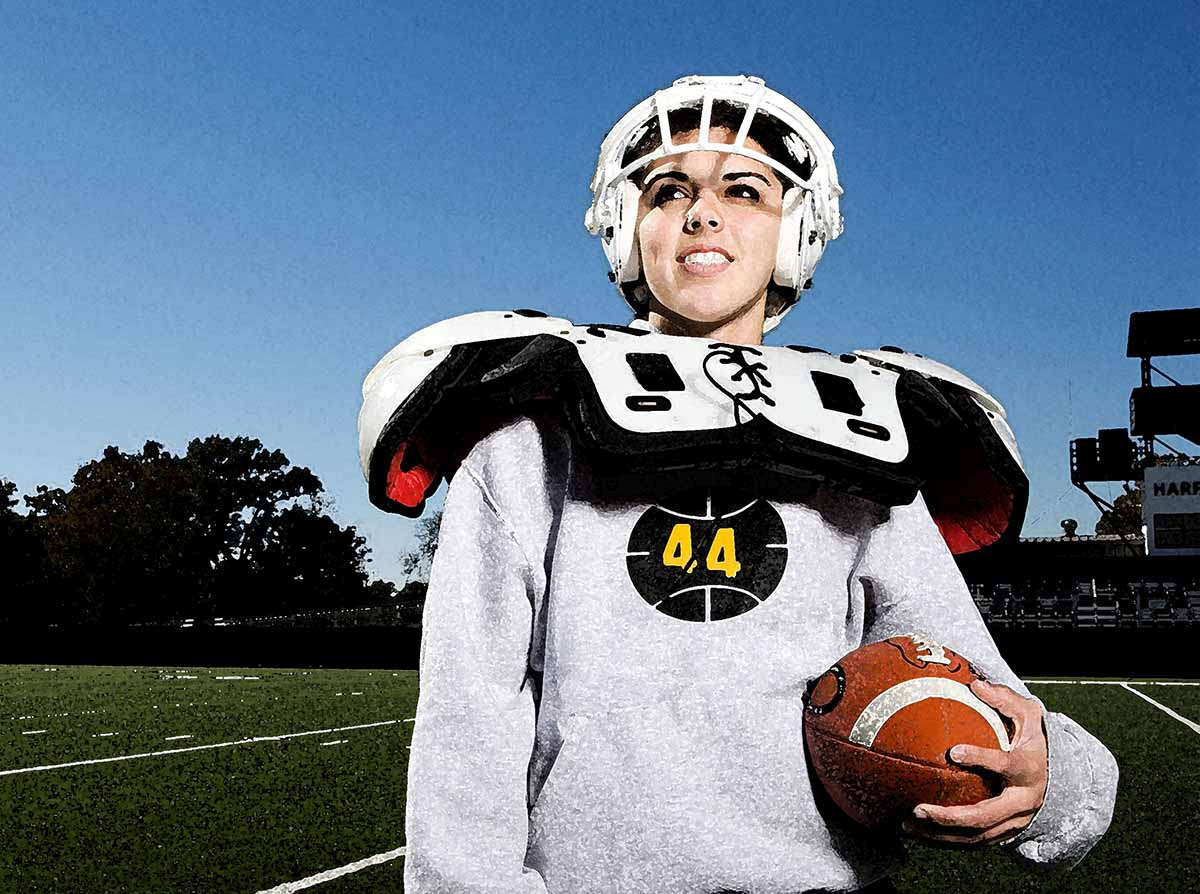 When Arizona high school senior Becca Longo on Wednesday officially signed on to be a kicker for Division II Adams State University Football, it was notable for a key reason: She was getting paid.
Of course, she is not literally getting paid. But she is getting a scholarship to play. There is growing history of female athletes playing football at the college level, but it's not clear that any others have been recruited and given an athletic scholarship.
Katie Hnida, who played for Colorado and then New Mexico, walked on. And while Shelley Osborne in 2014 was recruited from Jeffersonville High in Indiana to play defensive back at Campbellsville University in Kentucky, they play in the NAIA, which does not award scholarships. (Three years later, however, she is still on the roster as an active member of the team.
Why do scholarship dollars matter?
Symbolically it's a big deal. Not only for the obvious problem women have getting paid the same money for the same work as men (the wage gap now stands at 82 cents to the dollar men earn). But the scholarship also begins to challenge an historic bias about how males and females view and participate in sports. Culturally, there is an assumption that men play to win and women play for fun and fitness, notions reinforced through the origins and structures of sport opportunities.
It has taken decades for female athletes to be viewed as individuals every bit as driven and intense as their male counterparts. The scholarship helps make that case for one simple reason: When coaches recruit, they don't waste money. They are picking talent and assembling the elements of their team with a goal of winning.
Credit Adams State coach, former Arizona Cardinals quarterback Timm Rosenbach. He told media that he just picked a player he thought could compete. "I see her as a football player who earned it," he said. "She has a strong leg and can be very accurate." Last season Longo made 30 of 33 point-after kicks and a 30-yard field goal
When Hnida in 2003 became the first female to score an extra point in an NCAA Division I game (she actually scored two, against Texas State), it was seen as a stunning event. More than a dozen years later, Longo's recruitment is more noteworthy than shocking.
We are – at long last – becoming acclimated to the talent and intensity of female athletes. It is not a freak occurrence to see women excel. It's sinking in that high-level ability can be developed, trained and practiced. Why shouldn't a 5'11" 140-pound athlete with a powerful leg and strong mental make-up kick field goals?
Just consider the arching bombs that female soccer players launch down a field toward a net. Aim over uprights and a boundary is breached.
Longo's signing marks progress in the cultural understanding that women – as well as men – can be dazzling athletes worth real money. (NCAA women's tournament basketball game UConn vs. Mississippi State, anyone?)>
Yet even as Longo's name was hurriedly added to the Wikipedia "female American football players" entry, one notes that the list isn't very long. The reasons for girls and women not to play football – aside from reasons no one should – reflect a stubborn gender bias about what is "appropriate" and what is not, particularly when we are talking about kickers.
Journalist Laura Pappano is writer-in-residence at the Wellesley Centers for Women and was a leader of The Women's Sports Leadership Project. For seven years, she edited the FairGameNews blog, now preserved as an archive.