An OST Quality Case Study
My father-in-law used to say that getting old is not for the faint of heart. It takes a dogged determination to persevere while keeping on top of new issues that arise. I think the pursuit of quality in out-of-school time is similar. That effort is long-term and takes group effort, not just individual commitment. Just as there are services and doctors to help the aging, there are processes and assistance for those committed to improving quality in out-of-school time (OST) e.g. afterschool or summer programs. The process we promote at the National Institute on Out-of-School Time (NIOST) is "continuous quality improvement" (CQI) and our clinicians are "Quality Advisors" or QAs. The QAs are councilors who offer resources, tips, feedback, and guidance. They can be working internally but more often they are occasional visitors from outside.
To best illustrate the concept of doctoring or coaching the CQI process I'll share a story from Veirdre Jackson, director of Professional Development Dimensions, at the Montgomery Early Learning Centers (MELC) near Philadelphia. Several years ago MELC embarked on a quality improvement initiative in OST programs serving youth kindergarten through sixth grade in three counties. To support this work, MELC received funding for professional development and curricula and received state supported quality advising tied to quality improvement. MELC targeted improving Social Emotional Learning (SEL) skills as their overall goal and used the Assessment of Program Practices (APT) tool as their improvement gauge. The tool serves as both a baseline and a year-end measurement, but most importantly the scales are research-based best practices. The specific scales MELC looked at gave a rich picture of areas where staff should be supporting youth, building relationships, and guiding behavioral expectations. The results of the APT baselines gave a clear picture, for example, that routines were not working and wait time was excessive which led to disruptive behaviors and staff taking punitive measures in a cycle of frustration.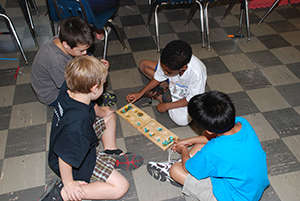 Photo courtesy of MELC.This scenario is not uncommon in OST (and among anyone with children). Jackson says her trainings that address youth behavior are routinely sold out. OST staff are often part-time and enter this field from a wide variety of career backgrounds that may not offer experience and training in child development that school-day teachers who work with children systematically gain. With an increase in challenging behaviors and a decrease in the presence of self-regulation skills by youth, staff quickly become mentally exhausted and get trapped in the cycle of reacting instead of responding to behaviors.
With the results of the APT, the CQI process began with visits from QAs. The QAs gave feedback on the physical environment and how to make routines such as transitions flow more quickly and orderly. Primarily the coaching addressed interactions between staff and youth and guided staff to de-escalate rather than escalate situations. Staff who asked, "When are you going to work with the youth?" realized their emotional status and behavior were key to youths' behavior. Staff shifted away from punitive tactics to understanding what's happening in a situation and addressing that need. Additionally, curriculum was employed to provide staff with appropriate strategies, and individual youth received focused skill-building that was age appropriate. Staff realized that their own social emotional wellbeing helps them be their best and that in turn helps youth be their best.
This experience points to the structure behind CQI: setting goals, using data to drive an improvement plan, making program adjustments, and using resources that involve staff in carrying out the changes and being part of the solutions while keeping a focus on engaging and supporting youth. NIOST has been a leader in advancing quality work for more than three decades and provides all the elements needed to begin this work. Training is available including Quality Advisor, APT tool use (now online), and how to use data for program improvement. Resources for adopting a CQI process and engaging staff, parents, and schools are also available.
Last month, my colleague Betsy Starr wrote about the importance of professional development to attain quality in out-of-school time programs. It is gratifying to hear of the MELC work, to learn of professional development successes, and know that OST is making a significant contribution to improving the lives of children.If our Quality Advisors are our OST "doctors" then we need to make sure that all OST programs have access to this important care.
Kathy Schleyer, M.S. is the Director of Training at the National Institute on Out-of-School Time (NIOST) at the Wellesley Centers for Women, Wellesley College. (Video: Ellen Gannett, M.Ed., is director of NIOST; Photos: Courtesy of Montgomery Early Learning Centers.)