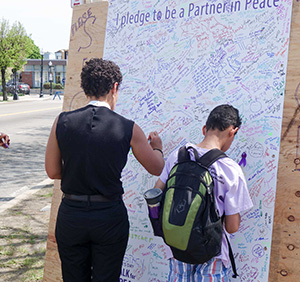 The following article was posted May 4, 2015 on the Medicine and Faith blog of Lisa Fortuna, M.D., and is re-posted with permission by the author. She is pictured a pledge to be a Partner in Peace during the Mother's Day Walk for Peace in Boston, MA.

Because I am a priest and a psychiatrist I spend a lot of time discerning the meaning of things. The past two weeks have been filled with a lot of news stories about discord, violence and hate. A lot of this very bad news has to do with racism, divisions, greed, and power. I only have to bring up Ferguson, Baltimore or ISIS and you know the kinds of stories I am speaking of. These things bring me to two questions: How do we raise up our young people to be healthy in body, mind and spirit in a world that upholds such violence? How does our world contribute to the development of anxiety, depression, and traumatic stress in our young people?
Today one of my parishioners asked me, "What can we do to help our kids make it in this world?"
It is an important and challenging question that I have had to try to answer either at the coffee hour after church service, in my consultation office when seeing a patient and their parents, or when investigating a new intervention that might help young people with depression or trauma.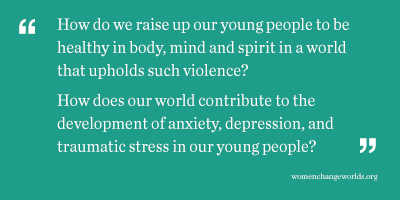 Although these are all big questions, I have at least learned a few things over the years through my clinical practice, research and ministry about what helps young people stay healthy (or what helps them heal if needed) in mind, body and spirit. Here are my top five learnings of what helps young people:
1. Having someone in their life that is absolutely crazy about them, loves them unconditionally and lets them know it.
2. Having a sense of community and true belonging.
3. Developing compassion for self and others.
4. Connecting to ones heritage and traditions while also embracing new ideas and diversity (Includes bi-culturalism, multiculturalism).
5. Developing a sense of a greater good and commitment to something bigger than oneself (spirituality, justice, connecting across differences).
I have found that these five core areas are very important for emotional health and development.
Here are some links of some examples of youth living into these principles and adults supporting them on the journey:
What are some of the ways we can engender these types of experiences and opportunities for growth and healing in the lives of our young people?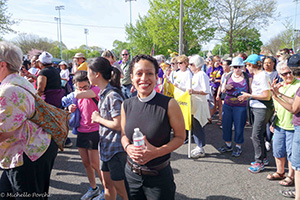 Lisa Fortuna, M.D. is a psychiatrist triple board certified in general psychiatry, child and adolescent psychiatry, and addiction medicine. A research collaborator with scholars at the Wellesley Centers for Women, she is the medical director for child and adolescent psychiatry services for the Boston Medical Center, faculty at Boston University Medical School, and an Episcopal Priest serving as pastor in a Latino congregation in the Episcopal Diocese of Massachusetts.