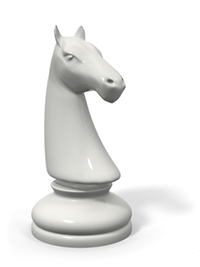 Caution, White Knight
Half the Sky is a two-part documentary film that aired on PBS stations beginning October 1 and 2, 2012. The film's themes are 1) the ubiquitous violence against women that is perpetrated throughout the world, especially during and in the aftermath of war, and 2) the efforts made by courageous women- many of whom have experienced violence personally, to overcome this oppression. The film features U.S. women with celebrity status – Eva Mendes and Meg Ryan among others – to draw attention to these themes. The inspiration for the film was a book with the same title, co-authored by the husband-and-wife team of New York Times correspondents Nicholas Kristof and Sheryl WuDunn, and began with their efforts to explain the "disappearance" of thousands of girl babies every year in China, where traditionally boys are favored.
As a lifelong researcher in the area of the concerns of women in poverty I think this film has great value in drawing the viewing public's attention to the oppression of women worldwide. However, as a social scientist and activist I have serious concerns about the ethics of making of this film, especially in the case of the two girl rape victims in Sierra Leone; Kristof's so-called "encounter" with a three-year old girl rape victim and his interview with a 13-year old girl raped by her uncle. Both girls experienced traumatic events likely to leave profound and long-lasting effects on their lives. They are, as all trauma-informed literature states, vulnerable to being re-traumatized in any situation where there is a male and they feel insecure, and their experiences are complicated by cultural norms and deference to locally influential men. It was insensitive at best to have a white adult male taking the lead in talking one-on-one with these girls. Further, the lack of privacy -- showing the girls' faces and broadcasting their undisguised voices -- likely endangered the girls and their families, if not immediately then at some point in the future. There are many ways in which the film's message could have been equally well transmitted but with more consideration shown for the victims.
I recommend these readings to help shed light on the complex issues we should consider in aiding women and advancing their security:
Erika Kates, Ph.D. is a Senior Research Scientist at the Wellesley Centers for Women, Wellesley College.