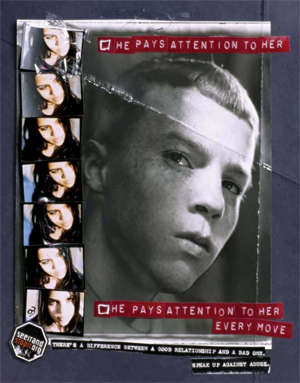 Teen Dating Violence Awareness & Prevention
Last year, when President Barack Obama proclaimed February Teen Dating Violence Awareness and Prevention Month, he noted that an estimated one in ten teens will be hurt intentionally by someone they are dating and "while this type of abuse cuts across lines of age and gender, young women are disproportionately affected by both dating violence and sexual assault." His Administration has committed many resources to addressing the problem. The Violence Against Women Act, reauthorized in 2013 by the U.S. Congress, funds enforcement of gender-based violence laws, provides victim services, and created new federal crimes involving interstate violence against women. The 1 is 2 Many campaign launched by Vice President Joe Biden aims to reduce sexual violence against those who experience the assaults at the highest rates--young women ages 16-24. And recently, a report from the White House Council on Women and Girls and the Office of the Vice President analyzed rape and sexual assault data, including the staggering number of sexual assaults on campuses, and issued a renewed call to action. Teen dating violence between adolescents who are "dating," "going together," "hanging out," or however the adolescents label it, is a serious problem—from public health, education, and legal perspectives—with injuries, poorer mental/physical health, more 'high-risk'/deviant behavior, and increased school avoidance being experienced and reported.
One concern I have is that federal policies, as evidenced by Congressional funding priorities, may not consistently address systemic issues that contribute to teen dating violence. For example, the federal government has invested generously in "healthy relationship" programs and initiatives that promote marriage as a cure-all for poor women and girls but have no requirement for evaluation, while also funding research that takes a gender-neutral approach to examining the problem.1 Data shows that males and females do not engage in mutual, reciprocal, and equivalent violence—so why wouldn't there be a need to examine the gendered components of any intimate partner violence?
My research for over 30 years has focused on peer sexual harassment in schools, a form of gender violence, which I consider the training grounds for domestic violence. In fact, sexual harassment may also serve a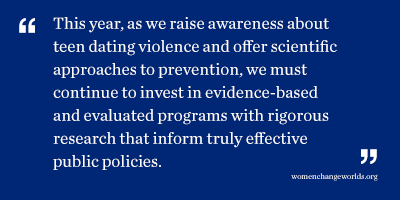 s a precursor to teen dating violence. Schools—where most young people meet, hang out, and develop patterns of social interactions—may be training grounds for domestic violence because behaviors conducted in public may provide license to proceed in private.
Since 2005, my more recent research with Bruce Taylor, of NORC, funded by the National Institute of Justice of the U.S. Department of Justice, has been in urban middle schools, with the youngest sample of 6th and 7th graders ever studied in a scientific, randomly controlled research project on teen dating violence. Our interventions, both school-wide and in the classroom, emphasize articulating and claiming one's boundaries and personal space; never do we discuss "healthy relationships"—a perspective that I find subjective and judgmental yet seems to operate as the default approach to preventing teen dating violence. Happily, our data shows that our interventions are effective and we are currently expanding them to 8th graders and testing for longitudinal effects.
This year, as we raise awareness about teen dating violence and offer scientific approaches to prevention, we must continue to invest in evidence-based and evaluated programs with rigorous research that inform truly effective public policies.
Nan Stein, Ed.D. is a Senior Research Scientist at the Wellesley Centers for Women at Wellesley College where she directs several national research projects on sexual harassment, and gender violence. Shifting Boundaries, her research project with Bruce Taylor, is an ongoing, multi-level study funded by the National Institute of Justice to evaluate the effectiveness of grade-differentiated dating violence and sexual harassment prevention curricula.
1.)Healthy_Marriage_and_Responsible_Fatherhood_Grantees.pdf. January 23, 2013. U.S. Department of Health and Human Services, Office of Family Assistance, an Office of the Administration for Children and Families. Retrieved February 3, 2014, from http://www.acf.hhs.gov/programs/ofa/resource/healthy-marriage-grantees