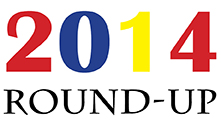 A 2014 Round-up
Below are links to two articles from good friends of the Wellesley Centers for Women—Susan McGee Bailey and Alex Sanger. Susan is the former, long-time executive director of the Wellesley Centers for Women (WCW); Alex is chair of the International Planned Parenthood Council and member of the WCW Council of Advisors. In their respective blog articles, they share their perspectives on the year 2014.
In her latest piece on Girl w/ Pen, Susan writes, "Hanukkah, then Christmas next week, followed by the start of a new year—a time of hope and beginnings. Why doesn't it feel that way? For the past several days I've been searching for the bright spots. The ones that can provide the energy we need in the midst of so much darkness. Not an easy task. Each day new horrors erupt: the second anniversary of the Sandy Hook massacre and still no reasonable national gun control legislation; free passes for racial biases and deadly police brutality; the sickening slaughter of school children in Pakistan; ongoing revelations of rape in the US military and on university campuses. Negative news can so easily obliterate positive signs in the struggles for equal rights. But all around us there is tangible evidence of the many ways feminist work contributes to positive progress for everyone... You can read the full article online.
In his latest piece on Huffington Post, Alex writes, "Once again, we've had a year of ups and downs, a year of strong stands for women's rights and crushing defeats. Here's a quick run-down of some of the most memorable moments of 2014. Last month, the Chamber of Deputies in the Dominican Republic put forward a measure to reinforce—and strengthen—the country's existing ban on abortions in all circumstances. Thankfully, Dominican President Danilo Medina vetoed the measure, urging legislators in a letter to decriminalize abortions in cases where the woman's life is at risk or in cases of rape, incest, or fetus malformation. " You can read the full article online.
What do you think have been notable events or moments of the past year? Share with us!
The mission of the Wellesley Centers for Women at Wellesley College is to advance gender equality, social justice, and human wellbeing through high quality research, theory, and action programs. Since 1974, work has generated changes in attitudes, practices, and public policy.