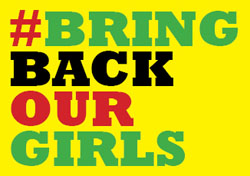 More than two weeks have gone by since 276 young women were abducted from a high school in Nigeria,* and there has been relatively little attention to their plight from the international community and news media. These are young women who had returned to the school (which had previously been closed due to regional violence) to study for an important physics exam, the results of which could help them gain entry to a university and later into careers such as medicine and education.
Wellesley College, like many other colleges and universities in this country, has recently opened its doors to visits from prospective students--women from a wide range of backgrounds. As we share their anticipation and hopes, we might also take a moment to consider how in "one fell swoop" a group of terrorists, Boko Haram, violently intercepted the hopes of these young women who are of similar age. The other day, walking on our campus, I saw a group of local high school seniors in formal attire having their pictures taken by our beautiful lake, and I was touched by their pre-graduation excitement and, at the time, overwhelmed as I imagined the despair those young Nigerian women, aged 16-18, must be experiencing in the clutches of a depraved enemy.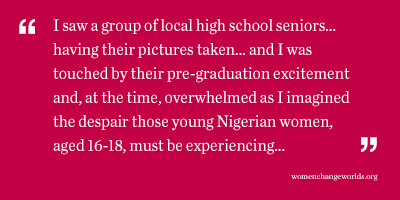 Wellesley is one of the Seven Sisters' Colleges--colleges with a historic commitment to the education and rights of women. If "Sisterhood" means something, then please lend your voices now; let the world know that this is unacceptable. Two years ago Malala Yousafzai was shot in the head and almost killed as a member of the Taliban opened fire on her school bus. Once again, young women risk annihilation in their effort to become educated. We are in a position to assert our voices on behalf of these "sisters."
What you can do:
Use social media--hash tag #BringBackOurGirls Instagram posts and tweets in an effort to increase awareness.
Organize/ Attend Peaceful Community Marches.
Petition.
Raise public awareness and show support for these women in a peaceful, law-abiding and effective way.
Margaret Cezair-Thompson, Ph.D. is a Senior Lecturer in the English Department, Wellesley College.
* The actual number of abducted students has been difficult to confirm.