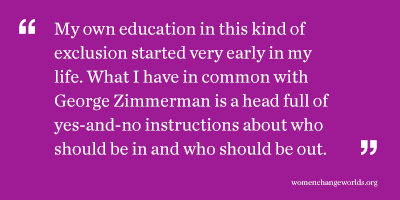 A gated community can be more than a real estate development. Last year, I visited an ailing friend who lives in a gated community on Hilton Head Island in South Carolina. I waited at a guardhouse while my white host, on the other side of the gate, was asked on the phone whether I should be let in. Waiting, I felt guilty until proven innocent, with a tinge of "Am I an imposter? Do I belong inside the gate?" But once allowed in, I could drive around without feeling wary as I looked for my friend's house. I didn't need to prove again that I "belonged." I am white, and elderly, and to the young white guards, I probably looked harmless. I was given a pass--temporary permission to belong.
Trayvon Martin was killed by George Zimmerman because he was a dark, unwelcome element from outside that Zimmerman felt did not belong within the gated community. Its neighborhood watch organization justified--at least in Zimmerman's own mind--his intention to get rid of the outsider-within. George Zimmerman acted as an individual, and it was as an individual that he refused to do what the police asked him to do--stay in his car rather than engage on the street with Trayvon Martin.
But I see George Zimmerman as also acting out fears, projections and aggressions that form patterns in our civic life. I think George Zimmerman shared with tens of millions of people in the United States the assumption that people whose skins are darker than their own do not belong, people who look poorer do not belong, and black men on the streets do not belong. The deep and usually unacknowledged assumption of the more empowered is that these others are threats that should be rooted out.
My own education in this kind of exclusion started very early in my life. What I have in common with George Zimmerman is a head full of yes-and-no instructions about who should be in and who should be out of "our" communities. Beyond that, our circumstances were very different.
I was raised in an upper class suburban New Jersey family with what I call a "litany of 'good's"--unquestioned markers of superiority that put a gated community around my consciousness. I was told that we had a good family, lived in good neighborhoods, went to good schools, had good manners, read good books, and of course earned good grades. We females should go to good colleges and marry men with good prospects who would get good jobs and make good investments because they had good sense and good judgment. We would learn good music and recognize good art because we had good taste. When such a castle of invented "goods" is built around one, an obedient self, keeper of the moat and drawbridge, will recognize and try to keep out threatening elements.
This frame of mind, instructed in keeping the "bad" at bay, made me as a child feel some fear when an un-good thought, an uncertified thought or person even, made its way into the precincts. The gated mind did what it could to hold off, stamp out, expunge, even kill the intruder. A man I was dating when I was 18 told me his parents had Jewish friends. I broke up with him immediately. Having grown up in anti-Semitic towns with few Jewish people, my gated mind stopped the intruding element. George Zimmerman and I were taught by large elements of American sensibility to do this.
We need liberal arts education and caring parents to teach children's minds to see that what is unfamiliar is not necessarily threatening. We need teachers to encourage students to look critically at what they have been taught about who and what "belongs" in a democracy. Examining one's mind and widening one's scope are humanizing pursuits. By contrast, rage--especially racial, religious, gendered, sexuality and class-based rage--at what is seen as "other" can kill off those observant and potentially welcoming internal elements of the self that can see beyond whatever excluding "litany of goods" one was taught.
The posse sensibility is not open or welcoming. The inner watchdogs of the closed mind kill off democracy. They fear what is not in their precincts. They do not recognize themselves in others. They close off curiosity and empathy. What remains is the ruthless gated community of the heart.
Peggy McIntosh, Ph.D. is an associate director at the Wellesley Centers for Women at Wellesley College. The founder of the National SEED Project on Inclusive Curriculum and a leading scholar on privilege, she is the author of the groundbreaking essay, "White Privilege: Unpacking the Invisible Knapsack."