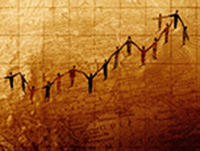 The purpose of Celebrate Diversity Month is to recognize and celebrate the rich diversity of cultures around us. Although this is often a necessary first step toward increasing understanding and heightening awareness of the differences and similarities among us, not probing beyond these experiences can lead to a "tourist approach" to understanding difference, particularly when engagement with other cultures is limited to the more obvious areas (e.g., food, arts, celebrations, music, and historical contributions). This often results in those cultures remaining in the realm of "exotic other." Why not take Celebrate Diversity Month to the next level? What if we work to gain a deeper understanding of the invisible riches and underlying motivations of culture?
My own journey beyond tourist-based experiences of culture began with the discovery of several models for deconstructing and understanding culture. One of these, the Iceberg Model of Culture, is a tool for elucidating the two layers of every culture: surface culture and deep culture. Picture an iceberg with its smallest visible part above the water (surface culture) and much larger, invisible part below (deep culture). Surface culture includes food, dress, literature, history, language, etc., while deep culture includes core values, concepts of personal space, world views, nonverbal communication, beliefs, tolerance for change, etc. Deep culture always influences surface culture. In fact, it can be challenging to make sense of the surface aspects of a culture without understanding the invisible, deep elements from which those aspects originate. We can be proactive by journeying beyond our tourist-based experiences of surface culture and delving into deeper aspects of other cultures.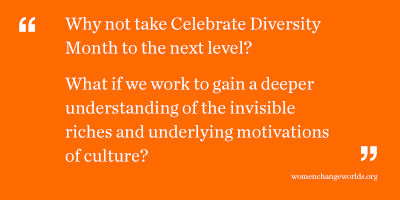 My academic and teaching interests lie at the intersection of culture, computation, community, and cognition--I like to think about how technology can support learning in community and public settings. In my Digital Technologies and Learning Communities seminar, I challenge my students to push beyond their cultural tourist-based experiences to engage in deep culture learning of both their own and of others' cultures, and to consider how deep culture impacts equity in learning. Throughout the semester, students practice designing learning technology interventions that are culturally responsive in deeper ways.
For a broader equity perspective on learning technologies, let's consider how deep culture impacts learning technology policies, even before those technologies leave the factory. Cultural assumptions about learning--and learners--inform design decisions. Technology designers are often oblivious to how their cultural programming influences their ideas about appropriate characteristics of software functions, features, and interface metaphors. The deep cultures evident in those spaces where learning technology design decisions are being made usually forecast who will benefit most from that technology's use. For example, gaming software companies (predominately white and male) have often been criticized for the gender and other biases embedded in their game design choices. This has fueled efforts to design gaming software that incorporates greater gender flexibility (and to increase gender diversity within the designer ranks). There is a more detailed discussion of this phenomenon in my chapter, "Diversity and Inclusion in the Learning Enterprise: Implications for Learning Technologies," in the forthcoming Wiley Handbook of Learning Technology.
Celebrate Diversity Month is our opportunity to take steps toward a better understanding of other cultures. We can deepen that celebration by taking a few more steps toward understanding the invisible structures and practices that fuel our own and others' cultures. Wellesley College is an amazing and privileged place. Our students are the future educators, policy makers, executives, entrepreneurs, etc. who will craft a better world. Their time with us is an opportunity to grow beyond the limitations of tourist-based diversity experiences and delve into the richness and complexities of deep culture. Let's join them in that learning. If we are to offer our students more equitable and inclusive learning spaces, then we must examine--and when appropriate, address--the deep cultures within our institution, our disciplines, and ourselves. We must encourage the exploration of deep cultures as well as surface cultures. This is the pathway to appreciation of differences and similarities within our communities.

Robbin Chapman, Ph.D. is Associate Provost and Academic Director of Diversity and Inclusion and Lecturer, Education Department at Wellesley College.