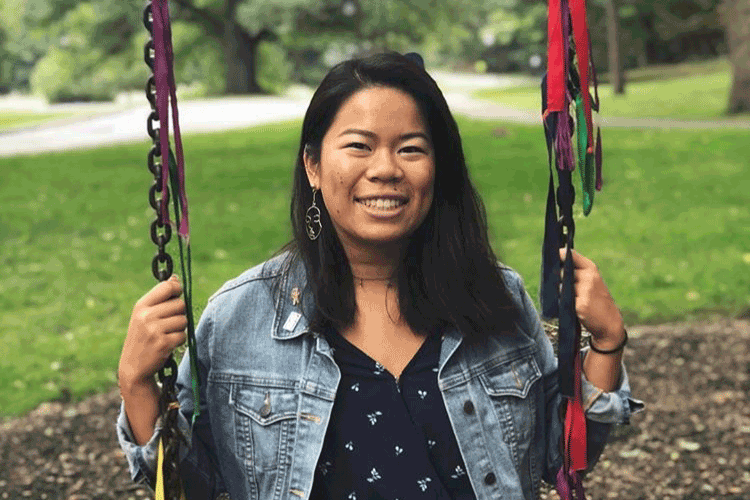 I spent the past semester working with Professor Sari Kerr as a research intern, and greatly enjoyed the experience. Our weekly Zoom meetings were welcomed as constant reminders of my connection to Wellesley, despite studying off campus. My work with her focused on the role of entrepreneurship and how it affects social mobility of low-income women and their children.
I began with a literature review which showed that those with self-employed parents are more likely to be entrepreneurs themselves. However, this entrepreneurial spirit that is passed down often appears in surprising ways. While many people envision entrepreneurship being passed down through family-owned businesses, I found that it was typically through "knowledge spillovers" such as social capital like personal connections and/or the knowledge of running a business. In other words, many parents are passing on to their children information about how to be an entrepreneur, not necessarily a specific business or the ability to be a successful entrepreneur.
After finding that there were these differences, I began working with another research assistant, Shirley Wu, to analyze a data set from Michigan's Institute for Social Research, Panel Study of Income Dynamics. I'm very thankful to have been able to work with Shirley as well, not only because she helped put together and organize the data set, but because having another person to work with helped build a truly collaborative atmosphere. Using a statistical software program called Stata, we were able to run initial analytics to understand the general distribution of individuals within the data set and create mobility matrices that displayed movement between parental and child incomes. This allowed us to see preliminary differences in generational mobility between entrepreneurs and non-entrepreneurs.
It has been very interesting to do this research while watching the economic impact of COVID-19 on small businesses unfold. A paper that I read during the literature review noted that women have lower rates of entry into and higher rates of exit from entrepreneurship. During a time when so many small businesses are hurting, I am reminded that women entrepreneurs are disproportionately negatively impacted and that we will likely see a lower number return to entrepreneurship in the future. As this research continues, we hope to contribute to the literature focusing on the unique experience that low-income women entrepreneurs face in running successful businesses.
I'm very grateful to have this opportunity to do research as a student. I still remember talking to Professor Kerr about research opportunities during one of her office hours, and I'm so glad we got to work together. This experience has given me confidence in my own ability to conduct research and confirmed my interest in pursuing similar work after graduation.
Jessica Wu is a member of the Wellesley College class of 2021 who is majoring in Economics and Psychology. She was awarded the Linda Coyne Lloyd Student Research Internship at the Wellesley Centers for Women.