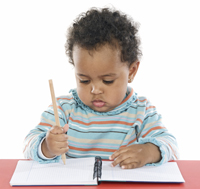 For five years, from 2008 until 2013, I studied how Mississippi implements its child care certificates for low-income women who received the certificates as a welfare benefit. I brought to the work a racial lens and decades of studying the political right as a movement. I found a profound impact of both race and right-wing politics in my study of the Mississippi welfare bureaucracy and how low-income women and their children are treated. It has been a challenging and enlightening five years of travel, reading, conducting interviews, and mining historical and contemporary narratives.
Although Mississippi is majority white (60.6 % vs. 37.2 % Black in 2008), its poor are disproportionately African American (55% of low income households). Its overall poverty rate is 28%. Black people's median earnings in Mississippi are about $10,000 less than whites. Approximately 13.9 % of children live below half of the poverty level, the highest percentage in the country. According to KidsCount, a project of the Annie E. Casey Foundation, Mississippi's overall rank in child well-being is 50th out of 50 states.
Because many white people in Mississippi think of welfare as a "Black" program, its image is doubly stigmatized--by the negative stereotype of welfare recipients and by the widespread belief that recipients are African American. No Mississippi governor in recent memory has made the state's low income people a priority. As a result, recipients of welfare services are viewed with suspicion and hostility.
Usually, some 6,000 children are on the waiting list to receive a child care certificate. This is no longer a matter of explicitly racial policies, but is a product of de facto racism in the implementation of Mississippi's subsidized child care. By creating daunting barriers for low-income mothers in accessing subsidies for child care, Mississippi is disproportionately leaving their children behind.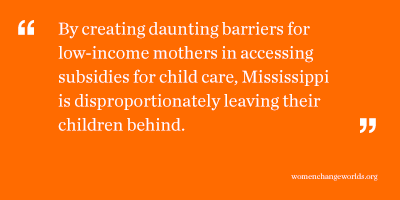 In Mississippi, advocacy for low-income women and children tends to occur only in the non-profit and non-governmental sectors, which are both relatively under-resourced in comparison with other states. No adequately powerful counter-voice exists to offset the public tone of hostility toward low-income women. Further, conscious and sub-conscious racism is so entrenched in Mississippi that even policies that would appear to address racial discrimination turn out to have no impact. Mississippi could be said to be "Ground Zero" for structural racism. So intractable is this form of racism at all class levels that the elimination of Jim Crow laws and practices has failed to eliminate structural racism. Neglect of poor children of color in Mississippi is but one outcome.
A symptom of the Mississippi Department of Human Services' attitude toward welfare recipients is its latest scheme to fingerprint mothers each time they drop off their children at child care and when they pick them up. Only welfare recipients will have to use the fingerprint scanner. This scheme has cost Mississippi $8 million dollars and is intended to "reduce fraud and thus make more child care certificates available to others." Child care providers and certificate recipients mobilized in opposition to the program. It has been temporarily stopped by the courts, but only because MDHS has been unable to complete the research the court required of it.
Mississippi is not alone in its pervasive structural racism. In every state in the country, race plays a role in the opportunities available to children and the likelihood of success for families. The perception by whites of the motivations of low-income people has been heavily influenced by a rightist campaign to demonize the poor as "dependent" and failing to take personal responsibility for their lives. This campaign has amounted to a war on the poor. Mississippi is but a shining example of that war.
For those of us who believe that improvement in the lives of Mississippians depends on empowerment of Black and white Mississippians from the ground up, child care is a crucial component. We learn more every year about the development of a child's brain and what an enormous difference it can make to the future life of a child if that development is nurtured and expanded in the earliest years. Child care is not the only key to breaking through the barriers standing in the way of low-income Mississippians, but high quality early child care is an intervention that holds the possibility of changing outcomes for low-income children.
Jean Hardisty, Ph.D. is a Senior Scholar at the Wellesley Centers for Women at Wellesley College. This blog draws upon the report, Between A Rock and A Hard Place: Race and Child Care in Mississippi.