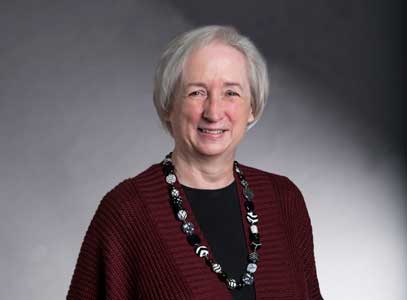 Nancy L. Marshall
Director Emerita of Work, Families, and Children Research Group
Research focused on women and employment—particularly work-family systems and the relation between working conditions and health—as well as child care policy and early childhood care and education
Nancy L. Marshall, Ed.D., is a former senior research scientist (1985-2022) at the Wellesley Centers for Women (WCW) and director emerita of the Work, Families, & Children Research Group, which brings together research on employment, work and family issues, and child care as a support for working families. She served as associate director of WCW from 1995-2020. She is also an adjunct associate professor emerita in the Women's & Gender Studies Department at Wellesley College.
Marshall received her B.A. in Child Development in Society from Oberlin College, her M.A. in Child Development and Family Relations from the University of Connecticut, and her Ed.D. in Comparative Human Development from Harvard University.
Marshall's research was supported by the National Institute of Child Health and Human Development, the Administration for Children, Youth and Families, the National Institute on Occupational Safety and Health, and the National Institute on Aging, as well as state governments, private foundations, and non-profit organizations.
As co-director of the Work, Families, and Children Research Group, Marshall served as principal investigator, co-principal investigator, or senior advisor on numerous projects, including the NICHD Study of Early Child Care and Youth Development, one of the most comprehensive scientific studies of early child care and its relation to child development (1989-2005). The study provided definitive evidence that non-maternal child care does not damage a child's attachment to their mother, and that even ordinary child care/early childhood education programs (not just exemplary programs such as HighScope) have a positive effect on children's cognitive development and school readiness, if they are high-quality programs.
Marshall was also lead researcher for the Massachusetts Supreme Judicial Court's study of gender bias in the courts (1987) and for the Massachusetts Office for Children study of the affordability of child care in Massachusetts (1986). She led a series of studies for Massachusetts and Maine on the cost and quality of early care and education programs as well as a study of the capacity of Massachusetts institutions of higher education to prepare the early care and education workforce (2000-2005) and an evaluation of Massachusetts' child care subsidy program (2007-2011). Marshall conducted a series of needs assessments for the Boston Public Schools and for Boston community early education and care programs (2006-2017). All of these projects contributed to new policies and initiatives to improve the quality and affordability of early care and education programs.
Marshall conducted multiple studies of women's employment, co-organized a conference on work and family at the turn of the 21st century, and presented an invited talk on women's employment and health at the National Academy of Science (2015). Her publications contributed to our understanding of the variations in women's working conditions in different occupations and at different points in the life cycle, with studies of job stress among postpartum women (2005-2007) and among older workers (2001-2003).
Marshall was involved in a variety of professional activities, including chair of the Wellesley College Institutional Review Board (1996-2020), founding member of the WCW Project Directors group (1994-2020), council member of the Section on Children and Youth of the American Sociological Association (2003-2005, 2007-2009), peer reviewer for numerous journals and research conferences, expert witness in the 2004 Hancock v. Driscoll education reform case before the Massachusetts Superior Court, and member of the Governor's Commission on School Readiness (2001).