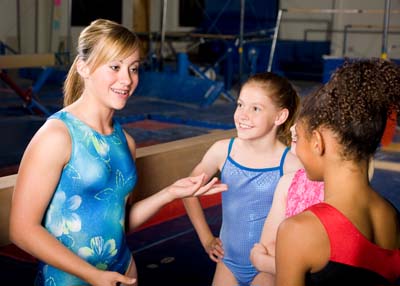 January was National Mentoring Month, as President Barack Obama recognized on January 3. Next week we celebrate National Girls and Women's and Sports Day. The notion of "mentor," and of one imparting wisdom to others, has its origins in Greek Mythology. It has long been a relationship dynamic that has been promoted, studied, arranged, and challenged over many years. Formal mentoring programs have been a regular and consistent strategy for engagement and relationship building in the youth development field and regularly a human resources approach used in non-profit and private business. And sports have been a perfect venue for mentoring relationships.
However, there is also great potential in the more informal ways we mentor. It is interesting that when surveyed about school, out-of-school time, and summer program experiences youth consistently express a desire for more opportunities for leadership and responsibility. We underutilize the natural dynamic and model of cross-age grouping. Across the spectrum both in academic content and enrichment activities, older and younger children working together can be an empowering and nurturing experience for both. We seem to embrace cross-age group more naturally in sports than many other settings. I was interested to observe the placement of high school students (with some training and supervision) as coaches at my younger daughter's pick-up soccer tournament in the fall. The opportunity for the older girls to share relevant "on the field experience" and for the younger girls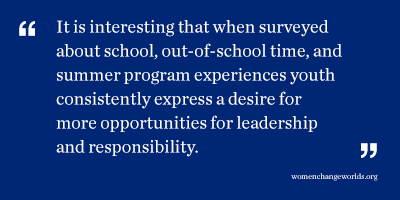 to have a more accessible image of where practice and commitment could get them was inspirational. It's more than just the final score.
Encouraging these connections for young people in our daily work without having to be derailed by the tasks involved in more formal mentoring programs (and quality mentoring does require careful and plan full work), might allow us to exploit some of the natural interests of younger youth to learn from and older youth to lead each other.
Georgia Hall, Ph.D., is a senior research scientist at the National Institute for Out-of-School Time at the Wellesley Centers for Women, Wellesley College, who specializes in research and evaluation on youth development programs.