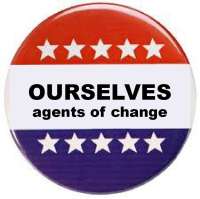 The Next Four Years: Electing Ourselves as Agents of Change
Now that we've had a day to reflect on the U.S. presidential election results, it's time to get back to the business of changing the world for women and girls, their families, and communities. We have the election to thank for bringing to light a growing gender gap in terms of the kinds of issues women and men are concerned about, and we would do well to study this more deeply. During the campaign season, "women's issues" included not only the right to abortion, reproductive freedom and justice, and access to contraception, but also jobs, pay equity, education, health care, violence against women, and even, sadly, rape. And I can't begin to name all the issues that didn't even make it to the table of discussion. We were reminded, yet again, that we still have much work to do to make our nation – not to mention the world–a place that is safe and welcoming for women and girls, a place that respects and cultivates women's and girls' capabilities, and a place that acknowledges the reality that women's issues are everybody's issues.
As much as we may be energized, inspired, stunned, angered, or even fatigued by the election of our nation's leaders, I think we should never lose sight of the reality that "we are the ones we have been waiting for." And there is so much we can and should do of our own initiative, regardless of what government is or isn't doing to make our dreams of social change a reality. Presidencies are complicated, and we can't always rely on political leaders to realize our visions the way we might like. We must step into our own potential as the initiators and inaugurators, stewards and sustainers, of the change we wish to see in the world. I am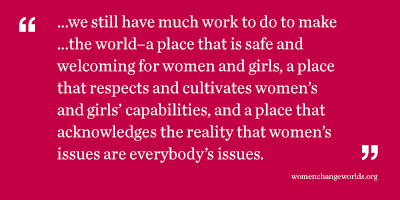 genuinely thankful, on behalf of all of those who came before in many generations, to establish this diverse nation and secure the rights of people of all genders and backgrounds to vote, for those who did exercise that right on Election Day. At the same time, I hope we recognize the need to elect ourselves as agents of change. Now, it is time to roll up our sleeves and get back to work–perhaps with even greater exuberance.
I invite you to share with us, in response to this blog, your highest hopes for women and girls, their families and communities, during the next four years. Have you chosen an issue to advocate for or work on? What do you care most about right now? How can we best work together to increase our power to make a difference? And, very importantly, have you asked any of the young women and girls around you what they think? Let's start a conversation!
Layli Maparyan, Ph.D., is the Executive Director of the Wellesley Centers for Women at Wellesley College.