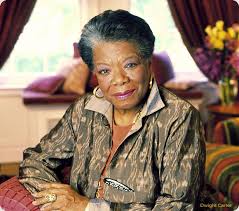 This blog was originally published on the National Center for Civil and Human Rights Voices of our Community Blog.
We may remember today many ways, but one of the happiest has to be by wishing an ebullient "Happy Birthday!" to one of America's living national treasures: Dr. Maya Angelou, who was born on this day, as Marguerite Ann Johnson, in 1928. In the 85 years since then, she has graced our nation and the world with wisdom, vivacity, courage, and splendor as the very embodiment of the figure she made famous in her poem, "Phenomenal Woman." On a day that encourages us to reflect on civil and human rights with the widest possible scope, we can use this occasion to look closely at the many ways that Dr. Angelou has blazed paths, opened doors, and enlarged life and living for the rest of us.
Dr. Angelou is perhaps best known for her groundbreaking autobiography, I Know Why the Caged Bird Sings, first published in 1969, which tells the story of her tumultuous childhood and its overcoming, and then again for her riveting recitation of the poem "On the Pulse of Morning" at President Bill Clinton's inauguration in 1993, or as the first poet to be invited to a presidential inauguration since Robert Frost appeared at John F. Kennedy's inauguration in 1961. Yet, these anchors of public awareness only punctuate a life of irrepressible self-invention that has enlarged our sense of what human beings are capable of and what human liberation might actually look like. Challenging early circumstances in Dr. Angelou's life – family violence, family mobility, economic insecurity, sexual abuse – only served to refine and lay bare her genius and expose us to her gifts – artistic, political, literary, and spiritual.
This Phenomenal Woman was the first African American woman to author a screenplay: Georgia, Georgia, the first African American woman to direct a major motion picture: Down in the Delta, the first major Black writer to author a fourth (then a fifth and sixth) autobiography (giving W.E.B. DuBois, who famously authored three, a run for his money and his historical legacy), and even the first African American female streetcar conductor in San Francisco. Yet, this litany of firsts obscures a deeper contribution to women's empowerment and the global legacy of civil and human rights for people of African descent.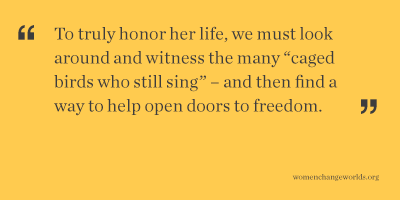 As an integral creative spirit within the Black Arts Movement of the late 1960s and early 1970s, Dr. Angelou's works of autobiography then poetry helped lay the foundation for Black women's literature and literary studies, as well as Black feminist and womanist activism today. By laying bare her story, she made it possible to talk publicly and politically about many women's issues that we now address through organized social movements – rape, incest, child sexual abuse, commercial sexual exploitation, domestic violence, and intimate partner violence. Through the acknowledgement of lesbianism in her writings as well as her public friendship with Black gay writer and activist James Baldwin, she helped shift America's ability to envision and enact civil rights advances for the LGBTQ community. And the time she spent in Ghana during the early 1960s (where she met W.E.B. DuBois and made friends with Malcolm X, among others), helped Americans of all colors draw connections between the civil rights and Black Power movements in the U.S. and the decolonial independence and Pan-African movements of Africa and the diaspora.
By communicating through the arts, Dr. Angelou has always brought a much-needed dimension of heart and soul to our political efforts and aspirations. Her life-as-career has been recognized for its universal value to others in her appointment as the lifetime Reynolds Professor of American Studies at Wake Forest University, as well as through numerous awards and recognitions. The long arc of her contributions to civil and human rights, which reaches back to her early employment with the Southern Christian Leadership Conference, reached a tragic pitch with the assassination of her friend and colleague Dr. Martin Luther King on her 40th birthday in 1968, and proceeds forward to the recent formation of the Maya Angelou Center for Health Equity at Wake Forest School of Medicine, is now part of the fabric of our history.
At 85, Dr. Maya Angelou is a living legend and cultural treasure. Her courage in the service of freedom and justice has left its unmistakable mark on our world. As she once stated, "Courage is the most important of all the virtues, because without courage you can't practice any other virtue consistently."
On this day, as an act of honor and celebration, I encourage everyone to seek out and share a book, poem, film, song, or speech by Dr. Maya Angelou – but not to stop there. To truly honor her life, we must look around and witness the many "caged birds who still sing" – and then find a way to help open doors to freedom. We can look to organizations like the National Center for Civil and Human Rights, which has become a convener of change conversations and a facilitator of change actions, or to organizations like the Wellesley Centers for Women, that works to move the needle of change by supporting social change efforts through social scientific research, theory, and action. But we can also start right where we are, as Dr. Angelou did so many times herself, and ask ourselves, "What can I do, right here, right now?" There are so many ways to get involved, and, like Dr. Angelou, to live a life that makes a difference.
Layli Maparyan, Ph.D., is executive director of the Wellesley Centers for Women, Wellesley College.