Major awards received in Fiscal Year 2018 (July 1, 2017-June 20, 2018), plus grants and contracts, made up 61 percent of our revenues.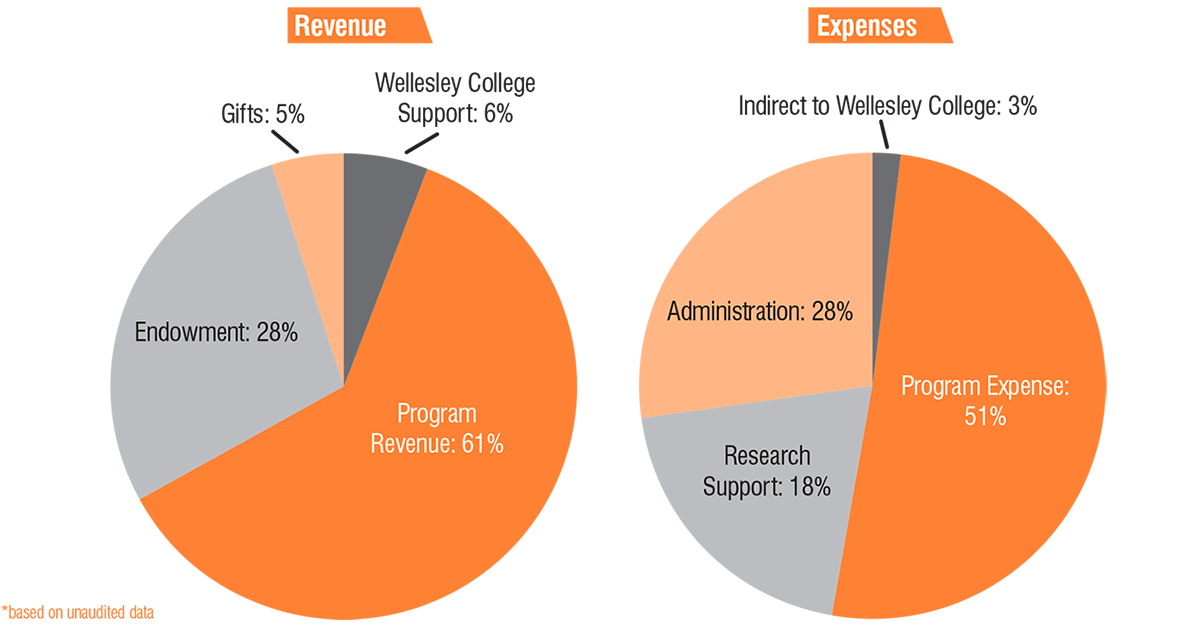 Major Awards received in Fiscal Year 2018 (July 1, 2017-June 20, 2018):
Parent and Peer Influences on Social Media Use in Early Adolescence: Implications for Psychosocial and Behavioral Health
Project Director: Linda Charmaraman, Ph.D. Funded by: Children and Screens Institute of Digital Media and Child Development
With a mixed-method design utilizing matched parent-to-student surveys, student interviews, and social media data, this exploratory study is investigating the developmental processes of social media use during the transition to adolescence, highlighting factors that are likely to have explanatory power in understanding the relationships between social media use, social context, and psychosocial and behavioral health. Charmaraman is building theory on mechanisms for how, when, and why early initiation into social technologies co-occurs with behavioral health outcomes, taking into account peer and family influences. The study findings will have implications for both parents and clinicians. Examining peer and parenting factors in social media initiation will guide recommendations for overseeing the youngest, most vulnerable users of social media. Both parents and clinicians alike will be able to use this research-based—rather than commercebased— information to protect children in their care when making choices or providing rationale regarding limits to youths' social media use. The impact of this work crosses the divide between academia and clinical practice, and results from this study can be used to design an educational intervention for a "beginner's guide" to social media use in the early adolescent years, which will be highly beneficial for educators, counselors, practitioners, parents, and families.
Wellesley College McNair Scholars Program Evaluation
Project Director: LaShawnda Lindsay, Ph.D. Funded by: U.S. Department of Education
Lindsay is serving as an external evaluator to the Wellesley College McNair Scholars Program, which employs evidencebased practices to increase the number and proportion of low-income, first-generation, and underrepresented minority women who are prepared for rigorous graduate study in science, technology, engineering, and mathematics (STEM) fields. The primary components of the comprehensive evaluation are: the progress of the project toward meeting its objectives; significant barriers to the achievement of objectives; recommendations for overcoming barriers; and unanticipated collateral benefits/challenges engendered by the project. The Wellesley College McNair Scholars Program specifically targets the persistent institutional barriers to student achievement that discourage underrepresented minority student STEM enrollment and persistence.
McNair activities and services, combined with individualized mentoring from trained faculty mentors, build the bridge of support that ensures the 26 McNair Scholars each year complete their STEM degrees, enroll in graduate school, and attain their doctoral degrees. Through the evaluation, Lindsay will determine the extent to which the project has achieved its specific objectives in a timely and effective manner, and the contribution of the activities as a whole to the program and to Wellesley College.
Promoting Health and Wellbeing in Adolescents and Families through a Web-based Resource
Project Director: Tracy Gladstone, Ph.D. Funded by: The Virginia B. Toulmin Foundation
This project will result in a better understanding of the factors that contribute to the long-term prevention of adolescent depression, including individual and family factors that influence intervention use and response. Expanding a National Institutes of Health-funded project, funding from the Virginia B. Toulmin Foundation provides for the collection of new data on parental mental health and the effects of parental illness on youth depression and CATCH-IT intervention use. Gladstone expects to learn more about the factors that influence whether or not parents will use the parent intervention, whether they will benefit from it, and whether it will alter their parenting behaviors. Moreover, this project will tell researchers more about the effects of parental illness on teens' response to a depression prevention resource (i.e., when parents are depressed, are teens less willing to use CATCH-IT) and whether the course of parental mental health concerns is relevant to teens' intervention responses. The ultimate goal of this project is to use the data collected about the effects of parental illness on teen intervention use and response to inform the timing of preventive efforts for teens, and to suggest strategies for addressing parental illness at the same time as promoting mental health efforts for at-risk youth.
Surviving and Striving: Low-Income Parents Pursuit of Higher Education as a Path Out of Poverty
Project Director: Autumn Green, Ph.D. Funded by: The Russell Sage Foundation
This project explores the specific policy contexts that support and impede student parents and other factors within their lived experience that shape their success. There are 4.8 million undergraduate student parents who are enrolled at colleges and universities across the U.S., 61 percent of whom are low-income. For these families, higher education is presented as a meaningful opportunity for upward mobility, leading to a better life, not just for themselves, but for their children. However, finding their way to and through higher education is no easy feat for low-income mothers. Green's research reveals critical concerns of sociological significance in both the areas of the sociology of education, and inequality, poverty, and mobility. She explores how systemic and intersecting processes work to bar access to, and success within, higher education. For low-income student parents, lack of college success is most often attributed to lack of financial security and reliable childcare. However, data suggest that other lesserknown factors associated with poverty, parenting, and decision-making also shape the educational trajectories of low-income student parents and hinder their progress as they move through the system of higher education and into sustainable careers. This project will present an account of the student parent's journey, its obstacles, as well as experiences of support and success, and how institutions, policymakers, and everyday people can support the success of student parents in completing college degrees and achieving intergenerational mobility from poverty to the middle-class.
Career Dynamics: A Longitudinal Analysis of U.S. Firms and Households
Project Director: Sari Pekkala Kerr, Ph.D. Funded by: The Russell Sage Foundation
This study focuses on understanding the dynamics of gender earnings and employment gaps with age and career experience in the U.S. With colleagues at the National Bureau of Economic Research, Kerr will use a large and extraordinary dataset to explore many of the important features of and reasons for the widening (and subsequent narrowing) of the gender earnings gap with age. A unique matched employer-household panel will be created to study the impact of marriage, children, and geographic mobility during 1991- 2014, enabling the research team to follow individuals within and between firms, and across geographic locations. Despite decades of progress for women, the official Bureau of Labor Statistics-defined gender earnings gap in the U.S. is around 20 percent (at the median for full-time workers). But the 20 percent figure is an average and the gender earnings gap changes across the life-cycle, starting small after education is completed and widening with family formation, particularly for those with more education. Facts concerning the widening, as well as some of its causes, have been extensively explored across the social sciences. Less discussed is that the gender earnings gap narrows after middle-age, an issue of great relevance now as women have been working far more into their sixties and beyond. This research will broaden and deepen researchers' understanding of the gender earnings gap by following couples, not just individuals, across time and surrounding critical events.
Equity Lab Charter School
Project Director: Kamilah Drummond-Forrester, M.A. Funded by: The Barr Foundation
Open Circle is adapting its elementary school social and emotional learning curricula and interactive and experiential professional development for integration into Grades 5- 6 at Equity Lab Charter School during the 2018-2019 school year, the first step toward an expansion into middle school. Open Circle programming is aimed at: 1) proactively developing students' skills for recognizing and managing emotions, empathy, positive relationships, and problem solving, and 2) helping schools develop a community where students feel safe, cared for, and engaged in learning.
Open Circle Middle School Expansion
Project Directors: Kamilah Drummond-Forrester, M.A. and Jennifer Grossman, Ph.D. Funded by: Morningstar Family Foundation
Open Circle is taking steps to adapt its elementary school social and emotional learning curricula and professional development for integration into middle schools. Needs assessments, program exploration, curriculum development, pilot testing, and implementation planning will occur with support from this five-year gift.
Other external funding
Excluded from this list of major awards, but important as far as the scope of WCW external funding, are other fee-for-service training, participant fees, consulting, and other fee-based project work, which can be sizable. This encompasses dozens of fee-for-service and consulting agreements that can range from a few hundred dollars to nearly $200,000. These agreements also range in duration from very short (less than one month) to multi-year renewable contracts. Each of our action projects—Open Circle, the National SEED Project, and the National Institute on Out-of-School Time—worked with clients and practitioners to provide, training, professional development, technical assistance, and customized solutions to educators, schools, school districts, local governments, and non-profit agencies around the country.