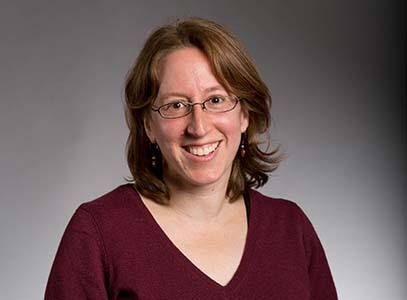 Jennifer M. Grossman
Senior Research Scientist
Ph.D., Boston College
jgrossma@wellesley[dot]edu
Research interests include adolescent development, with a focus on sexual health and risk-taking and racial and ethnic identity
Jennifer M. Grossman, Ph.D., is a senior research scientist who leads the Family, Sexuality, and Communication Research Initiative at the Wellesley Centers for Women. Her research uses quantitative and qualitative methods to investigate adolescent development, sexual health, and risk-taking, with an emphasis on family communication about sex and relationships, and contexts of teens' environment and identities, such as gender, race, and ethnicity. She is particularly focused on the role of mothers, fathers, and extended family in supporting teens' health.
Grossman is conducting a two-year study funded by the National Institutes of Health to investigate how teens and their fathers communicate about sex and relationships, and what effects this communication has on teens' sexual behavior. This study, Father-adolescent communication and adolescent reproductive health, is significant because it assesses under what conditions father-teen sexuality communication predicts teens' sexual health, and because it involves an in-depth assessment of this communication from multiple perspectives.
Grossman is also conducting the first in-depth, longitudinal examination of teen-parent sexuality communication over three key adolescent developmental periods. This study, Teen-parent health communication over early, middle, and late adolescence, also funded by the National Institutes of Health, will provide recommendations for parents, health providers, and educators as to how family sexuality communication can support teens' health across multiple stages of adolescence while accounting for family- and gender-based characteristics.
Grossman previously conducted several studies funded by the National Institutes of Health that examined family communication about sex and relationships: Adolescent Communication with Family and Reproductive Health, Risk Behaviors Among Offspring of Teen Parents: Effects of Parenting on the Next Generation, and Communication About Sex in the Nuclear Family.
She also co-directed an evaluation of Get Real, Planned Parenthood's comprehensive middle school sex education program, and was the lead author of a published study that showed the effectiveness of Get Real in delaying sex for boys and girls. Based on these evaluation findings, Get Real was designated by the U.S. Department of Health and Human Services as an evidence-based program, which means that schools and organizations can use federal funding to teach Get Real in their communities.
Grossman has received six grants from the Eunice Kennedy Shriver National Institute of Child Health and Human Development of the National Institutes of Health and has collaborated with Planned Parenthood League of Massachusetts as an evaluator of its sex education programs.
Grossman's research has been published by academic journals including Journal of Child and Family Studies, Journal of Adolescent Research, Sexes, Journal of GLBT Family Studies, The Journal of Primary Prevention, Family Relations, International Journal of Environmental Research and Public Health, and American Journal of Sexuality Education.