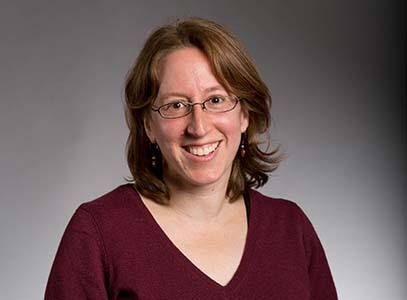 Jennifer M. Grossman
Research Scientist
B.A., Oberlin College; M.S., University of Illinois at Urbana-Champaign; Ph.D., Boston College
jgrossma@wellesley[dot]edu
Researches adolescent development, racial, and ethnic identity, and sexual health and risk-taking. Current projects: evaluation of middle school sex education and investigation of culture and gender in family communication about sex.
Jennifer M. Grossman is a Research Scientist at the Wellesley Centers for Women (WCW), focusing on adolescent development and sexual health and risk-taking, with an emphasis on family communication about sex and relationships as well as on racial and ethnic identity. She co-directed an evaluation of Get Real, Planned Parenthood's comprehensive middle school sex education program , which delivers accurate, age-appropriate information on sexual health and relationships and includes built-in opportunities in each lesson for parents to talk with their children. Dr. Grossman is the lead author on a recently published study that shows the effectiveness of Get Real in delaying sex for boys and girls. This evaluation makes Get Real one of the few middle school sex education programs that shows delayed sex for both boys and girls. Based on these evaluation findings, Get Real was designated by the U.S. Department of Health and Human Services (HHS) as an evidence-based program, which means that schools and organizations can use federal funding to teach Get Real in their communities. The evaluation also found that boys who completed Get Real family activities in 6th grade were more likely to delay sex in 8th grade than boys who did not complete them. It may be that the 6th grade family activities in Get Real encouraged parents to begin discussing sexual issues with their sons earlier and more often than they would have otherwise.
Dr. Grossman is currently the Principal Investigator on two grants from the National Institute of Child Health and Human Development (NICHD) that investigate how teens and their families talk about sex and relationships. The first project, "Communication about sex in the nuclear family and beyond: Implications for health" explores how adolescents talk with their parents and extended families about sex and relationships. Findings from this project show that teens have had sex are more likely to talk with extended family than those who have not had sex, which may reflect a growing importance of extended family sexuality communication as teens become sexually active. Interviews with teens for this project showed that teens talk to extended family about sex because of 1) close connections with extended family, 2) learning from family members' knowledge and experience, and 3) avoiding talk with a parent about sexual issues. The second project, "Parental profiles of sexuality communication: protective effects on youth sexual behavior," uses the National Longitudinal Study of Adolescent to Adult Health (Add Health) to examine associations between maternal approaches to talking about sex with their teens and early adult sexual risk behavior. Dr. Grossman has also investigated how teen parents talk with their children about sex and relationships.
Her work on racial and ethnic identity has focused on the importance of race and ethnicity to adolescents' background and on barriers to success for girls and teens of color. She recently completed a study with Dr. Porche that explores racial and gender barriers to STEM engagement among urban adolescents. She has also worked with Dr. Charmaraman to examine the centrality of racial/ethnic identity for minority and White teens. Her earlier work with Dr. Liang at Boston College addressed issues of racism and relational health among Chinese American adolescents.
Dr. Grossman joined the Wellesley Centers for Women in August 2006 as a NICHD postdoctoral research fellow. She received her B.A. from Oberlin College, her M.A. in counseling at the University of Illinois Urbana-Champaign, and her Ph.D. in Counseling Psychology from Boston College in 2005. In addition to her research work, she is a licensed psychologist. She completed her clinical internship and postdoctoral training at Massachusetts General Hospital, working primarily with children and adolescents. Her clinical experiences inform her research work and enhance her commitment to address health inequities through research, program development, and systemic change in support of healthy youth development.