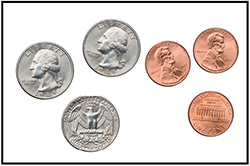 April 2016 Update: The wage gap cited has improved by 1% point since this article was originally posted in April 2015.
What is a woman worth? On Tuesday, April 14, 2015, we celebrate Equal Pay Day, a day to acknowledge the continuing gap in wages between women and men. By now, we are all familiar with the statistics – women employed full-time, year-round earn only 78 cents for every dollar a man earns. While some of this gap is attributable to differences in worker's education, training or experience, about 40% of the pay gap can be attributed to discrimination.
What does this familiar narrative mean for individual women? Let's start with STEM (science, technology, engineering and math). While girls have closed the gap with boys in high school science and math, women are losing ground in engineering and computing. While Sheryl Sandberg, COO of Facebook, recommends leaning in, Gamergate reminded us of the challenges and open hostility that women can face in tech fields.
Over one-third of women are employed in the health and education fields; four of the top 20 occupations for women in are these fields--elementary and middle school teachers, secondary school teachers, registered nurses, and nursing and psychiatric aides. Even in these heavily female occupations, men outearn women. For example, "males in nursing outearned females by nearly $7,700 per year in outpatient settings and nearly $3,900 in hospitals."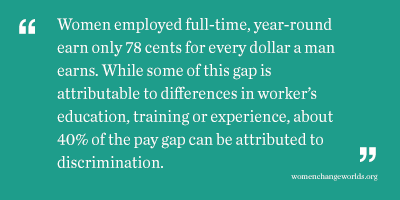 Service occupations, such as maids and housekeeping cleaners, personal care aides and child care workers, are the lowest paid of all broad occupational categories. This disproportionately affects the earnings of women of color; while 16% of all women work in service occupations, 24% of Black women, and 27% of Latinas, are employed in service occupations.
How do we fix this? There are a few proposals on the table right now that would go a long way to address this gap. First, raising the minimum wage would affect women who are disproportionately employed in low-wage occupations. Second, ensuring equal pay for work of equal value, and putting teeth into the Equal Pay Act, would reduce wage discrimination [link ]. Third, providing paid parental leave for all workers would make it possible for mothers with young children to stay competitive in the labor force, and for parents to participate equally in raising their families. Wouldn't it be great if we never needed to celebrate Equal Pay Day again?
Nancy Marshall, Ed.D. is an Associate Director and Senior Research Scientist at the Wellesley Centers for Women (WCW) at Wellesley College. She leads the Work, Families and Children Team at WCW and is an Adjunct Associate Professor at Wellesley College.
April 2016 Update: The wage gap cited has improved by 1% point since this article was originally posted in April 2015.