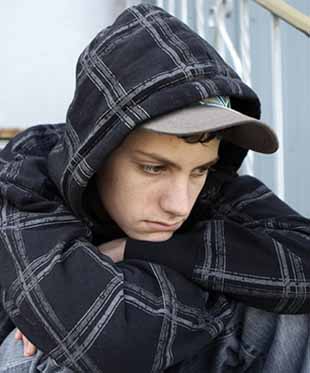 Suicide Prevention: The Depression Link
National Suicide Prevention Week (September 8-14) is a time to both raise awareness of suicide as a national public health issue, and to think critically about how suicide can be prevented. In the United States, suicide is the second leading cause of death among adolescents (Hoyert & Xu, 2012), and, in 2011, nearly 16 percent of adolescents in the United States reported seriously considering suicide. When thinking about preventing adolescent suicide, it is important to consider factors that increase the risk of suicidal thoughts and behaviors, such as depression. Suicidal thinking is a symptom of depression, and over half of the adolescents who completed suicide had a mood disorder at the time (Bridge, Goldstein & Brent, 2006; Nock et al., 2013). Fortunately, a number of researchers have developed empirically-supported interventions to prevent the onset of depression in teens, and prevention efforts that target adolescents at risk for depression may ultimately prove helpful in preventing suicidal behaviors as well. During this national week of suicide prevention awareness, it is important to recognize the link between depressive illness and suicide in youth, and the promising role of depression prevention in potentially preventing suicidal behavior.
Most of us bring our children to see their doctors annually, because prevention-focused well-child care is a cornerstone of pediatric practice. Unfortunately, prevention is generally not part of the equation when it comes to youth mental health. With limited health care dollars and limited mental health resources available, clinicians and policymakers tend to focus on alleviating mental health concerns once they arise. Yet research suggests that many young people do NOT get treatment for mental health concerns once they arise, and mental health concerns, such as depression, are associated not only with suicide risk, but also with long-term adverse impacts on educational attainment, relationship functioning, risk of substance abuse, and future depressive episodes, even among those who receive treatment. Moreover, of those teens who DO receive treatment for depression, only about half fully recover and, among those who do recover, relapse is quite common.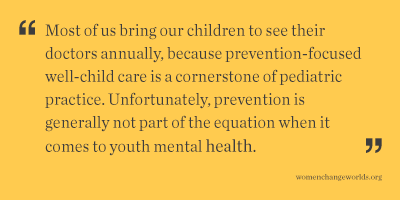 Treating youth depression once it emerges may be much more distressing, and much less effective, than identifying early symptoms of illness and treating them before they develop into a full-blown disorder. Prevention approaches have the potential to reach a large number of adolescents, and may be more acceptable than treatment because services can be rendered in non-clinical settings (e.g., schools, primary care settings), and do not require adolescents to identify themselves as ill.
So how can adolescent depression be prevented? The core of many depression prevention programs is resilience. Not all adolescents with risk factors for depression develop the disorder; the ones who do not develop depression are resilient, which means they have the emotional skills and/or the social supports to "bounce back" from adversity. Many programs to prevent adolescent depression are designed to teach coping and emotional regulation skills, and/or to strengthen supportive relationships, in order to provide youth at elevated risk with the tools they need to be resilient.
Research on the prevention of youth depression is quite encouraging! For example, in our longitudinal, multi-site study of adolescents at risk for depression, we found that teens who participated in a group cognitive-behavioral prevention program were less likely to experience a depressive disorder at nine- (Garber et al., 2009) and 32- (Beardslee et al., in press) months follow-up, relative to at-risk teens who were assigned to a treatment-as-usual control group. Likewise, our colleagues working on the Penn Resiliency Project have found that children and adolescents who participate in their school-based cognitive-behavioral program are less likely to experience depressive symptoms than are children and adolescents assigned to control conditions. Similarly, in a study of Interpersonal Psychotherapy approaches to preventing youth depression, Young and colleagues found that teens who participated in a skills-based intervention targeting interpersonal role disputes, role transitions and interpersonal deficits reported fewer depressive symptoms at six-months follow-up than teens who were assigned to a school counseling control group.
Here at WCW, we are currently studying the efficacy of a primary-care, Internet-based depression-prevention program for adolescents who are at risk for the development of depression, based on a past history of depression and/or current symptoms of depressive disorder. While many of these youth depression prevention programs are still being evaluated in randomized controlled research trials, early results suggest that prevention programs may work. It seems we can indeed provide teens with strategies that they can use over time, as they encounter stress and challenging life events, so that they are able to stay healthy and avoid the onset of significant mental health concerns.
What are the risks for depression in adolescents? When should you be worried about your teen? When we talk about risks for depression, we often think in terms of specific factors (i.e., factors identified through empirical research to be associated specifically with increased risk for youth depression) and nonspecific factors (i.e., factors that are associated with increased risk for a range of disorders, including depression). Specific risk factors for adolescent depression include having low self-esteem, being female, developing a negative body image, low social support, a negative cognitive style, and ineffective coping. The strongest specific risk factor for the development of depression, above and beyond these other factors, is having a parent with depressive illness. In fact, offspring of depressed parents are at about a two- to four-fold increased risk of developing depressive disorders, relative to children of parents without depression. Nonspecific risk factors that also increase risk of youth depression include poverty, exposure to violence, social isolation, child maltreatment, and family breakup.
Although the presence of these risk factors is associated with an increased risk for youth depression, as noted above, many at-risk children are resilient and never develop a depressive disorder. Having supportive adults present, strong family relationships, strong peer relationships, coping skills, and skills in emotion regulation all can contribute to resiliency. Even depressed parents can promote resilience in their teens by encouraging teens to engage in outside activities, maintain supportive relationships, and recognize themselves as separate from issues and concerns that are affecting other family members.
How can you recognize signs and symptoms of depression in your child, and how can you help? Depressed teens are often sad or irritable, and may exhibit a range of additional symptoms, such as withdrawal from friends and usual activities, sleep difficulties (i.e., difficulty sleeping or sleeping all the time), somatic complaints (i.e., headaches, stomach aches), poor school performance, self-critical talk, changes in eating patterns, difficulty sitting still, and may start writing or thinking about death. If you are concerned about your teen, then express your concern openly and honestly. Tell your child that you care, and that you want to help. Don't be afraid to ask your child if he is experiencing suicidal thoughts – asking will NOT make him contemplate suicide or take his own life. Reach out to your child's pediatrician for assistance and referrals. Let your child know that treatments are available, and that you are going to work together to get your child the help she needs.
National Suicide Prevention Week is an opportune time to consider the many ways that suicidal thoughts and actions can be combated, including preventing the onset of depression in adolescents, and getting teens help if they are depressed already.
Tracy Gladstone, Ph.D. is a Senior Research Scientist and Director of the Robert S. and Grace W. Stone Primary Prevention Initiatives at the Wellesley Centers for Women at Wellesley College. The Stone Primary Prevention Initiatives focus on research and evaluation designed to prevent the onset of mental health concerns in children and adolescents.
References:
Beardslee, W.R., Brent, D.A., Weersing, V.R., Clarke, G.N., Porta, G., Hollon, S.D., Gladstone, T.R.G., Gallop, R., Lynch, F.L., Iyengar, S., DeBar, L., & Garber, J. (in press). Prevention of depression in at-risk adolescents: Longer-term effects. Journal of the American Medical Association Psychiatry.
Bridge, J. A., Goldstein, T. R., & Brent, D. A. (2006). Adolescent suicide and suicidal behavior. Journal of Child Psychology and Psychiatry, 47(3‐4), 372-394.
Centers for Disease Control and Prevention. (2012). Youth Risk Behavior Surveillance- United States 2011. Morbidity and Mortality Weekly Report, 61(4), 1-168.
Garber, J., Clarke, G.N., Weersing, V.R., Beardslee, W.R., Brent, D.A., Gladstone, T.R.G., DeBar, L.L., Lynch, F.L., D'Angelo, E., Hollon, S.D., Shamseddeen, W., & Iyengar, S. (2009). Prevention of depression in at-risk adolescents: A randomized controlled trial. Journal of the American Medical Association, 301, 2215-2224.
Hoyert, D. L., & Xu, J. (2012). Deaths: preliminary data for 2011. National Vital Statistics Report, 61(6), 1-65.
Nock, M. K., Green, J. G., Hwang, I., McLaughlin, K. A., Sampson, N. A., Zaslavsky, A. M., & Kessler, R. C. (2013). Prevalence, correlates, and treatment of lifetime suicidal behavior among adolescents: results from the National Comorbidity Survey Replication Adolescent Supplement. JAMA: The Journal of the American Medical Association Psychiatry, 70(3), 300-310.