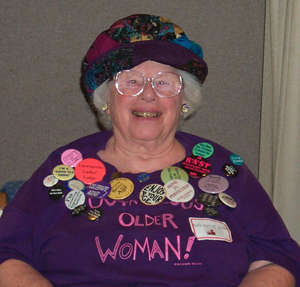 September is Healthy Aging Month and there is no one more ideal at the Wellesley Centers for Women to contribute to a blog on this topic than Ruth Harriet Jacobs, Ph.D., a gerontologist, sociologist, educator, and voracious writer. Ruth, our friend and colleague, died last Thursday evening after living more than 88 years. Her advice to older women (and men) was to embrace the gift and responsibility of a life long lived and to move beyond the rage often experienced because of one's age (physical and cognitive changes, neglect, stereotypes, discrimination…) to a life of outrageousness and joy.
At the end of her book, Be an Outrageous Older Woman, Ruth encourages her readers (whom she has done her best to recruit to outrageousness) to hold a graduation ceremony. Here is the valedictorian speech Ruth wrote and recommends:
"I own my years. I am proud to be a long liver and to associate with other long livers. Rather than asking them, how old are you, I will ask them, how many years have you lived? There is a difference in the two questions because how old are you is passive. How many years have you lived implied accomplishments. It is an accomplishment to be an old woman, especially considering the amount of sexism and ageism in stressful society.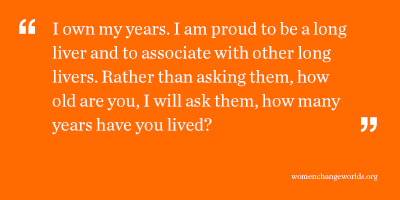 "I intend to be outrageous for the rest of my life. Being outrageous means that I will not accept insults, being ignored, or being maltreated. I deserve to be valued, listened to, and respected and treated well by others. I also deserve to listen to my own needs and wants and to try to fulfill them.
"I will be outrageous also in the pursuit of a good society and world for all people, young, middle-aged, and old. I will use my crone's wisdom to nag, advocate, fight for good causes and fight against the bad.
"I consider myself and other old women beautiful. Our face wrinkles record the wonderful emotions we have expressed all our lives and will continue to express. Our bodies also show the burdens we have carried and the wonderful journeys we have made. Our gray or white hair is a halo softening our features and symbolizing new beauty. I will be vital in my dress, not drab as if to hide myself. I am not a bit of refuse from life. I am a celebration of it."
In the book, Ruth shared several poems, including one written collectively by a group of women in one of her poetry writing groups for senior citizens. Each woman contributed one line to finish the sentence that began, "Aging is…" Their poem follows:
What Is Aging?
Aging is: The orange time of life, vivid, hopeful, wrinkling, sprinkling, winking, fierce attention and careful monitoring, getting older, hopefully becoming wiser and enjoying each day as it comes—savoring life.
Aging is full measure, learning to live for today and tomorrow, being thankful for every single day.
Aging is: sometimes a slide, sometimes a climb, coming to the last lines of the melody of life, amalgamating memories happy, sad, useful, climbing stairs one at a time, a pain in every joint, adaptability to change without feeling its losses, a great opportunity to develop courage.
Aging is: Too soon old, too late smart, another blessed open door, growing better while growing older, enjoying a wonderful life continuing to unfold, looking forward to tomorrow, a time to reminisce and do the things you missed.
Aging is: The small mysteries—What happened to my keys, eyeglasses, letters and the kind voice that says "Let's help each other."
Aging is what happens to my body while my inner child stays always young and beautiful.
Aging is delightful and enlightening, learning I can change as I get older, never OLD.
Aging is a kaleidoscope of bright colors becoming softer, sweeter but right to the point and finding out with surprise and delight that I will never come to the end of my self.
What is aging to you? We invite you to expand upon this poem by adding your own perspective on what "aging is" in the Comment section below, in tribute to Ruth Harriet Jacobs' outrageous life and in celebration of healthy aging.