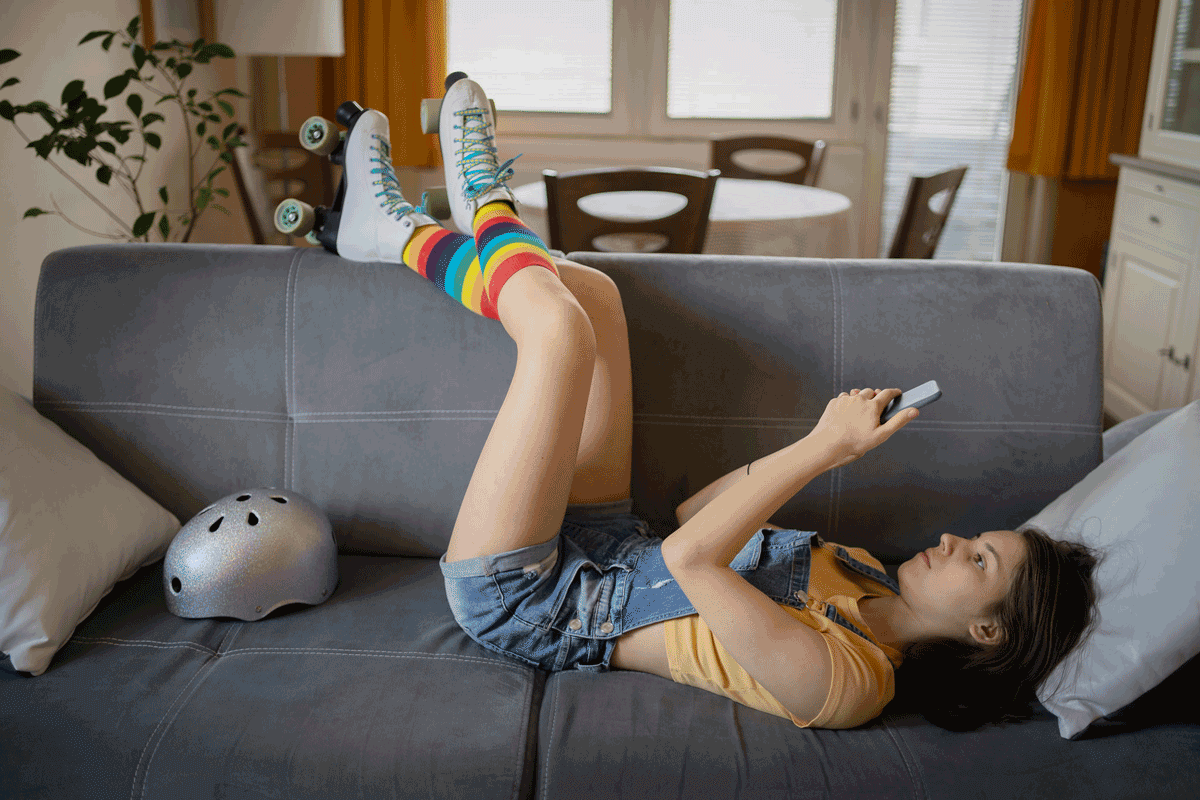 This piece was written by Carolyn Bacaj and Mikhaela Andersonn, students at Wellesley College who recently took a Calderwood Seminar on public writing taught by WCW Senior Research Scientist Linda Charmaraman, Ph.D. As young adult members of the LGBTQ+ community, Carolyn and Mikhaela are passionate about identifying support networks for sexual minority groups and creating safe spaces for younger members of the community.
When Mikhaela was younger, she and her friends found themselves spending tons of time online. Through their usage of social media—typically websites that their peers weren't on, like Tumblr—they discovered parts of their identity after being exposed to communities that gave them room to explore. Mikhaela ended up coming out as queer in the 7th grade, and she believes that without the assistance of social media as an outlet for expression and exploration, the process of discovering her identity would have been harder.
Mikhaela's personal experiences with social media mirror the experiences of LGBTQ+ youth in a recent study of over 1000 students ages 10-16 by Dr. Charmaraman and her colleagues in the Youth, Media & Wellbeing Research Lab. The study found that LGBTQ+ youth use social media differently than their peers for reasons unique to their sexual minority identities. While privacy and bullying are concerns, social media is an integral part of their lives.
How do LGBTQ+ youth use social media differently?
There are key differences in how LGBTQ+ youth use social media versus how their peers may use it, including:
Spending more time online exploring their identity
Being less likely to have their accounts private
Being less likely to have friends and family on their social media pages
Being more likely to use social media websites that their parents disapprove of
These differences highlight the idea that social media plays a different role for LGBTQ+ youth by being a more integral part of their identity development.
With a little guidance from their families and teachers, LGBTQ+ youth can maintain close-knit online communities that help them develop their identities and improve their mental health.
Why is examining these differences important?
Social technologies are essential tools for guiding LGBTQ+ youth toward identity development and supportive communities of peers. According to Dr. Charmaraman's study, adolescents who identify as sexual minorities are more likely to experience depression, loneliness, and isolation. With nearly half of LGBTQ youth having no one to talk to about their sexuality, this isolation is only compounded by confusion and fear about their identity. As someone from West Virginia, where there is little LGBTQ+ presence and rampant homophobia, it was difficult for Carolyn to navigate her identity without external support from the community she had grown up in.
Still, we understand the internet can be a scary place for children and teens. Since sexual minorities are more likely to view self-harm content, it's unsurprising that they are twice as likely to have attempted self harm. This might make parents or educators nervous to encourage LGBTQ+ adolescents to use social technologies. But regardless of what teens see online, they're not going to stop using tech—and they shouldn't.
How can the internet be a safe haven for LGBTQ+ youth?
By finding LGBTQ+ groups online, adolescents can find peers who relate to them. According to Dr. Charmaraman's study, sexual minority adolescents more often join online communities to combat loneliness. They can find friends to talk to about things that their heterosexual peers don't understand, such as family acceptance, lack of representation, paranoia over being outed, and internalized homophobia. It makes sense that sexual minority youth are more likely to have friends they only know through the internet. Finding this social support is essential, as it's the most protective factor against negative mental health outcomes like depression and loneliness.
The online atmosphere is changing and becoming more accepting of the LGBTQ+ community. Platforms like Tumblr and TikTok have fostered LGBTQ+ youth voices, becoming safe havens. The Trevor Project, the largest suicide prevention and crisis intervention organization for LGBTQ+ youth, has over two million followers on Instagram, Twitter, and Facebook. The internet is a resource that has built-in anonymity and widespread access for teens living in areas that aren't as accepting. These online communities are particularly essential in supporting youth when in-person communities aren't available, as access to identity-affirming spaces lowers rates of suicide. According to Dr. Charmaraman's study, LGBTQ+ adolescents are more likely to find online friends significantly more supportive than in-person ones. Finding LGBTQ+ friends online means opportunities to find positive role models and support in coming out.
How can I support an LGBTQ+ adolescent in my life?
With a little guidance from their families and teachers, LGBTQ+ youth can maintain close-knit online communities that help them develop their identities and improve their mental health. Here are some tips:
Talk to LGBTQ+ adolescents in your life about how to recognize depression.
Discuss the risks of being online.
Talk about their online communities and support.
If online support isn't enough, check out school-based or community-based resources (i.e., gay-straight alliances, organizations like Out MetroWest).
If applicable, connect them to an LGBTQ+ family member or community member who may be able to advocate for them or provide mentorship.
Check out these organizations that support LGBTQ+ youth.
Carolyn Bacaj is a member of the Wellesley College Class of 2023 majoring in education and biology. Mikhaela Andersonn is also a member of the Class of 2023 and is majoring in psychology and Spanish.