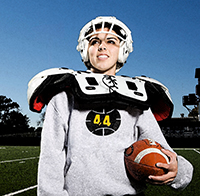 Valuing the Ideological Roots of Women's Athletics
Did those female gym teachers back in the early 1900s actually have it right? No one wants to return to bloomers and half-court basketball, but the coalition of female physical educators who ran women's sports and fought takeover by the NCAA (which took control of women's college athletics in 1980) were onto something. Their message--that sport should be about self-development, social skills, and fair play--sounds pretty great right now.
They found competition unseemly (that's a problem), but their broad recognition of college sport as a life and community-building pursuit is worth a reprise given the mess that has become the NCAA-led college sports world.
Right now we're in the midst of soul-searching about what college sports should look like. A spate of lawsuits ask about the "student" status of student-athletes and whether they should be paid. Last month, the five wealthiest conferences--Atlantic Coast, Big Ten, Big 12, Pacific-12, and Southeastern--began a new era of freedom from many NCAA rules, gaining leeway to give more money to players. Where will this go? Will more universities develop athletes instead of scholars? (Some already do.) Will only marquis players get extra money? Will non-revenue-producing sports look expendable in a more commercialized environment?
The Knight Commission recently polled DI college leaders on their interest in exploring alternative models for competition and administration for some sports. Ambivalence won: 43 percent of respondents were interested; 37 percent weren't. There's a lot to figure out--and little consensus on where to go.
The college sports debate, let's be clear, is a male conversation. It is ruled by big-time sports--football and men's basketball--and the economic disruption they have created in the academic system. This is about competition and money. No wonder Cardale Jones, the third-string quarterback who just led Ohio State to the inaugural National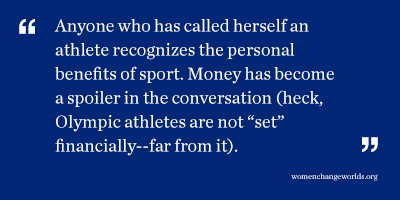 Championship, was confused when he arrived on campus. His 2012 tweet: "Why should we have to go to class if we came here to play FOOTBALL, we ain't come to play SCHOOL, classes are POINTLESS."
If Cardale did not come to "play SCHOOL," why should Ohio State--or any big time program--be other than a semi-pro team? While we're here, what role should college football--with it's concussion and brain damage record--even have in higher education? The conflicts are moral, but dollars will rule.
The gym teachers saw athletics as integral to school; the problem today is precisely that they are not. High-powered programs with big revenues (most lose money, but a handful make a bundle) operate as independent commercial enterprises. The wealthy programs pay coaches what their peers in the NFL and the NBA earn. (Sometimes more!) Cardale Jones does have a point: He was brought to play football and bring money and success to the program. You can't blame players for wanting to be paid. But is this the point of college sports?
As we celebrate National Girls and Women in Sports Day, we typically cite participation statistics and recognize how far women have come. But we ought to value the ideological roots of women's athletics, not as a shameful past of milk-and-cookies patsy play (though it was some of that), but for the wisdom of recognizing the hornet's nest of unbridled high-stakes competition on what should be the virtues of athletics play in a college environment. The athletic field offers lessons in teamwork, leadership, persistence, skill-development, problem solving.
A study I did with colleagues Allison Tracy, Ph.D. and Sumru Erkut, Ph.D. showed that this message is getting lost. We gave 828 college recruiters a detailed survey to explore how they valued varsity sports experience in judging candidates for entry-level corporate jobs. They saw the obvious--college athletes excelled at teamwork, which they considered a key trait--but did not recognize skills such as time management and organization required to play college sports. Interestingly, they did not rate male or female athletes differently.
Anyone who has called herself an athlete recognizes the personal benefits of sport. Money has become a spoiler in the conversation (heck, Olympic athletes are not "set" financially--far from it). It's time to see that the payoff of college sports can come without ESPN "Game Day," academically questionable athletes, or coaches paid far more than the university president.
Find that value on women's teams, in locker rooms, and at games that garner little attention, but build durable skills. Sure it's embarrassing to recall a beauty "Queen of the Court" crowned at halftime or college contests that mixed opposing players to limit competition and hard feelings. But maybe the men steering the future of college sports should consider the great goods that women and girls have been bringing to the games they play--for years.
Laura Pappano is the writer-in-residence at the Wellesley Centers for Women at Wellesley College and an experienced journalist who writes about education and gender equity issues in sports.