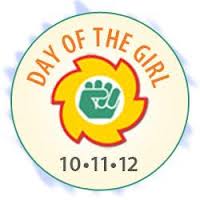 Brave New Girls:
Let's Celebrate U.N. International Day of the Girl by Supporting the Malala Yousafzais of Our World
I'll bet that when the Taliban decided to fire their guns at 14-year old Malala Yousafzai, it didn't occur to them that they might be making her the cause celebre of the U.N. International Day of the Girl, which is today – October 11th. Although the Taliban might argue otherwise, Malala is everything a girl should be – intelligent, inquisitive, bold, brave, and a concerned, aware world citizen. She embodies and dares to live up to that oft-repeated maxim, "Injustice anywhere is a threat to justice everywhere."
What does it say about us when the global war on women – the ages-old attempt to keep women down through violence, silencing, discrimination, and worse – stoops down to attack young girls who haven't even yet reached womanhood? I say "us," because, on some level, we are all accountable for the collective consciousness that excuses violence against women in its many shapeshifting forms. No country, no population, is immune. Whenever something like this happens – something terrible and obvious, like the attack on Malala Yousafzai – all of us should stop in our tracks and ask ourselves, what am I doing that keeps the tacit acceptance of violence against women – and now girls – alive in the world…and how can I change that??
Malala Yousaufzai has been fighting for girls' education in Pakistan. Girls all over the world deserve education, and even though some challenging impediments have been identified by researchers and others, there is no excuse in this day and age for girls to be kept from schooling. None. The U.N. has made girls education a tenet (in Targets 2 and 3, to be specific) of its Millennium Development Goals – and in case you were wondering, we only have three more years, until 2015, before we are expected to achieve them. Malala Yousafzai is in a position to challenge the rest of us as women's activist Audre Lorde famously did when she wrote, "I'm doing my work … are you doing yours??"
What are we doing to help Malala Yousafzai's dream – and MDGs 2 and 3 – to become a reality? Not only in Pakistan, but everywhere, all over the world, including the United States, many girls still languish, along with their male peers, in indecently substandard schools and where staggering rates of sexual harassment and violence negatively impact social-emotional development and learning. The issue of a right to education doesn't just apply to developing nations – it applies, too, in the developed world where different subpopulations often have differential access to a good education. We must look outward and inward as we reflect on these questions.
Girl activists like Malala are becoming more common and more visible in their efforts to create that "another world" that's so famously "possible" – a world in which they would like to live, a world that will not only welcome their talents, their full participation, and their leadership, but also a world that will keep them safe and healthy, upholding their dignity and equality. In the United States, for example, I think of girls like Mary Pat Hector who, at age 10, founded Youth in Action USA (she's now 14, like Malala) to fight violence in her community and communities nationwide. Her organization, which now boasts chapters in seven U.S. states, encourages children to get involved in change through volunteerism, peace rallies, and community advocacy trainings. I also think of girls like Hannah Salwen who, also at age 14, authored The Power of Half as a way to generate social-change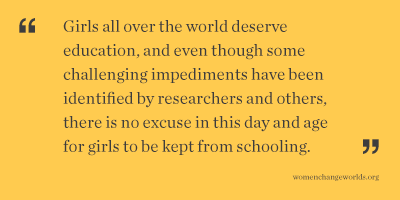 capital. It was witnessing homelessness in her city that inspired her to figure out how she and her family could make a real difference, and her "power of half" principle has since become a movement.
Malala, Mary Pat, Hannah, and so many more… These are girls who can't wait – who are taking the bull of the global conditions they care about by the horns – perhaps because they don't trust us to do it for them, or perhaps because they are simply aware of their own power and genius. Whatever the case may be, we must support them and help them build the brave new world that they would like to grow up in, because the world they envision is not just a world that will be good for them, it's a world that will be better for everyone.
The U.N. International Day of the Girl is our opportunity not only to celebrate girls, but also to listen to them, lift them up, and ask them what they need from us to do more of the good that they are doing. I could have spent this column railing against the Taliban and the outrage of their violent attack, but how much better to highlight the work of Malala Yousafzai and girls like her. Let's celebrate the International Day of the Girl by joining them and supporting them in their audacious, courageous work to change the world!
Layli Maparyan, Ph.D., is the Executive Director of the Wellesley Centers for Women at Wellesley College.