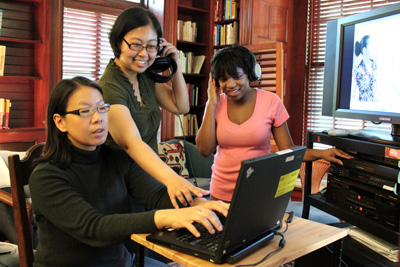 Happy National Mentoring Month! Since 2002, each January has been a time to give mentoring a boost nationwide through the recruitment of individuals and organizations.
The documentary, It's Our Time: The Empathy Gap for Girls of Color, by Wellesley Centers for Women Research Scientist Linda Charmaraman, Ph.D. and Rosa Lau, B.F.A., illustrates the powerful effect that mentoring can have in the lives of young people – especially girls of color. While more attention and resources have been guided toward young men of color in recent years, young women of color often end up overlooked, although they too have a great deal to gain from mentorship.
The stories told in It's Our Time reveal what can happen in an environment where girls of color are the focus, as they were in the Boston-based Teen Voices program. Founded in 1988, Teen Voices was a magazine produced by teen girls, for teen girls. With the guidance of mentors, Teen Voices participants wrote and edited the magazine. They also had opportunities to present their knowledge through public speaking.
Many of the girls in the Teen Voices program felt that they weren't getting as much attention in the classroom as their male counterparts. "[Teachers] don't say 'Oh good job on your last math test,' because [a girl] consecutively gets good grades on her math tests. But when a boy does, it's like a huge thing…they focus on the boys more than the girls." says Teen Voices participant Denesha. She echoes the sentiment that is supported by research – girls feel that their instructors are more concerned with boys' classroom achievement. When girls do better than boys academically, they are not rewarded with more attention. All too often, resources are diverted to boys who may not be succeeding at the same rate.
In the documentary, African American Policy Institute Co-Founder Kimberlé Crenshaw explains how this inequality flourishes. Public alarm, and therefore research, are focused on boys, and because the bulk of research covers boys, it appears to as if boys are in need of more help, creating a feedback loop in which girls and young women are left invisible.
It's Our Time fits into the mission of encouraging girls and women by making them visible, but that is only one step. This National Mentoring Month, consider giving some of your time and attention to the young women in your community. This is especially important to girls who aren't getting the recognition they deserve in a school environment.
Unfortunately, the story told in It's Our Time includes the end of Teen Voices due to lack of funding. The documentary captures the very real consequences of silence and lack of advocacy for young girls. Better research on girls, pioneered by researchers like those at Wellesley Centers for Women, can lead the way to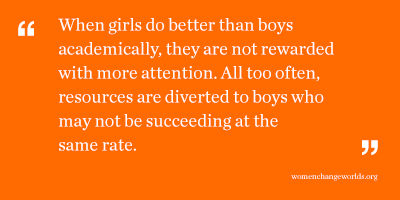 institutional changes. Until then, it is largely up to mentors to influence the capable and powerful young women who may otherwise slip through the (huge) cracks.
As a young woman of color, mentoring has been extremely important in my own life. My various mentors have encouraged me to try new things and have given me guidance on how to realize my dreams. As a Wellesley Centers for Women intern, I continue to be mentored by researchers who are interested in people like me, and who have conquered the challenges that I will face. Every young woman should have the same opportunity.
At the end of the documentary, Teen Voices Program Director Suan Green explains her hope for girls. "I think I want them to know that there are adults out there that care for them and that will fight for them and advocate for them, and that they don't have to go through things alone, and that there's someone who will listen, and someone who will advise them, and kind of go through the fire with them when they need it. " As a mentor to girls, you can be that adult.
Temple Price is the 2012-2013 Wellesley Centers for Women Class of '67 intern and a Wellesley College student majoring in Psychology (Class of 2013). The WCW-Teen Voices initiative was funded by the Schott Foundation for Public Education, and was supported by the Susan McGee Bailey Women's Perspectives Fund.