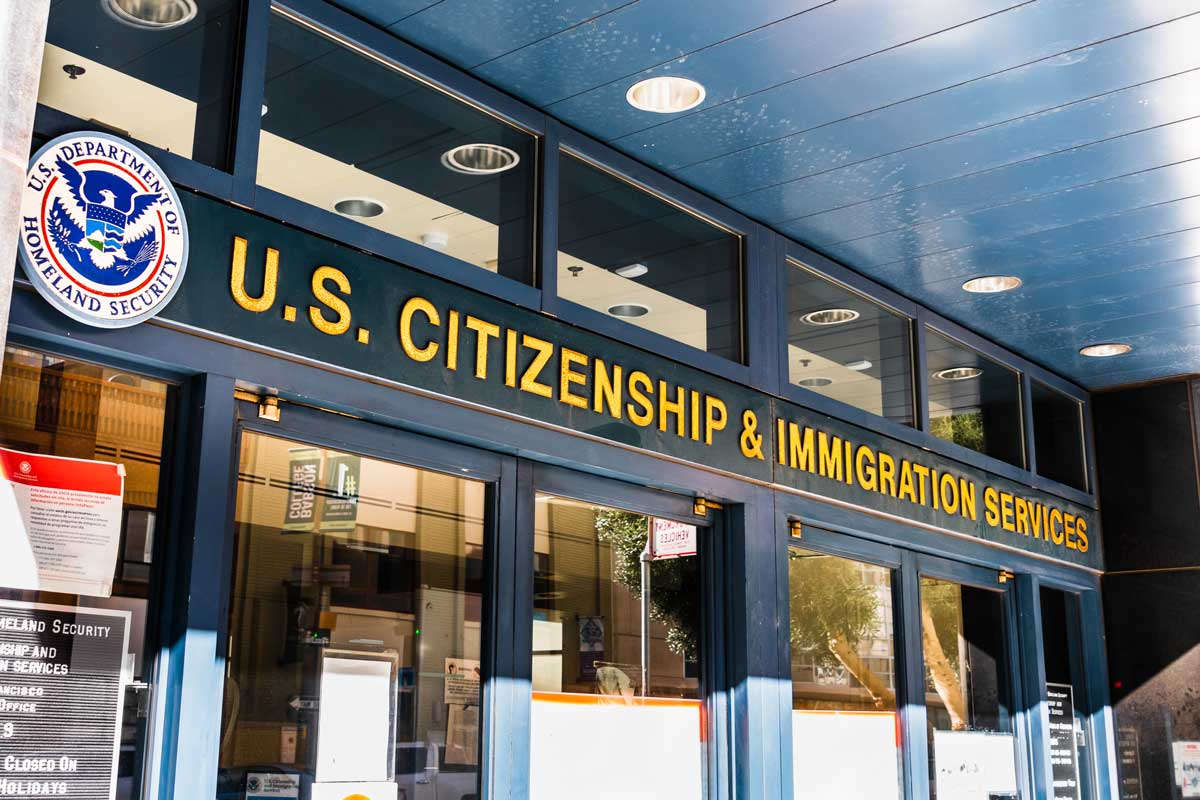 U.S. Citizenship and Immigration Services office. Photo courtesy of iStock.com/Andrei StanescuLast week, President Trump suspended new work visas for foreigners seeking employment in the United States. This ban — which affects those from computer programmers to seasonal workers in the hospitality industry — will last at least until the end of 2020 and, when combined with extended restrictions on the issuance of new green cards, will keep as many as half a million people out of the U.S.
My research has shown that immigrants make significant contributions to the U.S. economy, particularly as business founders and job creators. As I recently wrote for the Center for Growth and Opportunity's Immigration and Economic Recovery Symposium, they will play a critical role in pandemic economic recovery, and keeping foreign workers out of the U.S. right now will be detrimental to those efforts.
In the last two decades, the share of immigrant entrepreneurs in the U.S. has increased, along with the shares of Latino and Black business owners, and those of Mexican, Chinese, and Indian descent. (As I testified before Congress a year ago, while immigrants make up about 13 percent of the U.S. population, they are founders of 26 percent of new businesses, and they are more likely than those born in the U.S. to be entrepreneurs.) The creation of new companies and new jobs is much more dependent on these diverse entrepreneurs than it was in the 1990s and early 2000s.
Immigrant entrepreneurs alone create roughly one in four of all jobs among young companies, and 40 percent or more in places such as Silicon Valley, New York City, and other tech hubs. Young companies are responsible for a disproportionate number of newly created jobs, so ensuring the viability of already existing young companies is critical if we want them to continue their role as job creation engines.
Many immigrant-founded firms rely heavily on being able to hire immigrant workers — either skilled workers through the H-1B visa program, or seasonal workers through various other programs. Some of these workers return home after a period of time; some end up staying and getting their green cards, and some of those eventually start their own businesses. No matter how long they stay in the U.S., they are an important source of labor in our economy.
So not letting these workers enter the U.S. at a time when small businesses have been particularly hard hit by the COVID-19 pandemic will make recovery that much more difficult. Companies founded by immigrants make up a huge part of our economy and create jobs for Americans and immigrants alike. Preventing them from being able to get their businesses back up and running will hurt us all in the long run.
Sari Pekkala Kerr, Ph.D., is a senior research scientist and economist at the Wellesley Centers for Women. Her studies and teaching focus on the economics of labor markets, education, and families.