NIOST supports the healthy development of children, families, and communities, and advances the OST field through our research, training, advocacy, and tools.The team helps before-school, afterschool, expanded learning, and summer programs get better at what they do.
"A national force dedicated to improving the quality of life of school-age children, their parents, and their care givers." — Marian Wright Edelman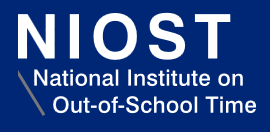 For 40 years, the National Institute on Out-of-School Time (NIOST), formerly known as the School-Age Child Care Project, at the Wellesley Centers for Women, Wellesley College, has been a leader in defining, shaping, and promoting out-of-school time (OST) as a distinct professional field with evidence-based quality standards. NIOST scholars bridge the worlds of research and practice to provide OST directors, staff, planners, school administrators, community leaders, and others with research, training, evaluation, and consultation to enhance and improve the quality of programs for all children and youth.
NIOST successfully brought national attention to the importance of children's out-of-school time and has continued to be at the forefront of advances in the field, and has acted as a leader in many areas of out-of-school time policy development, increased quality standards, professional recognition, and community action.
NIOST's work bridges the fields of child care, education, and youth development in order to promote programming that addresses the development of the whole child. Responding to the needs of working families and communities, NIOST focuses much of its work on under-served populations, with a strong commitment to diversity and equity. A key feature to NIOST's work is its emphasis on using an interactive and collaborative approach to creating innovative and effective solutions to out-of-school time needs on a local, state, regional and national basis.
To disseminate the latest knowledge and build the leadership of the field, NIOST produces a wide array of research and technical papers, assessment and training tools, and publications. NIOST offers pertinent information and ideas on the listserv, SAC-L, and the NIOST web-site and contributes columns to national publications for practitioners and policy makers.
Raising the Bar but Keeping the Heart
This eight-minute video provides an overview of how the out-of-school-time (OST) field has evolved over the past few decades, with a specific examination of how scholars and trainers at NIOST have been integrally tied to this advancement. Professionals in the before- and afterschool world share their perspectives on workforce development, program quality, and the benefits of OST programming. As Ellen Gannett, former director of NIOST, notes, it's essential that administrators, educators, and policy makers continue to raise the bar while "keeping the heart" central in OST.
Please visit our homepage at:
www.niost.org
Tags:
•
•
•
•
•
•
•
•
•
•
•
•
•
•
•
•