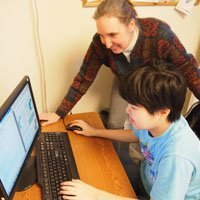 Computer Literacy: A valuable skill for all girls and women
We need more girls and women to consider careers in STEM--science, technology, engineering, and math--particularly computer science. Computers are everywhere and are part of our lives in so many ways--phones, cars, home, workplace. Women who can master technology may find more career opportunities and new ways to make a difference in their communities and the world.
Further,STEM careers offer financial rewards and some flexibility. According to Department of Education Analysis of Girls in Education, women in STEM jobs earn 33 percent more than those in non-STEM occupations and experience a smaller wage gap relative to men. Yet, a 2011 report "Women in STEM: A Gender Gap to Innovation" confirms that women pursue STEM jobs and STEM degrees less than men. I am hopeful that more women will enter STEM fields, or at least include computer science as part of their education.
Technology today is significantly different than in the past. Today it's an art of adapting and knitting pieces together, evaluating possible strategies, and understanding requirements and limitations of functionality and outcomes. U.S. Secretary of Education Arne Duncan described learning to code as "creative and empowering"; this past winter he encouraged students, teachers, and parents to participate in the Hour of Code campaign as a preparation for the critical thinking and problem solving needed for academic and career success. The Maker Movement, with sponsors such as Cognizant, Intel, and Pixar, encourages kids to combine creativity with science, technology, engineering, art, and math. I believe that the emphasis on creativity is why the Maker Movement reports a 55 percent female participation rate.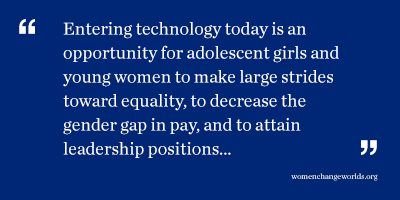 In my hometown, I see evidence that women are emerging as confident, enthusiastic leaders of technology. Recently, I was at a public meeting for a community group planning the inaugural Wellesley Science & Technology Expo slated for next month. The feedback from local women programmers who had an idea for using Raspberry Pis in a computer science demo resulted in the room buzzing with energy and excitement.
We need to reach a critical mass of women in technology and we need to keep young girls engaged throughout their academic trajectories. Similar to the finding that three or more women are needed to make an impact on a corporate board, we need better female representation to change the culture of computing. Entering technology today is an opportunity for adolescent girls and young women to make large strides toward equality, to decrease the gender gap in pay, and to attain leadership positions where they can inform workplace policies and bring women's perspectives into our technology-driven society. By utilizing and sharing these skills, women can help drive social change for the field, for the world.
So, here's my call-to-action women of the world: Be innovators, become comfortable with technology. Learn something new and share your knowledge; become a wizard using applications on your phone or tablet. If you have children in your life, learn with them so they may associate technology learning from and with women as well as men. Be a leader!
Sue Sours, B.S. is the Information & Technology Systems Manager at the Wellesley Centers for Women at Wellesley College. She earned her degree in Applied Mathematics/Computer Science from Carnegie Mellon University.