Commentary by Hauwa Ibrahim, J.D., S.J.D., M.L., and LaShawnda Lindsay, Ph.D.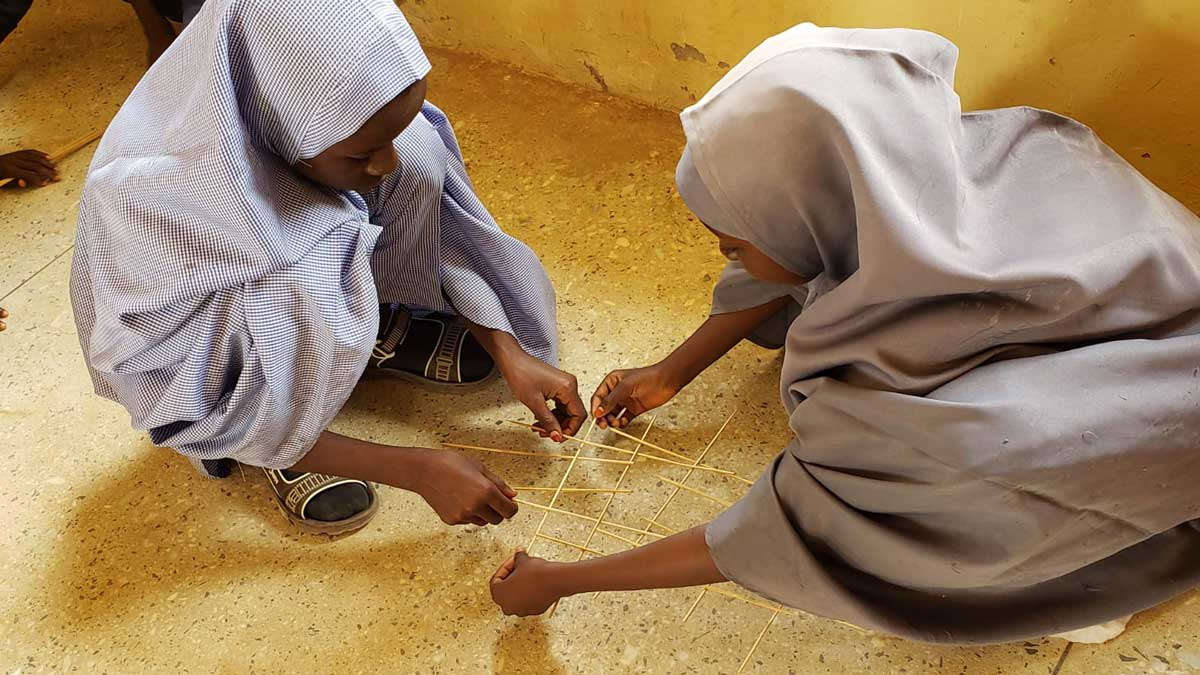 Nigeria, rich with its cultural diversity and natural resources, faces many social and economic challenges that threaten the financial stability of the country. For many Northern Nigerian youth, living in this context often translates into unemployment, social isolation, and hopelessness, making them ripe for extremist groups like Boko Haram who, under the guise of religion, recruit youth by offering them a sense of identity and purpose.
Science, technology, engineering, arts and math (STEAM) have the ability to pull these pupils out of the jaws of Boko Haram. This past summer, we collaborated with international partners to provide a new STEAM opportunity for pupils in Northern Nigeria.
With the support of WCW's Layli Maparyan, Ph.D., and Wendy Wagner Robeson, Ed.D., Corrine Cressman, Stacy Scott, Arlene Lieberman, Wellesley College students, and many more supporters, our team—Cornelius Balle, Rodrigo Vassallo, Masa Awad, Simon Muhlbauer, Sadeen Qardan, Silvio Dionisotti, and the two of us—received 500 STEMKits, a sustainable, low-resource science curriculum developed by Wellesley College students, and other materials to run STEAM Camps.
Armed with culturally responsive, student-centered, experiential lesson plans and activities, we set out to excite, inspire, and empower kids ages 10 to 14. Over five weeks, we hosted camps in three communities in two states of Northern Nigeria—Bauchi town, Hinna Village, and Gombe town. These communities are in the region where Boko Haram kidnapped over 200 schoolgirls in April 2014. Collectively, over 1,200 pupils from 100 schools participated in the programs.
Recognizing the resourcefulness of the local communities, over 80 percent of the materials used were found in local markets. With minimal instruction, pupils performed science experiments related to topics including density, pH, osmosis, genetics, and blood type. In technology and engineering classes, they built things like baking soda and vinegar-powered rockets and self-supporting da Vinci bridges.
In art classes, pupils made beading, jewelry, drawings, and finger paintings. Local drummers and singers joined us to bring back memories of tradition and culture. Using local instruments encouraged the youth to maintain a connection to their rich cultural heritage. Math was taught using fun-filled activities, jokes, play, scavenger hunts, and encouraging hands-on manipulation to strengthen skills. Pupils were taught how to make a calculator out of cups and dice using cardboard, which improved their ability to solve equations.
Our next step is to create a 10-year sustainability plan focused on continuing the camps while also encouraging ownership of the ideas and initiatives among local communities. We are also in conversation with the Ministry of Education, Gombe State to update the state-wide curriculum to include student-centered, STEAM instruction.
Hauwa Ibrahim, J.D., S.J.D., M.L., is a visiting scholar at WCW, a world-renowned human rights lawyer, 2005 laureate of the Sakharov Prize, and advocate for the voiceless, powerless, illiterate, and poor.
LaShawnda Lindsay, Ph.D., is a research scientist at WCW where she directs Black Girls Create, a culturally responsive maker program for girls.