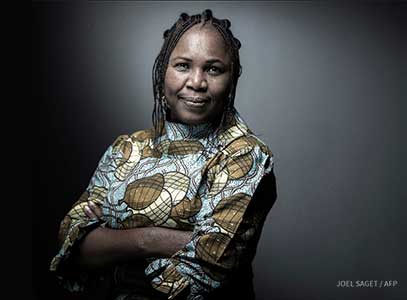 Hauwa Ibrahim
Visiting Scholar
J.D.; S.J.D.; M.L., American University's Washington College of Law
Research interests include the root causes of terrorism, including radicalization of youth and building bridges of cooperation between religious and non-religious communities.
Hauwa Ibrahim, J.D., S.J.D., M.L., is an international human rights and Sharia law attorney with considerable academic and government experience, currently researching multidisciplinary and collaborative exploration of root causes of terrorism, including radicalization of youth and building bridges of cooperation between religious and non-religious communities.
Ibrahim is the president of The Peace Institute. With over 15 years in human rights law; founder and senior partner of Abuja law firm, she was personally responsible for saving 40 women sentenced to death by stoning; author of Practicing Shariah Law: Seven Strategies for Achieving Justice in Shariah Courts and Guide to Achieving Human Rights Objectives Under Sharia Law for Judges and Attorneys in the Hashemite Kingdom of Jordon; envoy for UN (EU initiatives on girl child education); Council of Human Rights of the International Bar Association; visiting professor and sought after speaker on human rights, especially related to gender, justice, and interfaith dialogue.
As a Visiting Scholar at WCW, she is working on manuscripts and conference planning while continuing her justice work.
In June 2014, Ibrahim appeared before United States Senator Barbara Boxer, Chair of the Senate Foreign Relations Subcommittee on International Operations and Organizations, Human Rights, Democracy, and Global Women's Issues to address violence against women for the Senate to pass the International Violence Against Women Act (IVAWA) and ratify the Convention on the Elimination of All Forms of Discrimination Against Women (CEDAW). Similarly July 2014, she was invited to make similar views before the United States House of Representatives Foreign Affairs, Subcommittee on Africa, Global Health, and Human Rights on instability in northern Nigeria and the ongoing threat of the Boko Haram.
Appointments & Recognition
Prior to joining the Harvard Divinity School as a Visiting Lecturer in 2010-2013, Ibrahim was a jointly appointed Fellow at the Radcliffe Institute for Advanced Study at Harvard University and at Harvard Law School's Human Rights Program and Islamic Legal Studies Program. A lawyer, author, and mother, Ibrahim built up a unique practice, representing women and children in Shariah courts who were condemned to death by stoning or to limb amputation for offenses like adultery and theft among others. She defended over 150 cases pro bono, helping to save the lives of numerous women, including in the internationally known cases of Amina Lawal, Safiya Hussaini, and Hafsatu Abubakar. In May 2014, President Jonathan appointed her to serve on the Presidential Committee charged with fact-finding to help rescue the 219 girls kidnapped by the Boko Haram from Chibok, northern Nigeria. In 2017, Nigerian President Muhammadu Buhari appointed Ibrahim to be a member of the Presidential Panel to Review Compliance of the Armed Forces with Human Rights Obligations and Rules of Engagement, the report was submitted in February 2018.
Ibrahim has been honored with the European Parliament 2005 Sakharov Prize for Freedom of Thought in the good company of late President Nelson Mandela.
Ibrahim earned an LLB and a master's in international law and diplomacy from the University of Jos in Nigeria; a BL for legal practice from Nigeria Law School; and a master's of law degree in international studies at American University's Washington College of Law.