Opt-Out Revolution 2013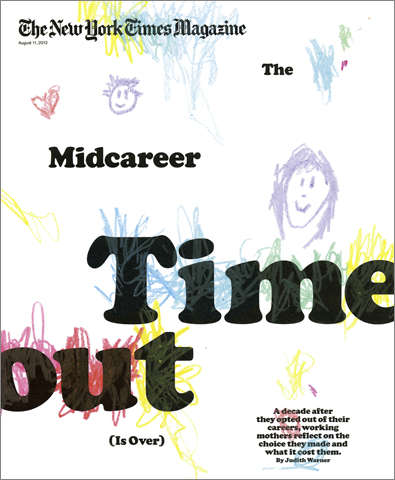 Last Sunday's New York Times Magazine article provides a follow-up on the women of the so-called Opt-Out Revolution that the Times first heralded in 2003. The Times rightly points out the price these women have paid--and the forces that pushed them out in the first place--the culture of Motherhood and an inhospitable corporate culture among them. Erin Gloria Ryan, at Jezebel.com provides an even more pointed critique of the "promises" of opting out.
But both articles miss the most important point–the Opt-Out Revolution was not a "revolution," it was a media creation that took a drop in employment rates among mothers of infants in the 2000 Census, and the experiences of a few women with husbands with high salaries during an economic period when the haves seemed to have it all--pre-Great Recession--and used that mythology to suggest that the reason women don't fare as well in the workplace is because "they choose not to" (see the cover of the original NYT article). In fact, a study by Sharon Cohany and Emy Sok published in the Monthly Labor Review reported that the labor force participation rates of mothers of infants, with husbands earning in the top 20 percent of incomes, had the largest declines in 2000, but their participation only declined nine percentage points, from a high of 56 percent employed in 1997 to 47 percent in 2000, and 48 percent in 2005. While the decline was real, at least for women with husbands who could support the family, it was hardly a revolution.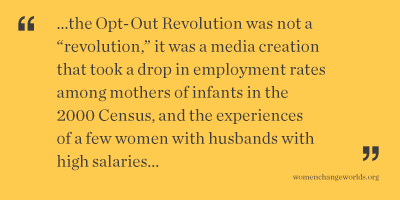 Meanwhile, media and popular attention remains focused on the message that women should solve the problems we face--of unfriendly workplaces, long work weeks, glass ceilings, and some men's unequal sharing of household and parenting activities (often justified by workplaces that still think all men have wives who will support their husband's careers)--by their personal, individual actions, rather than by our collective action to challenge the inequalities built into our economy, inequalities of gender, class and race. Women in the professions and in managerial jobs, who are most likely to be forced out, need redesigns of their fields to allow women--and men--during their parenthood years, to parent in the ways they value. There are top employers who have already figured out how to do this, including American Express, Johnson & Johnson, General Electric and Bristol-Myers Squibb. These changes to support working families need to be combined with changes that address the growing income disparity between the top 20 percent and the bottom 20 percent, and the consequences this has for financial well-being, as well as for the best interests of women, children, and men.
Nancy Marshall, Ed.D. is an Associate Director and Senior Research Scientist at the Wellesley Centers for Women (WCW) at Wellesley College. She leads the Work, Families and Children Team at WCW and is an Adjunct Associate Professor at Wellesley College.