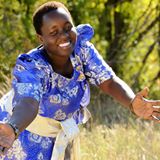 A World AIDS Day Hero: Beatrice Achieng Nas
December 1st is World AIDS Day. This year, I'd like to shine the light on someone whose work I really admire, someone who is dedicating her life to serving and lifting up many children and families who have been affected by HIV/AIDS. I'm talking about Beatrice Achieng Nas, founder-director of Pearl Community Empowerment Foundation (PCEF), and the Rural Girl Child Mentorship Project (RGCM). I first met Beatrice when she came to the Wellesley Centers for Women (WCW) from her native Uganda as an IREX Community Solutions Fellow (CSF). CSF fellows are selected to come to the United States from developing countries [WC] for showing exceptional promise as community leaders. In the U.S., they train with host institutions to increase their leadership and management experience so that they can carry it back to their home countries and power up their own initiatives. Before coming here, Beatrice had already been developing both PCEF and RGCM Uganda for a few years, but both could be considered fledgling initiatives at that time. While with us at WCW, she studied women's NGO management, which included mentoring in the areas of communications, donor relations, and grant writing, as well as research basics, program evaluation, and social-emotional learning facilitation. I'm proud to say she also taught us a few things, especially about mobilizing people around a cause!
Back in Uganda, Beatrice runs an organization to empower academically talented girls from rural communities by helping them gain admittance to and stay in good secondary schools, many of which are far from home. Many of these girls are from families that have been affected by HIV/AIDS. In some cases, one or both parents have died from the disease. In other cases, siblings have died from the disease, leaving children to be cared for by other family members, even the by girls themselves. In all cases, they live in communities where far too many people have died from AIDS. In fact, Beatrice herself lost seven of nine siblings to HIV/AIDS, and she and her mother have been caring for all of her nieces and nephews ever since. When Beatrice was growing up, some missionaries from Kentucky came through her village and noticed her--they noticed that she was smart, industrious, kind, and capable. At the time, she was working as a village barmaid, bringing in the only income her family had. These missionaries decided then and there to pay for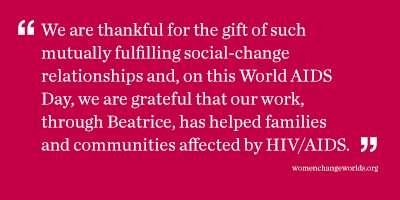 Beatrice's education. As a result, Beatrice made it all the way to Makerere University, the top university in Uganda and one of the leading universities in Africa, where she majored in information technology. Her college degree led to some good positions with, first, a bank, and later an international NGO, but after working in these places for a while, Beatrice realized she could do much more on her own. That's when she founded PCEF and RGMC.
Beatrice's work requires her to raise funds from donors from around the world in the form of sponsorships for her students and gifts to support the organization's many community projects. One thing I really love about Beatrice's model of change is the fact that she understands that, to help her girls, she must also help the families of her girls and strengthen the communities in which these families live. These families and communities need economic supports, educational supports, health supports, and more. Once the girls are in school, Beatrice engages the girls' families in livelihood projects, such as agribusiness and craft-making, that generate revenue that is often lost when the girls leave the village for school in the city, helping the families rise above mere survival. She also provides safer sex education for her girls and other community members in their villages, providing free condoms whenever possible. She counsels families against early marriage of their daughters, because, even though the practice is illegal in Uganda, many girls--even academically talented girls--are married off before they can attend secondary school, often for the economic survival of their families. And she requires the families in her program to remain free of domestic violence while their girls are in her program. When families struggle with this, she provides counseling. Her memories of witnessing domestic violence in her own family growing up fuel her commitment to helping families in the communities she serves to see past domestic violence, whether in terms of intimate partner abuse, child abuse, or various forms of sexual abuse. To help reduce violence at the community level, Beatrice borrowed strategies that she learned from WCW's own Open Circle program--strategies that teach recognizing and managing emotions, empathy, positive relationships, and problem solving--and shared them not only with the girls and their families, but also with the teachers and staff of the schools the girls attended. Many teachers, parents, and community members reported that they had never understood the impact of violence on their girls before this training, and many also expressed commitment to eliminate violence from their relationships--in the home and in school.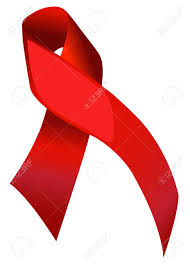 Recently, Beatrice updated us about her activities, which have grown to support the communities where she works in even broader ways. In addition to a library/community center in Amor Village, which was her project under IREX, she has now started a school complex in Tororo village that already includes a primary school and will grow to include a nursery school, a secondary school, and a vocational education center. Twenty-seven of the mentees who started with PCEF/RGCM at the beginning of secondary school are now pursuing university education. About half of them are studying to become teachers, but the others are pursing fields as diverse as accounting and finance, adult education, economics, motor mechanics, clinical medicine, nursing, human resource management, and wildlife management. Finally, Beatrice is mobilizing donors to purchase solar panels for the families in her network so that they can stop using kerosene lamps. She just thinks of everything!
The Wellesley Centers for Women was not the first to recognize the incredible talent and heart of Beatrice Achieng Nas. In fact, Beatrice had already been recognized as an emerging leader by World Pulse, who brought her to the U.S. to speak on the World Pulse Live Tour. At WCW, we were glad to contribute to Beatrice's ongoing leadership development, and many of us have stayed connected with her since her time in our midst. In fact, one of our researchers visited Beatrice for a research tutorial as part of a larger East Africa tour, and thanks to additional IREX support, two members of our Open Circle team traveled to Uganda to help Beatrice with the social-emotional learning trainings. We can see that the chance to "walk part of the journey together" has enriched all of us on both sides. Beatrice has benefited from WCW's research expertise and training projects, while WCW has benefited from Beatrice's ability to translate our work into action on the ground. We are thankful for the gift of such mutually fulfilling social-change relationships and, on this World AIDS Day, we are grateful that our work, through Beatrice, has helped families and communities affected by HIV/AIDS.
Layli Maparyan, Ph.D. is the Katherine Stone Kaufmann '67 executive director of the Wellesley Centers for Women at Wellesley College.