I was asked to write this post about The International Day for Tolerance and I must admit that I had never even heard of it.
But as I considered "tolerance," I thought of its role in my life. Being a middle aged queer mom, I came of age in the 70s and 80s not expecting tolerance from anyone--expecting to hide my sexual orientation in all but the private parts of my life and to navigate the world carefully in that way.
When I had come out to my mother at 17, she said, "You don't have to tell anyone… and never tell your father." I would say at that point that level of tolerance was the "gold standard" of what I was hoping for in my life journey
So when my second fourth-grade daughter came home from school one day all a-flutter, exclaiming, "I'm going to take those movies to school tomorrow!"--referring to It's Elementary: Talking About Gay Issues in School and Both My Moms Names are Judy--I cautioned her. I said, "I don't think that's a good idea. I think that might not be what you want to do. It might not go well."
She was adamant and then she told me why. A boy in her class had called her and her reading partner lesbians because my daughter had her arm around the younger girl's shoulder as she was guiding her reading.
"We told him we aren't but he said it again--in a mean way."
My daughter was confident that it wouldn't be necessary for me to call her teacher; she would just bring in the movies. She did. Her teacher did choose to show the 10-minute film and she stopped it along the way for discussion. As the conversation unfolded, the boy said that he had heard that gay people abuse children, so he was sure that they were bad. Others in the class, including my daughter, spoke about family members and people they knew who were gay. As the time unfolded the boy understood that what he had been previously taught did not match the people about whom he was now learning.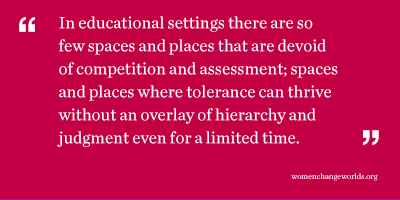 All day I wondered how the class had responded to the film. I was worried, but the description of the discussion surpassed my expectations. I called the teacher to thank her. She said that they had been working on stereotypes and biases for several weeks but it wasn't until kids who were classmates talked about their own experience that opinions and attitudes shifted. This was before standardized testing and she was a brilliant teacher who made time for this important discussion. I know there are many brilliant teachers who could create spaces for tolerance in their classrooms if given some tools and language to guide them.
At the Wellesley Centers for Women over the last 25 years, two tried-and-true programs create space for tolerance in schools: Open Circle for students and school communities and the National SEED Project on Inclusive Curriculum for teachers and community adults.
Though the reality for young LGBT people has changed much in the last 25 years, "tolerance" like I experienced as a teen is viewed as sub-par in today's world of activists. I would argue, however, that the challenge of creating spaces for tolerance is as great as it has ever been. In educational settings there are so few spaces and places that are devoid of competition and assessment; spaces and places where tolerance can thrive without an overlay of hierarchy and judgment even for a limited time.
I want to give a shout out to all the skilled teachers who are intentional in making space for tolerance. Through this commitment they are cultivating affirmation, respect, connection and cooperation and making room for these to grow in their classrooms and school communities.
Emmy Howe, M.Ed., Co-director of the National SEED Project on Inclusive Curriculum, is an original writer and founder of the Welcoming Schools Project.