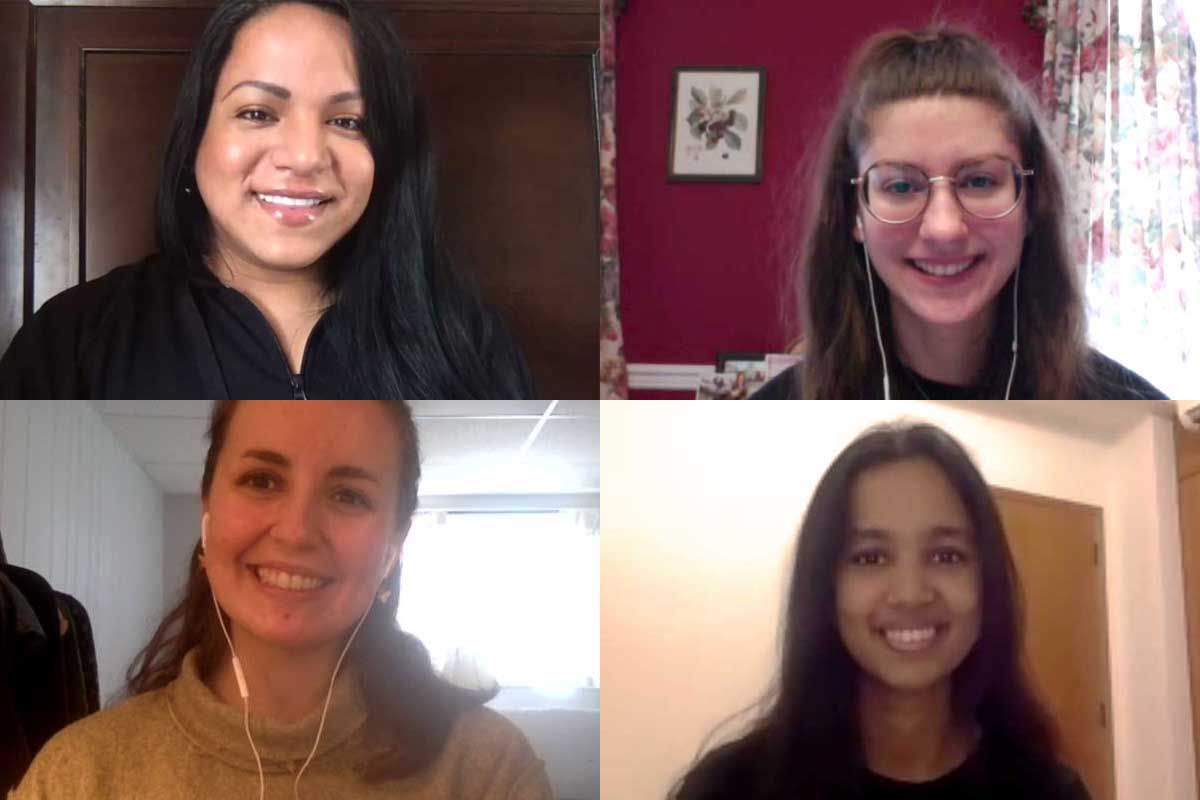 Ninotska Love, Jessica Abowitz, Nora Pearce, Dhanya NageswaranThe Wellesley College students who intern at WCW every year tackle many challenges in the course of their research. A 12-hour time difference when communicating with their WCW mentor isn't usually one of them.
But that was par for the course once students left campus in March due to the COVID-19 pandemic and continued their internships remotely. The Class of 1967 Internship Program matches five students with research scientists at WCW who mentor and guide them through conducting social science research. In a typical year, interns meet in person once or twice a week with their WCW mentors. This spring, pairs have had to make do with Zoom, FaceTime, text messaging, and lots of emails. And yes, one pair had to work around a 12-hour time difference.
Even though the program didn't end quite the way students anticipated, they were still very enthusiastic about it. Nora Pearce, who worked with mentor Jennifer Grossman, Ph.D., said, "I think it's incredible to be able to do this work as an undergraduate."
Video Interviews with Student Interns
Our communications team caught up with the student and mentor pairs (via Zoom) to learn more about the work they did this year.
Jessica Abowitz '22 studied student activist movements against sexual harassment in K-12 schools with mentor Nan Stein, Ed.D., an expert on the prevention of gender-based violence in schools.
Ninotska Love '20 worked alongside mentor Wendy Wagner Robeson, Ed.D., to design her own study on the ways college students are impacted by anti-trans stereotypes.
Dhanya Nageswaran '21 worked with mentor Linda M. Williams, Ph.D., to study the ways colleges and universities respond to sexual assault on campus. Read Dhanya's blog post about the important role Title IX coordinators play.
Nora Pearce '22 studied how teens and their families talk about sex and relationships — analyzing qualitative interviews, contributing to a conference proposal, and writing an academic journal article — with mentor Jennifer Grossman, Ph.D.