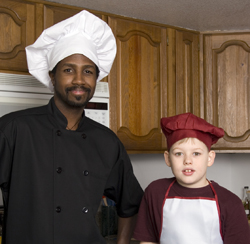 Is Grit Another Name for Resiliency?
Over the past few months, in my role as the Chair of the American Camp Association's (ACA) Task Force on Non-Cognitive Skills, I have been immersed in the research and popular literature on what journalist-author Paul Tough calls "non-cognitive skills." Numerous discussions, papers, books, and organizations have surfaced that are creating a great deal of confusion about what we are actually talking about. From Angela Lee Duckworth of the University of Pennsylvania, who uses the term "grit," to Ellen Galinsky's Mind in the Making, to the Partnership for 21st Century skills, to CASEL's work on Social and Emotional Learning, I have become overwhelmed with the attention this issue is currently receiving. But what exactly are we all talking about? Is nomenclature getting in the way of a shared understanding of the "it"? Several labels or terms have been used (grit, life skills, applied skills, executive function, emotional intelligence, non cognitive skills, soft skills, character skills, leadership skills, and on, and on) but are they all same?
And more importantly are we missing something? Are we overlooking the importance of relationships and caring adults? Willis Bright, past director of the Youth Program at Lilly Endowment and a member of the ACA Task Force, speaks about "navigational and interpretative skills" thus adults helping youth to develop a moral compass in an increasingly complex society. That got me thinking about the work of Bonnie Benard and her colleagues at Stanford University on Resiliency Research.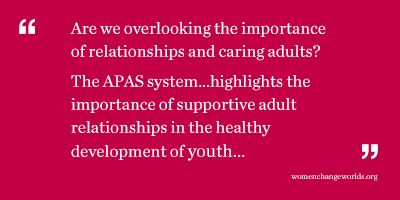 According to Benard, "we are all born with innate resiliency, with the capacity to develop the traits commonly found in resilient survivors: social competence (responsiveness, cultural flexibility, empathy, caring, communication skills, and a sense of humor); problem-solving (planning, help-seeking, critical and creative thinking); autonomy (sense of identity, self-efficacy, self-awareness, task-mastery, and adaptive distancing from negative messages and conditions); and a sense of purpose and belief in a bright future (goal direction, educational aspirations, optimism, faith, and spiritual connectedness)" (Benard, 1991).
But when faced with adversity, these inborn traits may not develop. Benard (1991) Werner (1993) and others have discovered there are "protective factors," that can help young people develop resilience despite high levels of risk: caring relationships, high expectations and meaningful participation and contribution.
Our work at the National Institute on Out-of-School Time supports the resiliency research. The Afterschool Program Assessment System and its linked outcome tools, SAYO (Survey of Afterschool Youth Outcomes), are based on this framework. Our theory is that afterschool program can be the place where young people can learn social and emotional skills in an environment where caring adults, set high expectations and provide meaningful leadership opportunities for young people.
Despite their similarities, grit emphasizes one's internal resources while de-emphasizing the important external factors that help contributes one's success--something that resiliency theory includes. The APAS system, which is based on this resiliency framework, highlights the importance of supportive adult relationships in the healthy development of youth--something we should keep in mind as we begin a new year of academic and out-of-school-time programming.
Ellen Gannett, M.Ed. is the Director of the National Institute on Out-of-School Time at the Wellesley Centers for Women, Wellesley College where she ensures that research bridges the fields of child care, education, and youth development in order to promote programming that addresses the development of the whole child.